How Randi Zuckerberg Is Teaching Girls in Tech to Dream Big
"You can wear a pink dress, and be girly, and also be a total badass."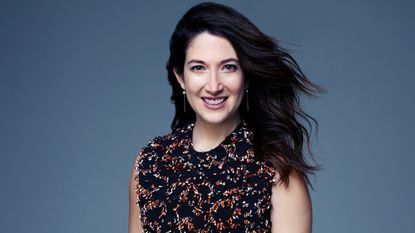 (Image credit: Jason Kim)
Unless you've been living off the grid for the last decade, you already know Randi Zuckerberg's last name—but this entrepreneur quickly made herself known for far more than that. The New York Times bestselling author, radio host and tech entrepreneur was formerly director of marketing for Facebook (and, yes, sister of the company's co-founder) before she went out on her own in 2012 to start Zuckerberg Media, where she's changing the face of innovation in fields like technology and entrepreneurship. The marketing and production company is dedicated to putting smart, tech-savvy girls and women in the public eye (including exposure in the media and pop culture) and is set on changing what Silicon Valley looks like.
And she's wasting no time—with a digital lifestyle site (dotcomplicated.co), three books (a memoir called Dot Complicated: Untangling Our Wired Lives and two children's books, Dot. and Missy President), and a cartoon (yes, Dot) about a little girl in tech, made in partnership with Jim Henson Productions for NBC Sprout, she's managed make quite a mark of her own in less than three years. That's why she was selected to be part of Activia's "It Starts Inside" campaign honoring women harnessing their own power to blaze new trails. Here, Zuckerberg spoke with us about how she's gotten to where she is now and what's most important to her.
On why she decided to start her company:
"I loved working at Facebook—to be in the center of innovation like that—but at the same time I also felt really [conflicted] about Silicon Valley. I can't tell you how many times I was the only woman in the room for ten years. I thought 'Where are the women? Where are the people of color? Is it only white men who get to make all the decisions?'
"It was around then that I started thinking 'Okay, how do we really get more girls and women into Silicon Valley, into tech, into business?' I started to have this hypothesis that actually, maybe, I have to change from the outside. Maybe media was the way to change it—to show more tech savvy, smart, young girls and women in the media."
On finding her own separate path from her famous sibling:
"I never actually looked in the mirror and said, 'Now I'm going to have a mission, and it's gonna be X.' It naturally found me. Becoming a mom [of two boys] changed me—I had to take my blinders off and think further into the future about the kind of world I wanted to create. I felt because I did have a platform, because people did recognize the Zuckerberg last name, they were interested in what I had to say. I felt like it was really important for me to speak out."
On her inspiration for her character Dot.:
"I was already working on my business book Dot Complicated and my research showed that girls aged seven, eight, and nine years-old are that ones that you need to be reaching—because by the time they're in middle school, if you haven't gotten them excited about tech, you've lost them. So I went back to my publisher and I said 'I'd really like to write a book for girls.' And that's how Dot. was born. That sort of catapulted my career in a whole different direction. I wake up every morning and I feel so happy because it's just a fun show to work on and I feel like I'm putting a really positive message out into the world, showing girls that you can wear a pink dress, and be girly, and also be a total badass."
On taking the entrepreneurial leap:
"It was the scariest thing I've ever done in my life. But I also felt like I had to because here I had been getting on stages and telling women, 'Be an entrepreneur, open your own business!' And then there I was working for my brother. Facebook was incredible, but I was definitely in a safety net. I felt like I had to walk the walk if I was telling all these women to take bigger roles."
On the lesson she wishes she learned earlier:
"I spent so much of my career searching for that one mentor that was going to guide me. I've only realized in the last year or two it's kind of a waste of time to look for that mentor. The best mentors are your peers. They're going through the same things, they have the time for you, and you're all going to rise professionally together."
On how she stays healthy and sharp while on the road:
"During the week, I like to stick to a lower sugar, higher protein diet. I love Activia yogurt (which is available in both lowfat and nonfat varieties), and [I also eat] a lot of eggs, a lot of lean protein and vegetables. And then on the weekend—you can't stick with something like that 365 days a year—I let some of the fun stuff sneak in. But, really, the number one thing I try to do is sleep. And I try to meditate every night. I have an app called Calm, and I use that on almost a nightly basis to try and reflect on the day."
"I find that if I don't plan self-care, I don't do it. It's easy to let it slide. But the second you schedule it into your day, it becomes as important as your work or your family. I also have a whole list on my iPhone of little workouts that don't require any equipment or space, and I try to do those for at least 20 to 30 minutes a day even if I'm on the road. Burpees, for example, are pretty terrible, but I love the fact that in 15 minutes of doing burpees, you can kick your ass as if you've been running for an hour."
On why self-care is so important:
"When you make yourself a priority, you're able to be the best person for everyone else around you. When I felt like I was carrying a little extra weight, and I wasn't taking good care of myself and I was exhausted, I wasn't doing well by myself or my business or my family. Taking that time to take care of myself makes me so much better to all the people that I love."
On raising two sons while trying to break down gender barriers:
"It's interesting—I definitely find myself correcting my sons when they say 'That's for girls or for boys.' I felt like I scored a minor victory the other day because my son asked me where I went to high school and I said Horace Mann in New York. He said 'Why not Horace Woman?' That made me proud."
Follow Marie Claire on Facebook for the latest celeb news, beauty tips, fascinating reads, livestream video, and more.
Celebrity news, beauty, fashion advice, and fascinating features, delivered straight to your inbox!