6 Rules for Work-Life Balance from a Real-Life #GirlBoss
It all starts with "no."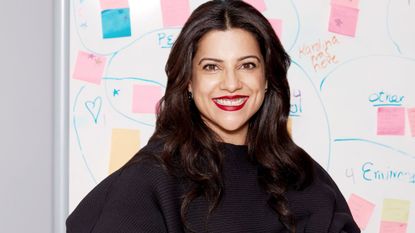 (Image credit: Jason Kim)
Marie Claire Newsletter
Celebrity news, beauty, fashion advice, and fascinating features, delivered straight to your inbox!
Thank you for signing up to Marie Claire. You will receive a verification email shortly.
There was a problem. Please refresh the page and try again.
Reshma Saujani has a lot going on. The founder and CEO of the non-profit girls-in-tech organization Girls Who Code (which now boasts over 40,000 girls in all 50 states) is also a mother to a 2 year old son Shaan), wife, activist, author (of Women Who Don't Wait in Line: Break the Mold, Lead the Way), and dog mom. But manages it all, she does—with grace and a great sense of humor. Another source of her pride: She's a spokesperson for Activia's "It Starts Inside" campaign, honoring women who are lighting their own fires to take on new challenges.
Luckily for the rest of us, Saujani believes in sharing knowledge—something she does daily with the members of her organization. Below, her simple rules for keeping all the balls in the air without losing her sanity—or her time to catch up on Netflix.
"I have learned how to say no, and I have to check myself all the time," says Saujani. And it doesn't come easily to her. "I'm not great at it still. Women get criticized a lot more for saying no than men do," she points out. But, she says, when weighing something new to take on, "I stopped saying yes to things that I couldn't give a lot of time to. People will say, 'Even if you can just show up to this board meeting once every year, it's fine!' I used to say yes to that, and then I would feel guilty." Now, she says, "If know I can't really commit, I don't."
Lesson 2: Know your rules
Saujani says every woman should have guidelines to help her stay true to her values. When it comes to motherhood, she says, "I've heard everything [from others] from 'I travel one week on, one week off,' to 'I never miss bed time.' For me, if I'm away from my son for more than 48 hours, I'm crabby. So in that case, he's either coming with me or I've got to say no."
She also has automatic yeses—within reason. "If one of my girls [from Girls Who Code] asks me to come to her school, I'll always say yes."
And when she hits a wall, she allows herself a breather: "I'll watch Netflix for a while and just pet my dog endlessly and kiss my baby, and then I'll get back up. You have to break the pattern."
Lesson 3: Make wellness a priority
"My best friend once told me that every mom gets one thing that she gets to do and she gets to hold sacred, and finding time to work out is kind of my thing," she says. "When I'm in the best physical shape of my life, I'm in the best professional space. I can track the connection between the two. If I'm not working out or I'm eating really bad, I'm grumpy, I'm tired; I can feel when I've had too much sugar in a day. And I know when I'm eating well and rigid about working out, I'm fresher, I'm brighter, more present. I'm just more creative." To help keep her on track, Saujani meets with an acupuncturist who focuses on clean eating, and she reaches for an Activia yogurt on the daily.
Even further, she tells us, she makes sure that her company encourages all their employees to take care of themselves. "In our office, we definitely share [by asking,] 'What's this great workout you're doing?' and we've tried to do office runs. We encourage each other by saying, ''I'll grab my favorite Brown Rice and Salmon from Whole Foods and grab one for you.'
Lesson 4: Rely on your team
"I always hire people who are smarter than me in their roles. I have a lot of amazing women and men who work with me who are just badasses," she says. But letting go can be hard, she admits. "I had to learn how to not be a micro-manager. Maternity leave made me do that. I just couldn't anymore. Guess what? [The company] didn't break."
Lesson 5: Give yourself "black out" periods
Saujani blocks out time on the weekends to stay off social media. "I do it to spend time with my son," she says. "He knows that—he'll swat the phone away and say 'Mama, sit!' Kids will keep you on track when you're unfocused."
The break is also essential for her state of mind. "We're on social media all the time to see what's happening in the world and in our country. I think all of us are walking around with so much anxiety right now." Allowing for a few hours of being in the here and now helps her feel centered in the middle of it all.
Lesson 6: Embrace the mess
"I bring my son everywhere," she says. "I spoke at the Women's March, and I was like, 'Come on son, we're going.' He's on my lap, there's a million people out there, I'm trying to remember what I'm going to say, he's slapping my face, but that's it—I have a kid and he's gotta be here because where else is he going to be?" In the future, she hopes he remembers seeing his mom work hard with him on her hip. "I think it's good for him!"
Follow Marie Claire on Facebook for the latest celeb news, beauty tips, fascinating reads, livestream video, and more.
Celebrity news, beauty, fashion advice, and fascinating features, delivered straight to your inbox!