Fidji Simo Is the New Face of Facebook
The head of Facebook's app is on a mission to change the way the company operates. Can she help Facebook win back the public's trust?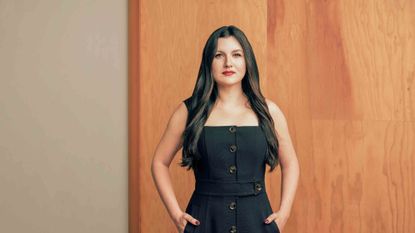 (Image credit: CHRISTOPHE WU)
Marie Claire Newsletter
Celebrity news, beauty, fashion advice, and fascinating features, delivered straight to your inbox!
Thank you for signing up to Marie Claire. You will receive a verification email shortly.
There was a problem. Please refresh the page and try again.
Outside, it's 101 degrees, a "new normal" summer day in Silicon Valley, but inside a glass-walled conference room at Facebook's sprawling Menlo Park compound, the air is goose-bump brisk. Fidji Simo, 33, strides into the room in rainbow-striped Kurt Geiger stilettos and a bright-purple sheath dress. Since being promoted to head up the Facebook mobile app in March, Simo has become one of the most powerful women at the company, responsible for just about everything Facebook's nearly 2.4 billion users interact with on mobile. "I read an article that says women perform better in warm rooms," she declares with a disarming French accent as she punches the thermostat up five degrees. "If women are spending all our energy trying to get warm, we're not spending our energy thinking! I'm always walking into rooms full of men and cranking it up."
Facebook is known for its egalitarian floor plan, where everyone—from interns to founder and CEO Mark Zuckerberg—works side by side at desks out in the open. But first dibs on a handful of conference rooms go to top executives like Zuckerberg, COO Sheryl Sandberg, and Simo, now in her eighth year at the social-media giant. Simo named her conference room Joie de Vivre because, she says, "the only way to create products that bring joy is by being joyful building them. It also describes a very French way of living."
Simo's star has risen at Facebook during turbulent times for the massive company and its more than 37,000 employees spread across 35 countries. In early 2017, as Zuckerberg was making his apology tour for Russia's spread of disinformation on Facebook during the 2016 presidential election, Simo was promoted from director of product management to vice president of video, games, and monetization. In that role, she oversaw a team of 700 engineers and product managers, launched Facebook Live and Facebook Watch, and grew video advertising into the revenue leader for the company, responsible for the vast majority of its more than $55 billion in revenue in 2018. As fresh waves of scandals have continued to pummel the company—from the harvesting of user data by the research firm Cambridge Analytica (resulting in a reported $5 billion Federal Trade Commission fine on Facebook), to a security breach that could have exposed tens of millions of users' personal information, to public concerns about the company's plan to launch a cryptocurrency and recent complaints about the working conditions of content moderators—Simo's steadfastness in her mission to delight Facebook's increasingly disgruntled users has never wavered. It came as no surprise to insiders this spring when Zuckerberg turned to Simo to lead Facebook mobile and its team of more than 4,000 product managers and engineers.
"Fidji is an incredible leader," says Simo's mentor, Sandberg, via email. "From the moment we met eight years ago, I could see she's one of those rare leaders who both see the big picture and go deep into the details to get the work done."
Born and raised in Sète, a seaside town in southern France, Simo grew up in a family of fishermen. "My dad tried many times to take me out on the water," remembers Simo, "but I was atrociously seasick." She was the first member of her family to graduate from high school, an accomplishment that inspired her mother to get her own high school diploma and open a clothing boutique. (Simo inherited her glamour gene from her mother, who named her after the perfume Fidji by Guy Laroche.) While studying at the prestigious HEC Paris business school, Simo spent a summer, at age 20, interning as a lobbyist for the fishing industry. "At meetings, it was just me plus old retired fishermen," says Simo. "So I was already in a very male-dominated environment."
At Facebook, where 63 percent of the workforce and the majority of the top product and engineering execs are men, Simo is a dynamic woman in charge. She joined Facebook in 2011, after four years as a strategy manager at eBay in Europe and the United States. At eBay, she built out the company's local commerce and classified-advertising initiatives and provided strategic advice to top-level executives on brand positioning, marketing, and advertising. Simo then made the leap to Facebook's product-marketing-and-advertising division, where she spent two years leading the advertising program for the News Feed. But with every passing day at Facebook, Simo realized that she identified as a maker more than a marketer. So, in 2014, she transitioned into a new role as a director of product development, launching advertising products like video ads.
One of the recurring challenges for Simo has been creating new products that help people connect while anticipating ways that those creations could be abused. For instance, one of her projects, Facebook Live, which lets users livestream from the mobile app, has been used to broadcast hate speech and even document violent acts, like the horrific mass shooting at two mosques in Christchurch, New Zealand, in March. "It's heartbreaking to see bad actors misusing the product," says Simo, who notes that Facebook has since added safeguards to prevent people from using Facebook Live if they've violated community standards in the past. "The vast majority of Live users are good-use cases," says Simo. "They might be like my daughter talking to her grandmother in France. Or they might be asking for help during an emergency. We've seen people going live from a flood in Kerala, India, and getting rescued that way." Facebook Live has also been used to expose police brutality, as in the death of Philando Castile in 2016. The case gained national attention when Castile's girlfriend, Diamond Reynolds, livestreamed the moments after he was shot by police during a traffic stop in Minnesota. (The officer was tried for manslaughter, acquitted of charges, and fired.) "The thing we always have to balance is, how do we make sure we do everything in our power to make it so bad actors are deterred from using a product while not limiting access to those who use it for good?" says Simo.
In her time at Facebook, Simo has also dealt with personal challenges, including an internal struggle with imposter syndrome. "That feeling that you do not deserve your success," she explains, "I think a lot of people struggle with that. I grew up in a family of fishermen; there is absolutely no reason why I should be here leading the Facebook app. It would almost be weird for me not to have imposter syndrome."
Simo admits that she has sometimes treated fashion and makeup like "an armor," relying too heavily on "being very put together, with the perfect makeup, the perfect outfit," for her sense of worth. "When your confidence is too tied in with your presentation, it's not deeply grounded," says Simo. She came to that realization during her difficult pregnancy with her daughter three years ago. Due to complications from a long struggle with endometriosis, Simo was forced to spend the last five months of her pregnancy on bed rest. Then a director of product management, Simo had to lead from her bed, speaking to her team via video conference, often makeup-free with hair unwashed. "I was very worried that I would lose credibility and everybody would realize that I was an imposter," she recalls. But then, inspired by Sandberg's candidness about her own struggles—the COO has spoken openly about her grief over her husband's sudden death in 2015—Simo realized that by embracing the vulnerability she felt in her awkward situation, she could be a stronger leader. "By admitting, 'Yeah, I'm going through a pretty rough time right now,' I was better able to connect with my team," she says.
Since then, she's found ways to counteract those nagging feelings of being an imposter. "I don't let it block me," says Simo. "I handle it by having a lot of gratitude. When you wake up every morning, instead of telling yourself, 'Oh my God, I shouldn't be in this job,' you tell yourself, 'Wow, I'm so grateful to be in this position, and I'm going to try to kick ass and be worthy of it.' "
With such a big job, Simo admits it can be difficult to stop working—ever. It helps that Simo's young daughter and her husband, Remy Miralles, an engineer turned stay-at-home dad, often travel with her on business trips. "Having a 3-year-old nearby is the best distraction," she says. "My daughter will say, 'Mommy, can you play with me?' And I'll remember that there will be only so many years where she asks, and I'll just put the phone down and go play."
Simo, who sits on the boards of the L.A. Dance Project and Cirque du Soleil, also finds joy in dance, theater, and art. On weekends, often with her daughter playing alongside her, she enjoys sculpting intricately whimsical clay "chimeras," like the iridescent "Turtrichoïd" she displays on her desk—a woman crossed with a turtle crossed with a giraffe, in high heels. "When I think about creativity, I always think female energy," explains Simo. "Women bring life into the world, and it doesn't get more creative than that."
In her new role, Simo is harnessing her creativity toward making Facebook a more intimate place. In March, Zuckerberg announced that the company would be shifting away from its controversial role as a public town square to focus on private communications between friends and family. One of Simo's first big projects was a major redesign of the app, with a new look that highlights Facebook Groups. Some of her other recent projects intended to tighten personal connections include a fundraising tool for Groups and Facebook Dating, slated to launch in the U.S. this fall.
And then there's that other big goal: "My number-one priority is to keep people and their information safe," she says, noting that the company is making its privacy controls simpler to find and use, has expanded its security team, has established a dedicated privacy and data-use team, and has tightened its app-review process to further restrict what data app developers can use.
In an attempt to prevent the spread of misinformation and election interference in 2020, Facebook has also improved its machine learning in order to identify and remove fake accounts. "We disabled 2.19 billion accounts in the first quarter of 2019," says Simo. That's nearly as many accounts as there are remaining. "Most of these accounts were blocked within minutes of their creation, before they could do any harm, and were removed so soon, they were never considered active," she says.
Will Simo succeed where Zuckerberg has often failed to earn the public's trust? One sign that she may just be the leader to rise to the challenge is her apparent desire to take the company beyond its once-famous motto, "Move fast and break things." Simo will be moving forward mindfully—and joyfully.
This article originally appeared in the September 2019 issue of Marie Claire.
RELATED STORY
Celebrity news, beauty, fashion advice, and fascinating features, delivered straight to your inbox!