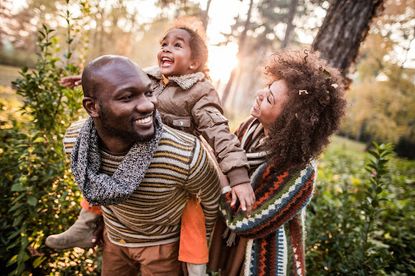 (Image credit: Getty Images)
Marie Claire Newsletter
Celebrity news, beauty, fashion advice, and fascinating features, delivered straight to your inbox!
Thank you for signing up to Marie Claire. You will receive a verification email shortly.
There was a problem. Please refresh the page and try again.
Evaluating whether an organization embraces environmental, social, and corporate governance (ESG)—or simply choosing to invest sustainably—has become more popular and more rigorous in the past two years in particular. More and more, investors are putting their money where their mouth is, but it can be challenging to do research on your own.
At Domini, ESG priorities are not new. As a woman-led mutual fund firm that specializes exclusively in impact investing, they have two main goals: ecological sustainability and universal human dignity. As part of their standards, they don't invest in companies doing business that they deem to be harmful—their funds are fossil fuel-free, nuclear weapon-free, and firearm-free, among other exclusions.
It's not just about reducing greenhouse gas emissions; the firm's investment and research experts look for data on companies that are working to lower their climate impact via energy efficiency, renewable energy, recycling, circular economy initiatives, and more. By identifying social and environmental leaders across the globe, Domini invests in companies that provide long-term value for people, planet, and profit.
"The impact investing movement has momentum now—finally everyone is realizing: what's not to like about linking your values and your money?" explains Amy Domini, founder, CEO, and chair of Domini Impact Investments, as well as author and world-renowned expert in socially responsible investing. Early in her career, she wondered: Can you do good by buying stocks? She's proven over and over again that the answer is an emphatic yes.
More than 30 years ago, Amy Domini created the Domini 400 Social Index, the first socially and environmentally screened index. An investment tool designed to identify the more socially responsible companies on the stock market. Amy Domini has long believed that corporations are the dominant social force on the planet; she focused on ESG way before it became popular, and doing so earned her many honors. Barrons named her as one of "The 20 Most Influential People in ESG Investing" and Time magazine called her one of the "100 Most Influential People in the World."
As detailed in the Domini 2021 Impact Report, just in the last year the firm has communicated with over 300 companies, helping inspire positive change on a wide range of environmental and social topics—from diversity in the boardroom to supply chain transparency and the use of sweatshops. As part of their advocacy work, they also supported several dozen investor and NGO statements on environmental and social issues, and voted on behalf of their shareholders at over 800 companies' global meetings. Domini's assets grew to $3 billion in 2021, and their founding fund, Domini Impact Equity Fund, celebrated its 30-year anniversary.
The impact doesn't stop there; the firm helps investors align their money with their core values. "Why wouldn't someone want to participate in helping to make finance part of the solutions to today's social and environmental issues?" Amy Domini explains. "You can take the tool that is being an investor and use it to cast a vote for affordable housing, social justice, and other causes that you care about."
Amy Domini believes that the urgency of this moment is the climate crisis and is an opportunity for investors and companies to work towards a more sustainable future. For example, as of September 2021, the Domini Impact Equity Fund's portfolio was 61 percent less carbon intensive than its benchmark (i.e., standard against other funds), with 71 fewer tons of emissions per million dollars of sales, according to the Task Force on Climate-Related Financial Disclosures' (TCFD) Carbon intensity metrics.
By seeking investments that promote long-term positive environmental impact as well as universal values of fairness, equality, justice, and respect for human rights, Amy Domini and her firm are inspiring a greater and greener world, one investor at a time. Discover Domini and learn more about the Domini Impact Equity Fund here.
An investment in the Domini Funds is not a bank deposit and is not insured, is subject to certain risks, is subject to principal loss, and is available only to U.S. investors by prospectus offer. Call 1-800-225-3863 for a prospectus containing this and other important information. Please review full legal disclosure here. DSIL Investment Services LLC (DSIL) distributor 4/22.
Celebrity news, beauty, fashion advice, and fascinating features, delivered straight to your inbox!