Why Is Space Still So White?
There are only 18 African-American astronauts in NASA history. A third of them are women. Here, we explore what's stopping the space program from looking more like America.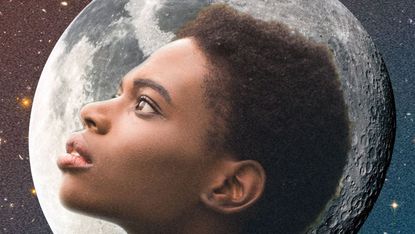 (Image credit: Getty Images, Susanna Hayward)
In 2018, astronaut Jeanette Epps was preparing to become the fourth African-American woman to travel to space and the very first African-American crew member to live on board the International Space Station (ISS). It would have been momentous. Then, six months before the mission, Epps was suddenly removed without explanation.
"I don't know where the decision came from and how it was made, in detail or at what level," Epps said on a panel at the Tech Open Air festival later that summer, when she was supposed to be on board the ISS. "There's no time to really be concerned about sexism and racism and things like that, because we have to perform. And if it comes into play, then you're hindering the mission, and you're hindering the performance. And so whether or not it is a factor, I can't speculate what people are thinking and doing unless I have a little bit more information."
At the time, NASA did not clearly state why Epps was removed from the mission. When asked to comment for this article, NASA told Marie Claire that Epps' removal had to do with flight-readiness, which includes extensive physical, emotional, and mental preparation. "The training demands for International Space Station missions are extreme, and flight readiness requirements [for Jeanette Epps] were not satisfied," a spokesperson said via email. "Serena Auñón-Chancellor, who was previously assigned to [the following mission] Expedition 58/59, served as Epps' backup and was moved to [the current mission] Expedition 56/57 crew assignment."
Some may take relief in the fact that Epps wasn't replaced by a white man. Auñón-Chancellor identifies as Latina. Yet, she's one of 12 Hispanic NASA astronauts, and one of two female Hispanic astronauts in the program. We could not find reliable data on the number of Asian-American female astronauts since the program started. In other words, NASA's track record of investing in women of color astronauts is not exactly solid.
In 1992, Mae Jemison became the first woman of color to go to space—more than two decades after Neil Armstrong and Buzz Aldrin landed on the moon. Just two other African-American women have flown in space since; of the 350 astronauts in NASA's 61-year history, only six are Black women—a fact that Jemison has expressed frustration about.
"Even great organizations may be blind to persistent intersectional bias that treats African-American women so differently," Jemison wrote in a February 2020 New York Times opinion piece following the death of NASA mathematician Katherine Johnson, whose calculations of orbital mechanics were a tremendous aid during the first space flights in the 1960s. In Jemison's 2019 White House testimony on how to achieve a more diverse STEM workforce, which she delivered before the U.S. House of Representatives Committee on Science, Space, and Technology, Jemison pointed out how two qualified female African-American astronauts weren't sent into space. She was referring to Epps and Airforce Ret. Colonel Yvonne Cagle, M.D.—the only astronaut trained in the military to have never been assigned a space mission. The reason why is unknown.
It hasn't been easy for women of color to enter the NASA program, let alone enter space. Though NASA's application process has greatly shifted over the years, back in its early days the organization required applicants to be pilots. However, in the 1950s and 1960s, women and most minority groups were not allowed to fly in the military, automatically disqualifying them from applying to space programs. It wasn't until 1978 that the graduating astronaut class held the first women, including the legendary Sally Ride—the first American woman in space.
"In the 1978 class, NASA started shifting astronaut requirements," explains Amy Shira Teitel, a spaceflight historian and author of the book, Fighting for Space: Two Pilots and Their Historic Battle for Female Spaceflight. "It used to be all pilots, but then it could be pilots and mission specialists, and mission specialists did not have to be pilots. New applicants were scientists specializing in whatever research was required for the mission. This opened up the astronaut program not only for women, but for all people of color."
It would be unfair to put the blame solely on NASA for a lack of gender and ethnic diversity in space programs—it's an issue that trickles down from across all STEM fields. In 2019, women earned less than half of all math and physical science degrees and minority students earned less than a quarter. In 2015, Quartz reported that from 1973 until 2012, physics doctorates in this country went to 66 Black women and more than 22,000 white men.
"Being a Black woman in a white male dominated field is difficult every day. The racial and gender inequalities are something I'm still grappling with and probably will for the rest of my career," explains Katrina Miller, a fourth year physics candidate at the University of Chicago. "The further I go, the less representation I see. Sometimes I get this weird realization that I am the first Black scientist to ever physically occupy certain spaces—clean rooms, research groups, scientific meetings."
For women who do pursue a career in STEM, implicit biases can keep them from progressing. Dr. Stefanie K. Johnson, associate professor of management at University of Colorado Boulder's Leeds School of Business, worked with the Hubble Telescope Observing Program to see if removing all forms of identification in applications resulted in a more diverse applicant pool being chosen to participate in the program.
"If you want to be successful in astrophysics, having time and access to these telescopes is important," explains Johnson. "If you looked at the total number of men who applied for Hubble Telescope access versus those who got it, and you look at women applicants and those who got it, you see that men are doing better every single year."
With Johnson's help, the Hubble Space Telescope selection team removed any personal identification from the application process and instead chose applicants based solely on merit. For the first time, women outperformed men. Johnson is now working with NASA to bring the same hidden bias selection process to their own telescope selection program.
Today, the NASA space program application process is nearly unrecognizable from how it was when Jemison applied in 1985. For the first time, candidates will need to take a two-hour online assessment in addition to meeting the basic requirements of being a U.S. citizen and holding a master's degree in a STEM field. In an effort to remove implicit bias, astronauts no longer have to disclose their ethnicity, and nearly a quarter of applicants chose to not reveal their racial background in the latest round. Of the applicants who did disclose their race in the most recent call, 55 percent marked down Caucasian, 5.2 percent Asian, 2.6 percent African-American, 1.7 percent Hispanic, 0.2 percent Native American, and 0.1 percent Pacific Islander. Around 10 percent marked "multi-racial."
Still, it will be up to NASA to deliver the results.
The agency has stated that its current lunar exploration program, known as the Artemis project, plans to land the first woman on the moon in 2024 and, eventually, Mars. In the most recent astronaut graduate class, there are 11 NASA astronauts and two Canadian Space Agency astronauts. Six of them are women, and two are women of color: Jessica Watkins, a postdoctoral fellow at the California Institute of Technology who identifies as African-American, and Jasmin Moghbeli, a U.S. Marine Corps major whose parents are from Iran. With these stats, there's a chance the next person on the moon could be a woman of color. And that's progress.
This story has been updated.