Yet Another Childcare Crisis
An already-failing system means support for working families is severely lacking. But for those with children who have "invisible disorders," help is practically non-existent.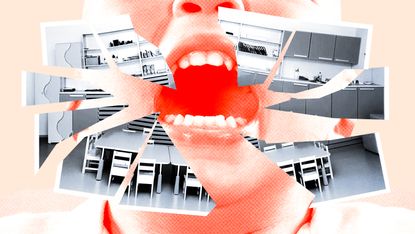 (Image credit: Future)
Marie Claire Newsletter
Celebrity news, beauty, fashion advice, and fascinating features, delivered straight to your inbox!
Thank you for signing up to Marie Claire. You will receive a verification email shortly.
There was a problem. Please refresh the page and try again.
Jen Lewis was a speechwriter at an embassy and deciding between a Ph.D. program and law school when she got pregnant with her son, H (we're using his first initial and her maiden name to protect their privacy). By the time H was a toddler, he had been diagnosed with epilepsy, autism spectrum disorder, and behavioral problems, which resulted in tantrums that were so violent, Lewis estimates she went through 50 pairs of glasses in one year; H would rip them off her face, breaking them. Multiple childcare centers banned H from attending. Leaving him with a babysitter wasn't an option, either. After going through as many as 30 sitters, Lewis was put on "the blacklist of the neighborhood," she says.
Without many choices, Lewis quit her job to take care of H. She put her plans to go back to school on hold, before eventually shelving them for good. When, a few years later, she finally found a special needs preschool for H, Lewis returned to part-time grant-writing work and began to feel like herself again.
But then a call would come in, always about H: A behavioral incident. A seizure cluster. An urgent problem that required Lewis to walk away from her work with little or no warning. Sometimes she felt too much emotion—shame, embarrassment, rage, fatigue—to even offer an explanation to her boss. "I still feel guilty about it," she says, her voice wistful. "All of that stuff about 'leaning in' doesn't work when you have a kid with capital-C challenges. It's not possible. Your kid is in absolute crisis."

After a year, the preschool closed due to financial reasons, forcing Lewis to find new arrangements. "We school hopped for the next year, getting kicked out of different programs, even ones designed to be inclusive," Lewis says. "He was beyond the scope of what they could manage." Without a tenable childcare alternative, Lewis decided to homeschool H, meaning she had to quit working—again.
Childcare in America, in general, is a patchwork system that families are left to navigate on their own. Costs are frequently too high, providers are paid too little, and some regions are essentially childcare deserts without sufficient quality options. But for parents with neurodivergent kids—kids who have what are referred to as "invisible disorders,'' such as ADHD, obsessive compulsive disorder, autism spectrum disorder, or defiant behavioral disorders—the options are even fewer, leaving parents to put their children in whatever program they can find. At most facilities, staff aren't trained to care for children with specialized needs. Where they are, tuition can be exorbitantly expensive (rates vary widely, but can cost tens of thousands of dollars annually). Even centers that claim to care for neurodivergent kids aren't a sure thing, often calling parents when issues of violence or self-harm arise.
It's a tenuous situation that ultimately forces many parents to abandon or scale back career plans to care for their children. Sarah Wayland, the founder of Guiding Exceptional Parents, which provides support and advice for families in situations similar to Lewis's, estimates that half of parents who have a child with behavioral special needs are forced to cut their work hours to support their kids. Wayland herself has two children with autism spectrum disorder, and she (a psychologist) and her husband (a research physicist) each reduced their work by 25 percent so they could be available for caregiving. Wayland and her husband were able to make it work at the reduced income. But many families take a financial hit in cutting back. Lewis knows of families where one, or both, parents had to quit lucrative jobs and then had to downsize, selling their homes, cars, or possessions, in order to survive financially. Others turned to shift work on the weekends to try and make up for lost wages.
For women, the earnings hit can be particularly acute. In many families, mothers are the ones who wind up downshifting at work or stepping away entirely. A 2012 study found that, on average, mothers of children diagnosed with autism earned 35 percent less than the mothers of children with another health limitation—and 56 percent less than the mothers of children with no health issues. A loss of income that compounds an already problematic gender wage gap.
The numbers are bad enough, but there's a less quantifiable cost that is just as a damaging: the impact on one's career. That same study referenced other research that found that these families are more likely to report employment problems such as quitting work, decreasing work hours, or changing jobs because of their child's health diagnosis.
Claudia Sellmaier, an assistant professor at the University of Washington Tacoma who has studied the work and life effects of parents of children with disabilities, found that, while both parents of kids with special needs can lose income, managers tend to penalize mothers more than fathers despite similar declines in productivity, and viewed mothers with lapses in productivity as having less interest in advancing in their careers and being less committed to their work, compared to fathers.
---
For Rachael, it was the "unknowns" surrounding childcare for her son, Henry (we're using only her first name and his middle name to protect their privacy), that kept her from being able to sustain partner track at the law firm where she works in Washington, D.C. When Henry started preschool, his behavior became so difficult that the school mandated that Rachael hire an aide to provide him one-on-one attention. She paid for one out-of-pocket on top of the full-day tuition. It was expensive, but it didn't feel like she had a choice. Eventually her insurance helped cover some of the additional cost.
At age 4, Henry was diagnosed with autism spectrum disorder and ADHD. Managing Henry's care, education, and therapy appointments became "another full-time job" on top of Rachael's legal workload. She dropped down to a role at 80 percent with a 20 percent pay cut, becoming "of counsel" instead of the more lucrative "partner." Being a partner came with the expectation that she would spend extra hours developing business for the firm. "It didn't seem workable for me," she says. Last fall, Henry switched to a public school program for kids with autism but Rachael still felt tethered to the phone each day. "I had no idea if this was going to even work. Would I get a call, saying, 'No, this doesn't work. Figure out something else?' Then what?"
The "dreaded phone call"—that moment when a childcare center or school requests a child be picked up—came up in every interview with every woman we spoke to.
Laura's daughter B (we're using the mother's first name and child's middle initial only to protect their privacy), has autism spectrum disorder and has been treated for borderline personality disorder. The stress from the phone calls Laura would receive—both from B and B's school—became too disruptive for her to maintain full-time work as a high school teacher. Instead, she began working as a substitute.
The calls began when Joy's son Raphael (we're using middle names for both to protect their privacy) was 2. At first, it was inconvenient to leave work midday to pick him up, but the situation grew impossible when, just two months after enrollment, Joy was asked to find a different school for Raphael. America's K through 12 public education is considered a constitutional right for any child, including those with disabilities, but those protections do not extend to childcare centers. It was months before Joy could find another option.
Raphael was first diagnosed with executive function deficits and nonverbal learning disabilities. By the time he was 8, he was diagnosed with a mood disorder and generalized anxiety disorder. Joy and her husband would sometimes switch off responding to the calls, but some instances were just so significant—like a threat of violence or self-harm—that both parents needed to be present. The day she was interviewed for this piece, Raphael, now 10, had been sent home from school early for hitting another child.
Joy is a therapist who works in academia. She has contemplated making the shift to private practice, which is more lucrative, but fears having to cancel on clients on short notice. She estimates she makes about 25 percent less because of this decision and the financial constraints weigh heavily on her family. During a particularly trying phase with Raphael, several well-intentioned people suggested she quit her job and stay home with Raphael full-time. "We didn't make enough money for me to do that," says Joy. "I was the breadwinner, the one who was covering the health insurance and more than 50 percent of our expenses. My job was never a 'nice to have.' It was essential." Joy's marriage, already strained, ended in divorce.
---
Parents undergo hormonal and brain architecture shifts with the arrival of a new baby, which creates that bond, attachment, and close attention required for an infant, explains Rita Eichenstein, Ph.D, a pediatric neuropsychologist and author of Not What I Expected: Help and Hope for Parents of Atypical Children. These hormonal shifts tend to recede after the first year with a neurotypical child. But for parents with neurodivergent (sometimes referred to as neuroatypical) kids, the parent's entire alert system stays activated much longer.

This is especially true for mothers. "Moms of neuroatypical kids have an internal alarm system," says Eichenstein. "It overrides any other external pressing needs, which can make the needs of daily office demands secondary." It is this constant worry and pull that undermines a parents' ability to work, combined with the disruptions to their days, that lead some women to quit their jobs (like Lewis), or choose a less-lucrative job (like Joy), or step away from full-time work (like Wayland, Rachael, and Laura).
It doesn't help that this is all shrouded in stigma. Many parents are hesitant to broach the subject with their employers, says Amialya Durairaj, one of the founders of Mindful Return's Balancing Career with a Special Needs Child e-course. "In some cases, a parent has to drop all their work and might not feel comfortable explaining what the family crisis is."
Eichenstein cites self-blame as a major obstacle for mothers to be forthcoming about their challenges. "More often than not, it is the moms who tend to blame themselves. 'Am I at fault? What did I do? What did I eat during pregnancy?,'" says Eichenstein. "The blame society puts on mothers is disproportionate to anyone else—we have a systemic culture of blaming mothers that goes back a hundred years, since the start of the modern psychology movement."
Jessica Grose, in her book, Screaming on the Inside, posits that the individualistic nature of motherhood has seeped into our working world and put too much unsustainable pressure on parents. Grose writes of a "contemporary set of expectations" that encourage us not to "engage with the broader community in any way, shape or form."
But ultimately, what's really needed is large-scale change for a system that wasn't designed, and isn't equipped, to help families with neurodivergent children. America stands alone among wealthy nations with its lack of federal childcare infrastructure and no guaranteed paid family leave. The latter would allow women the financial safety net to step away from their careers for an extended period of time to help care for their families.

But a longer-term solution is needed. Largely, a federal investment in preschool and pre-K programs, guaranteeing access for all kids—including special needs kids—to childcare. By creating a model that is inclusive of everyone, it would also lead to better trained staff and support services, including having therapy and mental health services within the school setting, which would help keep kids there all day, rather than being pulled out for a disruption.
Absent that, parents who find themselves in the current childcare paradox are trying to find creative ways to salvage their careers, says Eichenstein. In her experience, women often pivot to entrepreneurship and other endeavors where they can be their own bosses, like freelancing or contract work. This makes possible certain freedoms, like flex time. Lewis takes on educational consulting work now and has developed a sought-after expertise for families with special needs children.
Joy found solace at work when she disclosed details about her son's situation. It was easier when she no longer pretended that Raphael wasn't struggling, and felt no compunction to hide it. "Across the board—the therapists, the educator, everyone blames the mom," says Joy. "Only after 8 years of this, [do I know] it's not about me. I have a kid who does not fit in a box, and it's going to be hard to be his parent." Joy discovered power in speaking up, in hopes that now, maybe, more people will actually begin listening.
Celebrity news, beauty, fashion advice, and fascinating features, delivered straight to your inbox!
Rebecca Gale is an award-winning journalist covering the nexus of politics and people in Washington, D.C. She is currently a writer with the Better Life Lab at New America. Her work has appeared in The Washington Post, Roll Call, Marie Claire, Cosmopolitan, and Health Affairs, among other outlets. Follow her on Twitter @beckgale