I Am the Boss of Me
You've always dreamed of busting out of the cubicle and doing your own thing. These five women actually did it. Easy? No. Worth it? Totally. Listen and learn.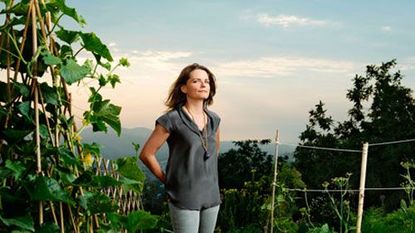 (Image credit: Williams + Hirakawa)
Marie Claire Newsletter
Celebrity news, beauty, fashion advice, and fascinating features, delivered straight to your inbox!
Thank you for signing up to Marie Claire. You will receive a verification email shortly.
There was a problem. Please refresh the page and try again.
The Green Genius

Marta Teegen, 36, owner of urban-garden company Homegrown, Los Angeles
MY INSPIRATION: I grew up on a farm in the Caribbean, and I've always loved gardening and cooking with fresh ingredients. So I got the idea to combine my two loves into a business: I would help people grow their own "edible gardens," chock-full of organic vegetables and yummy herbs like rosemary, thyme, and oregano. I could plant the gardens in raised beds in the yard or in window-boxes in the kitchen for apartment dwellers.
HOW I GOT STARTED: I ditched my job in the nonprofit sector, gathered up my savings, and launched Homegrown in 2007. I worked with high-end chefs at first, then branched out to people who had never grown anything in their lives. Customers began hearing about me through word of mouth. Thankfully, my overhead was low since I worked out of my home in Los Angeles.
THE PAYOFF: Today I have several hundred clients; I talk with them about what they want and provide all the materials and hands-on training. My fees range from a few hundred bucks to thousands of dollars, depending on the project. The timing is right because people are struggling with rising food prices and environmental concerns - they're getting increasingly interested in growing their own food.
THE BUMMER: Heavy traffic through my home. It's the downside of giving demos in my own backyard.
MAJOR MISHAPS: I get the most emergency calls from clients who planted a garden so that their kids could see where their food comes from. Sounds like a good idea, right? But guess what: The toddlers tend to rip out half the plants!
WHAT'S NEXT: I'd like to set up a nursery where I could teach more classes to green-thumbers year-round. I'm also interested in starting a franchise so people could buy the Homegrown brand and have a customizable list of services around the country.
WORD TO THE WISE: Know when to say no. People who launch start-ups are often go-getters who take on more and more work. But you can burn out really fast that way. While I love what I do, I'm not in business for myself to work seven days a week, 15 hours a day. I remind myself to set limits.
The Bowling Queen

Sharon Joseph, 30-something, owner of Harlem Lanes, New York City
MY INSPIRATION: For years I carried around a little notebook of ideas - things I'd like to do, businesses I'd love to start. The problem: I was working on Wall Street and never had time to act on any of my big plans. Meanwhile, other people would come up with the same ideas — and actually execute them. (One of my schemes was to set up a job-hunting site like monster.com - imagine where I'd be today if I'd done it!) Then one day in 2002, my aunt, Gail Richards, and I were walking around Harlem, where I grew up, and I said, "You know, there aren't many family-friendly places here where people can socialize, like a great bowling alley." She said, "Well, let's open one up — before someone else gets the idea."
HOW I GOT STARTED: Gail and I did some research — visiting other bowling lanes around the city and state, and also standing on the corner of 125th Street in Harlem and asking people, "If we had a bowling alley here, would you come?" The answer was always yes. So we decided to partner up — we called ourselves Laverne and Shirley — and started looking into government loans and talking to investors who focused on urban-development projects. In the meantime, we found a giant old abandoned theater, filled with pigeons. We rented out the space and started revamping it in a big way.
THE PAYOFF: Now we have 24 bowling lanes, 21 plasma TVs, a cafe, karaoke, a sports bar, a lounge, the only draft beer in this part of town — and the sexiest bowling heels around. Yes, actual high-heel bowling shoes. We have nearly 50 employees, and we're almost profitable now; hopefully, we'll get there in a year.
THE BUMMER: Since I'm a single mom, giving up my cushy Wall Street job and 401K plan was a risk. And this project has been nonstop hard work, especially the construction; we created two floors in the building and needed to buy steel right at the time when steel prices were rising. I regularly send e-mails at 3 in the morning. I always tell people, if you're looking for freedom, entrepreneurship is not necessarily it.
BIGGEST TRIUMPH: We were determined to have President Clinton do our ribbon-cutting ceremony in 2006, but we weren't actually finished with construction at the time he was available. So we hired a production company to make the place look fabulous while he stood out front and snipped the ribbon - it was like a movie set. We opened later that year.
WORD TO THE WISE: Ask yourself, Will your business solve a problem for people? If so, you can nab customers. Also consider: Will the business make a profit for you and any investors? That's key, too. Then put together a five-minute summary of your idea that a child could understand — you need to be able to explain your plan to investors or banks quickly and simply. Also, have a 20-minute version and an hour-long one for people who want to know more. Be ready to recite the plan at any time — on airplanes, in elevators, on buses. You never know when you might need it.
The Exotic-Candy Maker

Katrina Markoff, 35, owner of Vosges Haut-Chocolat, Chicago
MY INSPIRATION: One night I was playing around in my kitchen and made this milk-chocolate truffle with coconut and curry. Then I got into a zone and made about 20 different kinds of truffles, using Hungarian paprika, Japanese wasabi, black sesame seeds--all flavors from places I'd traveled, like Eastern Europe, Southeast Asia, Korea. Later I brought a few truffles into my office — a mail-order company in Dallas — for my coworkers. They thought I was nuts, but when they tried the candy, they loved it. I knew I was on to something. I thought, Maybe I can tell stories of where I've traveled through chocolate.
HOW I GOT STARTED: I sold a few batches of truffles from my apartment, then met with a buyer from Neiman Marcus, who basically said, "Don't call me; I'll call you." Amazingly, he did call — the very next day. Turns out, he'd put my chocolates in the break room, and they'd disappeared immediately. Pretty soon, I was selling candy at Neimans in Dallas, Los Angeles, and Chicago. After a few months, I took out a small-business loan from a bank and opened my first store in 1999 in Chicago, where a real foodie culture was beginning to grow.
THE PAYOFF: Now I have shops in Las Vegas, New York, and Chicago, as well as online (vosgeschocolate.com). I'm planning to open a store in Los Angeles next. I have about 100 employees, and we're profitable now; last year we had around $12 million in sales. That's a lot of $2.50 truffles!
THE BUMMER: Cumin and chocolate. I just can't get that combo to work. I wish I could spend more time creating new recipes, but I have to do all this managerial stuff.
WHAT'S NEXT: I would love to buy a cocoa plantation in Grenada and work more closely with the farmers instead of with middlemen — I'd like to make sure the farmers get good wages even if they have a bad crop. I'm also launching new lines of goodies, including chocolate skull-shaped Day of the Dead candies, with Mexican chipotle chilis and cinnamon.
WORD TO THE WISE: Think creatively about how to get the news out to the world about your business. It helped me immensely that I got some good press from gourmet publications early on. Remember the power of the media.
The Tech Guru

Gauri Nanda, 28, designer of Clocky alarm clocks, New York City
MY INSPIRATION: I always had a hard time getting out of bed — I'd hit the snooze button over and over. So while I was a graduate student at the Massachusetts Institute of Technology, I designed a crazy alarm clock for a class project. The clock would roll off the night table, zoom around the room, and hide — so I'd have to get out of bed to turn it off. I called it Clocky.
CLOCKY TAKES OFF: After the class, I posted a photo of Clocky on the course website, then tossed the clock in the closet and forgot about it. But the tech bloggers came across my project on the site and started buzzing about it, big time. Next thing you know, Good Morning America called me. I began getting all kinds of interview requests; about 10 radio stations called every day. Hundreds of people contacted me about buying a clock. It was insane. I realized what a huge opportunity I had.
HOW I GOT STARTED: I designed a sleeker version of the clock (the original one was pretty massive and furry, so it could survive the drop from the table to the floor). Then I Googled some manufacturers and went to meet a few of them in China. When I found one I liked, I borrowed money from my family and had 1000 clocks made. In December 2006, I began selling them. In the meantime, I'd set up a website (nandahome.com), and about 30,000 people had expressed interest. So I started working with retailers — like the MoMA Design Store — and catalog companies.
THE PAYOFF: Today I've sold around 100,000 clocks (at $50 each), and they're available in more than 50 countries.
THE BUMMER: Working 24/7. I'm finally planning to hire a couple of employees — so hopefully I can get some ZZZs.
BIGGEST SURPRISE: People are putting wacky videos of Clocky on YouTube: They'll videotape the clock with their pet. As you can imagine, cats and dogs are pretty freaked out by it.
WHAT'S NEXT: I'm experimenting with new features for the clock, like touch screens, fun sounds, Wi-Fi. There's a lot going on with social networking these days on sites like Facebook and MySpace, so maybe people could connect via their clocks, too.
WORD TO THE WISE: If you're launching a start-up, do some networking with other small-business owners. I called entrepreneurs out of the blue and asked for advice. Most of the time, they were pretty helpful. Now people call me to pick my brain.
-->
The Fashionista

Alice Kim, 38, owner of the Trocadéro boutique, Omaha, NE
MY INSPIRATION: I was living in New York City, with a gig as an accessories director of a fashion magazine, when I turned 37 and started thinking about what I really want. I'd always dreamed of having kids, and I wasn't dating anyone, so I asked myself, Do I want to be the eccentric old aunt in a tiny apartment with a zillion pairs of shoes and five cats? I decided it was time to change it up. I got motivated to leave the whirling buzz of stress and move to a more family-friendly place — Omaha — and open my own boutique.
WHY OMAHA? I've had this strange fascination with Omaha ever since I was a kid. The Wizard of Oz is from there — his hot-air balloon says "State Fair Omaha." Over the years, I've always been drawn to people from Nebraska — they seem very wholesome and genuine, purposeful. Then I stumbled upon a newspaper story about an area in Omaha called the Old Market, with cobblestone streets and galleries in converted warehouses. I learned that there was a need for fashionable boutiques, and decided, that's it — I'm opening my shop there.
HOW I GOT STARTED: I visited Omaha for the first time in May 2007 and found a loft space to lease for my shop: high ceilings, hardwood floors, brick walls. Then I packed up and moved in July. I took out a small-business loan from a local bank and began thinking about what to feature in my boutique. I networked with accessories designers I knew from my magazine days and opened my doors in October 2007. Now I have Gwen Stefani's L.A.M.B. bags, Alexis Bittar's jewelry, Brian Atwood's shoes, along with personal notes from the designers next to the displays.
THE PAYOFF: I'm building up customers, and my life is low-stress here. I feel much closer to realizing my dream, which is to become a mother. Everyone in Omaha knows my story, and they set me up with single guys. Yesterday a man walked into my store and said his friend had sent him to ask me out. I swear to God, when I get married, this town's going to throw me a parade.
THE BUMMER: We had a really bad winter — the papers said it was the coldest one in 25 years - so people weren't venturing out to shop.
BIGGEST SURPRISE: Every spring, about 30,000 investors come to town for the famous shareholders meeting of Warren Buffett's company, Berkshire Hathaway. You'd think it would be a great time for sales, with a bunch of millionaires hanging around. But they're actually pretty frugal. Maybe that's why they're millionaires!
WORD TO THE WISE: My advice is more philosophical than financial: Figure out what you want in life and design your career around that. My job isn't my life anymore; it doesn't define me like it did in New York City — it's my hobby.
Want More?

3 More of Our Favorite Entrepreneurs Share Their Best Advice

6 Musts for Future Moguls
Celebrity news, beauty, fashion advice, and fascinating features, delivered straight to your inbox!
Abigail Pesta is an award-winning investigative journalist who writes for major publications around the world. She is the author of The Girls: An All-American Town, a Predatory Doctor, and the Untold Story of the Gymnasts Who Brought Him Down.