The View From The Top
It's good to be the boss. Three powerful women share the highs, lows, and biggest surprises of their kick-ass careers.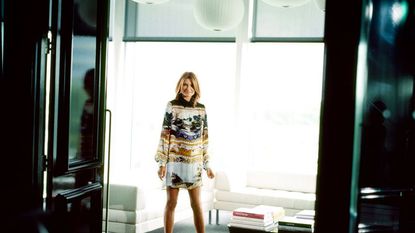 (Image credit: Anthony Cook)
Natalie Massenet, Founder and Executive Chairman, Net-a-Porter
After growing up in Paris and Los Angeles as the daughter of a Chanel model and a foreign correspondent, Natalie Massenet took to fashion journalism so easily it didn't seem like a serious career. "I couldn't believe I was getting paid, because to me it was just fun," she says. "Then I realized I was really passionate about it. When you love something, it doesn't feel like work."
A stint as West Coast fashion editor for Women's Wear Daily and W provided "a great education," Massenet says. "There were so many things in my job description — writing, styling, producing, researching. It was an amazing lesson in how resourceful you can be in getting things done, and a great foundation for starting a business."
Which she did, with spectacular results: Massenet will go down in fashion history as the founder of Net-a-Porter, the online luxury shopping site that blended fashion journalism with retail to become a global empire. With 42 million unique visitors last year and shipments to 170 countries, the company was sold to the Swiss luxury goods company Richemont for $532 million, netting a reported $76 million for Massenet, who retained 18 percent of Net-a-Porter and remained as its executive chairman.
Massenet's original career plan was actually quite different: She had hoped to become editor-in-chief of a magazine in New York. But by the late 1990s, she was increasingly obsessed with new possibilities. "I was saying to my friends, 'The Internet is going to change everything in fashion — you clever guys should do that over there!'" she recalls. "But my friends in business were not getting it. So I thought, Let me show you!"
After picking up a pamphlet from Barclays Bank on how to start a business, Massenet convinced 35 brands to give her stock on consignment and called everyone she knew to contribute $15,000 each to help assemble the nearly $1 million she needed to capitalize her new venture.
"I was three months pregnant when I started working on it," says Massenet, whose daughters are now 5 and 12. "I never had any doubt that women would shop online, but I never thought in a million years that our business would end up being a market leader."
To achieve that goal, Massenet has worked with single-minded focus. "It's a miracle that I have any friends left because I really disappeared for 10 years," she says. "I was completely binary; either I was working or with the kids. Both parts of my life are so consuming, but together they give me incredible balance. I think I'm a better mother because of work, because I'm happy. If I wasn't working, I would just be waiting for the kids to come home every day, and living vicariously through their lives."
For Massenet, who is vacationing on the Greek island of Santorini even as we speak by phone, work has created a fabulously different way of life. "Work means independence," she says. "It allowed me to shape my life on so many levels. I've taken an active role in creating the day-to-day life I wanted, by creating the type of place I'd like to work in. It's given me financial independence. And it's given me amazing self-confidence to know that there are no gender secrets to success. You have to work hard and be determined, but it's got nothing to do with being a man or a woman."
And new possibilities continue to beckon. "There's a tremendous amount of competition all over the world, and we're now in a completely different phase, which is reinvention," says Massenet, who is now 46. "I still feel like it's Day One. There's so much to do!"
A decade after the company was founded, Massenet says it will soon have 2,000 employees and is hiring about 100 new people a month from a pool of 3,000 weekly applicants. The original Net-a-Porter site for women has been joined by Mr. Porter for men, as well as the discount site The Outnet; other ventures include Web-enabled television in partnership with Google. "Watch something, read something, and then shop it," Massenet explains. "It's never content without commerce or commerce without content; the two are completely fused. This is what excites me."
So does the constant challenge of keeping up-to-date. "People are really scared of change, but if you don't change in this day and age, somebody comes along and runs over you," Massenet says. "In order to stay relevant, you have to stay open to new trends and keep educating yourself. You have to keep evolving."
And when she gets overwhelmed, she simply tells herself, "Just take one step, and one step, and one step. I do get stressed, but I try to make lists, pick out priorities, and focus. I think, Just keep doing your best. You don't have to be superhuman. No one else is superhuman, either."
NATALIE MASSENET'S TIPS FOR SUCCESS
1. KNOW YOUR FIELD: "The important thing is knowing what you're going to do and being an expert in what you want to do. It can be something very simple, like being an artist doing screen prints on T-shirts. But don't pick an industry you have nothing to do with, and make sure you have a basic skill set or knowledge."
2. DEVELOP A VIABLE BUSINESS MODEL: "Start small, do everything beautifully, have the right people around you, and make sure what you do generates money, because you can't sustain a business that doesn't make money. It sounds simple, but a lot of people don't have any idea of how they're going to make the money."
3. GET IT RIGHT THE FIRST TIME: "Never forget that you only have one opportunity to make a first impression — with investors, with customers, with PR, and with marketing."
4. PLAN FOR THE LONG TERM: "When I started, my entire salary went into paying the nanny. But I knew my salary would increase. You are building something, and your business gets bigger. I can invest today and get the return tomorrow."
Nancy Dubuc, President and General Manager, Lifetime and History Networks
LAST YEAR, capping a stellar rise as a television executive who had already revitalized A&E and The History Channel, Nancy Dubuc became president and general manager of Lifetime and History Networks at the age of 41. Unlike many women, she is refreshingly forthright about the pleasures of success.
"What I get to do is such a privilege, and one of the things women don't talk about enough is how great it is when you get to the top," Dubuc says. "It's better; it's freeing. You make more money; you have more support. It took me 10 or 15 years to be able to say, 'Power is good.' As women, we're programmed not to say that; the word has a negative connotation. But ultimately, what power is, is a tremendous amount of freedom and creativity. Women use power well, and we need to recognize that and not be so afraid of talking about it."
Despite her professional accomplishments, Dubuc was not one of those academic achievers whose success seems destined from an early age. "It's a terrible thing to say, but I hated school," she admits. "I'm very ADD, and my report card always said, 'If only she performed to her potential.'"
But then, somewhere between growing up in Rhode Island and attending Boston University, Dubuc happened upon the idea of a career in television. "I read a magazine article about a booker at Nightline, and I thought, That sounds really cool — you'd get to meet really interesting people!" she says. Her early jobs as a desk assistant and line producer were formative in shaping her approach to life as well as work. "Live news teaches you some incredibly strong lessons: that every day is a new day, and it's never too late to fix something," she says.
Such concepts have served her well in dealing with the unforgiving metrics of the television ratings game. "I work in an industry where we get a report card every single day, so I have my successes and failures on a daily basis," Dubuc says. "It really sucks, and it takes a long time to get used to, but it really thickens your skin after a while."
The mother of two children, who are 5 and 8, Dubuc lives in Manhattan with her husband, an advertising executive, and commutes to Los Angeles at least once a month — a schedule abetted by her "wonderful nanny" and her parents, who often help care for the kids. Hectic though it is, she wouldn't dream of scaling back her career.
"I'm a very goal-oriented person, and work is really rewarding," she says. "It's how I take care of my family, and ultimately I'm never going to let that responsibility fall to anybody but myself."
Juggling her own responsibilities is a challenge, but she handles it with characteristic rigor. A rower in college, Dubuc still exercises every day. "I really hate it, but I know it's the right thing to do, and I've discovered it's my only hour to myself," she says. "I do it at 6 a.m., before everyone is awake. I lead a pretty disciplined life, but one of the regrets I'm experiencing now is that my friends have become my guilty pleasure. I have a very important posse of girlfriends I've been with since I was 13, and it's hard to see them."
One form of daily respite is playing a couple games of Scrabble on her iPad before she goes to bed: "It takes your mind off everything," Dubuc says.
As for keeping up with her husband, she makes sure to schedule time alone. "We have 'date night,'" she reports. "We put the kids to bed and go out after that. It's important to give yourself a venue to have that adult conversation."
Another key to managing it all is not being too hard on yourself, Dubuc says. "Women beat themselves up a lot about everything: Am I doing the right thing for my kids? Am I doing the right thing for my husband? Am I doing the right thing for myself? Am I doing the right thing for my friends? You have to remind yourself every day that you're doing the best you can — and you have another chance to do it again tomorrow."
NANCY DUBUC'S TIPS FOR SUCCESS
1. TO ADVANCE YOUR CAREER: "You have to find somebody who believes in you. I'm a big believer in picking your boss, not the job. Great people create great jobs."
2. WHEN YOUR PROGRESS HITS A PLATEAU: "Take those moments of opportunity and use them for self-development. Find the thing you know you need to improve and make this time the boot camp for learning it."
3. NO MATTER WHAT PROBLEMS YOU CONFRONT: "You have to see them as learning opportunities and management challenges, and handle them with a sense of calm and control and responsibility to those around you. You have to look at every issue in terms of what it's doing for the department or the company."
Carolyn Everson, VP, Global Marketing Solutions, Facebook
CAROLYN EVERSON was born only a handful of years after the heyday of sexism portrayed in the television series Mad Men. If Everson had worked in advertising back then, she would have fit right in — but only as one of the beautiful secretaries serving a male boss as office servant-mistress.
Those Mad Men would be stunned at the power, respect, and money now commanded by Everson, 39, who left an enviable job as Microsoft's head of global advertising sales to become Facebook's vice president of global marketing solutions last March. Although Microsoft and Facebook had a brief skirmish over Everson's defection (not to mention the reported $1 million signing bonus she had received for joining Microsoft nine months earlier), most executives would give their eyeteeth to have two of the world's most powerful companies fighting over them.
"Something like Facebook comes along once in a lifetime, and I felt like this was something I had to do," Everson explains. "It's uplifting, it's energizing, it's fast-paced, and there is incredible opportunity in front of us. Facebook is such a phenomenon that I feel very fortunate to be part of it."
Everson's career to date, which also includes a position as chief operating officer and executive vice president of U.S. ad sales at MTV Networks, seems as directed as a heat-seeking missile. And yet she happened on it by serendipity. "I thought I was going to be a lawyer or a broadcaster," Everson reports. "But my older brother said, 'You'd be great in business,' and he encouraged me to go through interviews with some companies when I graduated from college. I interviewed with Andersen Consulting, which is now Accenture, and it sounded very appealing. Some people know exactly what they want to do, but for those who don't, consulting is like a training ground for people who want to learn about business. You learn how to work on other companies' business problems." After being recruited by Disney, Everson earned her MBA at Harvard University. "People can get fired, companies can get downsized, all kinds of things can happen to your career — but nobody can take away your education."
Even more formative was Everson's family life; she married at 25 and had twins at 30, but her daughters' birth was dangerously premature. "My twins were given a 30 percent chance of survival," says Everson, who lives in Montclair, New Jersey, with her husband, who works in digital marketing at Merck. "I almost lost them at 20 weeks, but every single day I kept them in my belly gave them a better shot at survival. They were born at 27 weeks." The ordeal shaped Everson's priorities from then on. "A big part of why I work is to give them the best life I can, in terms of having economic flexibility and giving them educational opportunities, and serving as a role model and showing them the possibilities of having work and family."
Combining it all is tricky, of course. "I have some pretty strict rules," Everson says. "I try to take the girls to school two mornings a week, and I never miss a school activity. I make sure I'm out only two nights a week if I'm in town. When I'm away, it's not for more than three nights, and we Skype and e-mail and talk on the phone. If I have to be away longer, I will try to bring them. Last year I took them to China, Europe, and Australia."
Family trips also include annual visits to Disney World, the Caribbean, and Colorado for skiing. All of which adds up to a life that dazzles even Everson. "There are moments when I want to pinch myself and say, 'Am I really here? How in the world did this happen?'"
CAROLYN EVERSON'S TIPS FOR SUCCESS
1. TAKE ADVANTAGE OF OPPORTUNITIES: "I never planned to be in the marketing and media business, and Facebook didn't even exist back then. You just can't plan everything."
2. BELIEVE IN YOURSELF: "And have confidence in what you can do. Most successful people have setbacks, and if you recognize that, it won't be such a shock when it happens. When I had a setback, it made me stronger."
3. BE CAREFUL HOW YOU TREAT PEOPLE: "Your reputation is the most important thing you have, and it's a small world. If you burn a bridge, it can come back to haunt you."
4. MARRY SOMEONE WHO IS INCREDIBLY KIND AND HELPFUL: "Somebody who wants his tombstone to say he was the best father, as opposed to what he did in his career. My husband is an unbelievable partner, and I could not do what I do without him."
" Women use power well, and we need to recognize that and not be so afraid of talking about it."
" Something like Facebook comes along once in a lifetime, and I felt like this was something I had to do."
Marie Claire email subscribers get intel on fashion and beauty trends, hot-off-the-press celebrity news, and more. Sign up here.