25 Feminist Movies You Shouldn't Miss
Netflix and feminism.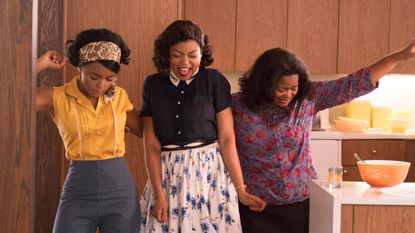 (Image credit: Alamy)
International Women's Day may land in March, but you can celebrate all year long by asking for that raise, by donating to organizations like Planned Parenthood or #TimesUp, and by celebrating the creative work of other women. So once you're done devouring books written by women (opens in new tab), (opens in new tab) binging podcasts made by women, for women (opens in new tab), and appreciating art by (you guessed it!) women (opens in new tab), might we suggest some required...watching? If you're in the mood to indulge in some on-screen feminism, here are 25 of our favorite films that put women front and center. From new hits that expose and admonish toxic culture (Promising Young Woman) to early feminist classics that paved the way for female-fronted flicks (A League of Their Own), this lineup is a movie marathon nobody can afford to miss.
'Wild'
It's the book-turned-movie that inspired women everywhere to pack up their belongings and hike 1,100 miles along the Pacific Crest Trail, solo style. Wild, staring Reese Witherspoon, will inspire you to create change in your life. What's more empowering than that?
'Little Women'
The feminism of Louisa May Alcott's original Little Women novel and its many (many) TV and film adaptations has been the subject of much debate and discourse over the years, but the Greta Gerwig adaptation lands on this list for its more modern approach to the book's message of feminism (plus, the more ambiguous ending). Though the definitions of womanhood differ among the four March sisters, we love watching them all find and wield their power in different ways.
'Promising Young Woman'
Trigger warning: Sexual assault. Director Emerald Fennell and actress Carey Mulligan confront rape culture, toxic masculinity, and trauma in Promising Young Woman. Mulligan plays a barista-vigilante out for vengeance for the college campus rape of her best friend. The film will enrage you, but it is also incredibly empowering and cathartic.
'The Color Purple'
Alice Walker's Pulitzer Prize-winning novel materialized on screen in 1985 and became an iconic feminist film that withstands the tests of time. Whoopi Goldberg plays Celie, a Black southern women who has suffered (and survived) years of abuse and finds strength within herself and female friends.
'A League of Their Own'
One of the OG feminist flicks, A League of Their Own is a fictionalized tale of the very real, very first female professional baseball league, who go up to bat against the patriarchy. If that didn't convince you enough to give it a watch, Madonna also makes an appearance, so there's that!
'Moana"
Brave heroine? Check. Adventure? Check. Hilarious sidekick? Also check. Lin-Manuel Miranda soundtrack? YOU BETCHA. Moana is the modern Disney hero we needed, one who is tough and empowered. Bonus points that there is no pointless love interest in this movie! Don't care if this one is for kids, we will be watching (and rewatching) for years to come.
'Bombshell'
In this ripped-from-the-headlines flick, Charlize Theron and Nicole Kidman, playing Fox News anchors Megyn Kelly and Gretchen Carlson, work together to expose expose FOX CEO Roger Ailes of sexual harassment. Exceptionally good facial prosthetics aside, Theron, Kidman, and Margo Robbie (who plays a fictional character) give a, ahem, bombshell performance.
'Miss Congeniality'
It's a classic we should enjoy with a dose of critique, too: There were some problematic moments in Miss Congeniality (like making instances of sexual harassment a punchline and the classic "ugly duckling" storyline, one too often subscribed to women in film). But it did also help to shatter sexist stereotypes, and is still cited as a feminist flick today.
'Woman Woman 1984'
It was about time (read: long overdue) that Wonder Woman got her own superhero movie, which she finally did in 2017 (and is later on this list!). Gal Gadot slays again in the sequel Woman Woman 1984, which she faces off against Kristen Wiig's Cheetah.
'On The Basis of Sex'
There truly can never be enough Ruth Bader Ginsburg movies. In this fictionalized take, Felicity Jones plays RBG in her fight for gender equality. Consider a double-header with the (opens in new tab)2018 documentary RGB. (opens in new tab)
'Belle'
Belle tells the true story of Dido Elizabeth Belle, the "illegitimate" half-black daughter of an admiral, dealing with the systemic racism of the high society she's grown up in. Belle is a beautiful and unusual film about marginalization (it's also incredibly romantic), and Gugu Mbatha-Raw is lovely in it.
'The Wizard of Oz'
Surprised to see 1939's The Wizard of Oz on this list? Don't be. Not only is it a movie about young girl who takes charge of her own destiny, escaping the hot mess known as Oz, but she also helps three clueless men she stumbles upon, and calls out a wizard on his mansplaining. Plus, she has a cute dog.
'Kill Bill'
The entire plot of Kill Bill centers on a woman who's out for vengance on the man who ruined her life. Uma Thurman delivers an iconic feminist performance that never gets old. But (not to bring down the mood) it must be noted that Quentin Tarantino's treatment of her during this Weinstein-produced movie was truly reprehensible (opens in new tab).
'Mulan'
Considering how regressive Disney princess movies can be, Mulan deserves praise for its portrayal of a woman determine to escape the stereotypes of her gender. Yes, Mulan has some problems (Disney in 1998 wasn't really known for political correctness), but the movie showed countless children that women are just as brave and capable as men—it's society that's just too sexist to realize.
'Thelma & Louise'
There's no greater movie about sisterhood than Thelma & Louise—a landmark feminist film about two women on a road trip. Watch it with your friends for fun, then analyze it with your friends for even more fun. (And FYI, this film launched Brad Pitt's entire career, so you're welcome, Brad Pitt.)
'Bend It Like Beckham'
Bend It Like Beckham is about an aspiring soccer player whose family refuses to let her participate in the sport because she's a girl. Naturally, she proves everyone wrong, falls in love, and subverts expectations in the process. Also, please note that this movie was written, directed, and produced by a woman (who's also a woman of color), Gurinder Chadha.
'Mad Max: Fury Road'
If you went into Mad Max: Fury Road expecting a testosterone-fueled bro adventure, you are not alone. But the movie ended up being one of the most feminist pop cultural moments of 2015—starring Charlize Theron as a lieutenant who risks her life to save a group of women enslaved by abusive men in power.
'Atomic Blonde'
Atomic Blonde is anything but your typical spy drama. Charlize Theron spends pretty much the entire time kicking butt and taking names, and the movie doesn't fall into the trap of giving her a emotion-filled backstory. To quote Theron herself (opens in new tab): "[Usually] we need a reason to become a warrior. And I have a problem with that because we really are warriors, and it's time for us to be shown that way. We don't need to lose a child or a husband or have some kind of revenge story to become a warrior. We don't need that today."
'Hidden Figures'
"Inspiring" is one of the most over-used words in existence, but it's hard to think of a more apt way to describe Hidden Figures, a biographical drama about three black mathematicians at NASA. The fact that many people had never heard this story before the film's release is a true testament to how often women—and especially women of color—are sidelined in our history books.
'Wonder Woman'
What more can be said about Wonder Woman that hasn't been said before? It flipped a male-dominated genre on its head, broke all the sexist tropes that come with female superheroes, slayed at the box office, and excited millions of young girls in need of on-screen representation. It couldn't have come at a better time.
'Star Wars'
Look, Princess Leia wasn't always given the most empowering material to work with on Star Wars, but Carrie Fisher made the character a feminist hero worthy of applause. In fact, it's through Fisher's criticism of the franchise (the gold bikini was not her choice (opens in new tab), she was asked to lose weight (opens in new tab)) that the character evolved into the icon she is today.
'Crouching Tiger, Hidden Dragon'
Not only does Crouching Tiger, Hidden Dragon have gorgeous visuals, the story centers on a young woman who rejects her arranged marriage, and instead follows her own path to become a legendary martial artist. It's a beautiful, complicated movie, with beautiful, complicated women.
'Real Women Have Curves'
Real Women Have Curves is directed, produced, and written by women—and it's all the better for it. The movie is just as much a coming-of-age story as it is a reflection on what it means when young women take control of their own destinies—and um, it also happens to have the same plot as Lady Bird (opens in new tab).
'Now and Then'
This coming-of-age story about four young girls on the cusp of adolescence is a true gem, packed with ahead-of-its-time girl power moments—including a scene where Christina Ricci's character punches a boy who dares to say that girls can't play softball. Come for the fashion, stay for moments like this:
'Legally Blonde'
Anyone who doesn't think Legally Blonde is a feminist movie isn't paying attention. This film takes the ditzy blonde stereotype and turns it on its head by having protagonist Elle Woods (bow down) get into Harvard like it's no biggie, and then solve the major legal case of her year.
Mehera Bonner is a celebrity and entertainment news writer who enjoys Bravo and Antiques Roadshow with equal enthusiasm. She was previously entertainment editor at Marie Claire and has covered pop culture for over a decade.