MC@Work: Passport to Success
Want to upgrade your career? Relocate! That's the takeaway from Joanne Crewes, who at 25 moved to Japan for Procter & Gamble, armed with little more than a dictionary and a taste for adventure. Two decades and five passports later, she's overseeing the company's massive high-end beauty business worldwide.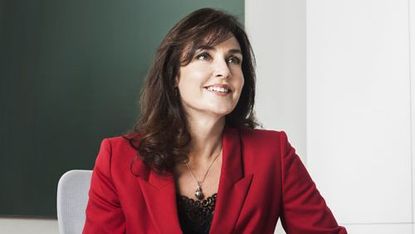 (Image credit: Callaghan Walsh)
Marie Claire Newsletter
Celebrity news, beauty, fashion advice, and fascinating features, delivered straight to your inbox!
Thank you for signing up to Marie Claire. You will receive a verification email shortly.
There was a problem. Please refresh the page and try again.
There's a 13-hour difference between Cincinnati, home of Procter & Gamble's headquarters, and Singapore, where the company's president of global prestige, Joanne Crewes, is based. That means on any given day, when she's not on the road (as is typically the case), Crewes is likely on a conference call, often at some ungodly hour, touching base with far-flung colleagues about her piece of the business: the ultra-lucrative global market for P&G's fragrance and luxury beauty brands, including SK-II, which, under her leadership, has become the best-selling skincare line in Asia. Crewes recently connected with Marie Claire on a predawn call (natch) to share her tips for getting ahead, even in the most remote corners of the globe.
MC: Your first job at P&G was as a brand assistant for Pert shampoo in your native Australia. Did you know from the outset you wanted a career in marketing?

I was 20, just out of university, and I went in with the intention that I'd work for a year or so and save up enough money to go backpacking in Asia. I applied to several companies and got an entry-level position at P&G, where I thought that I'd be doing a lot of photocopying. But from the get-go, I was deeply involved in managing the Pert brand and its rollout. I remember thinking to myself, Do these people have any idea that I've just graduated?! Two months in, they sent me to Taiwan for a training seminar, and I got to see a lot of Taipei culture and stay in a nice hotel, and I thought, Do I really want to be a backpacker? I can actually see the world with P&G. And that's exactly what happened. I'm now on my fifth passport.
You moved to Japan to work on the Max Factor brand when you were just 25. Were you scared?

If I didn't have an appetite for travel, I probably would never have had the courage to make such a big move. When I arrived in Japan, I knew exactly three words. But I threw myself into the language and the culture. I was constantly learning, constantly traveling. My Japanese language teacher became my tennis buddy. That kind of immersion helps you be a better manager.
What were some of the challenges you recall from that experience?

Japan is a much bigger market than Australia, and one key lesson I learned — and I remind myself of it all the time — is to never assume. When you're working on several different projects at once, with a lot of different players, never assume that the people you are talking to are up to speed on what their objectives are, especially in a time of crisis. What you don't want are people saying, "I wasn't copied on that," and then taking it personally. So if you're e-mailing or talking to a group of people, recap quickly. It helps avoid miscommunication and makes everyone feel included.
These days, the prevailing wisdom is that the best way to get ahead is to move around. But you've stayed with P&G for nearly 25 years. Why?

There's a real promote-from-within culture at the company, so if you're ambitious, smart, and a hard worker, you'll do very well. And also, one of my big career criteria has been to see the world. I've gotten to do that. I've seen pretty much all of Europe and Asia, thanks to this job.
What do you look for when hiring?

That special combination of experience and diversity of opinion — what can you bring to the team that I don't already have? I'm passionate about diversity. I really believe it's the best way to achieve optimal solutions to problems. Breakthrough thinking comes from a variety of thoughts, experiences, and opinions. I also love working with young people. They've always got fresh ideas and have a passion that really inspires me.
You've been very vocal about the need for companies in Europe and Asia to tap more women for their boards. Do you support legislation along those lines?

I want to be chosen for a board position because of my skills and experiences, not because there's a quota that has to be met. Take P&G — almost half of our board are women, including Angela Braly [the former CEO of health insurer WellPoint] and [Hewlett-Packard CEO] Meg Whitman. They add value not because they are women per se, but because they bring different skills and backgrounds to the table. Diversity of experience is good for business and the bottom line.
In any given month, you spend more than half of your time on the road. All that travel sounds grueling.

You get used to it. And if you love to travel, it's a definite perk. When I'm on the road, it's eat, sleep, exercise, work. I'm a slave to the treadmill. I do about 7 kilometers [4 miles] every day. It keeps me focused. And in my experience, it's not the travel that's brutal, it's getting back on track once you return home.
So how do you do that?

P&G has a great flexible work program, so whether you're going on maternity leave or want to take an extended leave to travel, management will help figure out a sensible approach. For me, it's working from home one day a week. I have a videoconferencing setup there so that I can take meetings, or I can choose to use the day for strategic thinking away from the grind. It makes me feel incredibly productive to have that day to do what I need to keep my life in check — errands, appointments, what have you. The notion of clocking in or punching a time card is prehistoric.
How do you tend to your personal life when you're traveling so much?

I'm good about using the 24-hour clock to my advantage. I map out my travel calendar with my team 12 months out, so I always know in advance where I'll be, and my friends and family work around that. It does get tough at the end of a long day when you're alone with just TV and room service. But my way of decompressing after a trip is reconnecting with friends over dinner. Like most things in life, if it's important, you make time for it.
Celebrity news, beauty, fashion advice, and fascinating features, delivered straight to your inbox!