Janelle Monáe: The Passionista
Who says you need to toil away at a desk job to make it to the top? A new generation of women are rewriting the rules of success, forging killer careers on their own terms, doing exactly what they love.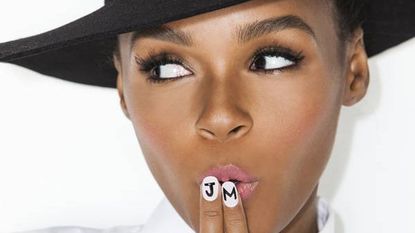 (Image credit: Meredith Jenks)
JANELLE MONÁE IS ALL OF 5 feet tall, though her signature hair pouf adds at least another 3 inches. Onstage, she's usually buttoned-up, often in a black-and-white suit or tuxedo. The look is defiantly retro, wholesome even, compared with the shake-that-thang aesthetic of pop provocateurs like Lady Gaga and Miley Cyrus. But Monáe, 29, courts attention the old-fashioned way, with rattling hooks and enthralling live performances that call to mind the swagger of a young James Brown.
Born in hardscrabble Kansas City, Kansas, Monáe says, "Creativity is in my DNA." Her maternal grandmother, a sharecropper in Aberdeen, Mississippi, was one of 17 children. Monáe's mother got pregnant with her as a teenager and worked as a janitor to make ends meet; her father, a trash collector, was an ex-con known in prison for singing in exchange for food and soap. "The only training I had was called 'living-room training,'" performing at home with her great-grandmother, Monáe says. "She would play these scary chords on the organ, and I would just sing and make up church songs."
While in high school, she worked as a maid, which ultimately helped pay for her enrollment at a performing arts school in Manhattan. Less than a year after she started her studies, Monáe relocated to Atlanta, where she knocked around the city's hub of black universities, performing wherever she could—she dubbed this her "dorm lounge tour." During the day, she clocked in at Office Depot, using the computers there to stoke her growing social-media fan base.
Monáe got her big break at age 20, when a song she wrote about getting axed from Office Depot made its way to Big Boi of the Atlanta-based hip-hop duo Outkast. He introduced her to Sean "Diddy" Combs, who signed her to Bad Boy Records in a rare deal in which she retains creative control, and he serves mainly as her "professional slapper," she says. "He's there to talk to any suits that dare to mess up the jam and the music."
Her signature style is a protest of sorts against the sexualization of female musicians. "There were no women who performed fully clothed—still to this day there aren't. To me, that was a problem, to say, 'If you want to be in the music industry, you need to be able to sell sex … I want to be in control of my body. I don't ever want a man or woman to tell me to dress that way. I think it's up to me." The neo-Sinatra threads are also a tip-of-the-hat to the late Steve Jobs, one of her inspirations, who wore the same thing every day. "If I have to think about my outfit longer than, like, two minutes, I've wasted time," Monáe says. "Who wants to think about 'What am I going to wear at this performance?' I need to be focusing on creating, changing the world."
Plus, she's found consistency to be a pretty good business strategy. "I think that what this look does is like what any company does—it brings awareness. This is Janelle Monáe's uniform," she explains. "'Well, why does she wear that uniform?' 'Because of her parents.' 'What was her lifestyle like when she wasn't famous?' There's my story. Hopefully somebody's inspired by it."