I Can't (and Won't) Stop Talking About the Dangerous Decision to End DACA
Actress Francia Raisa shares her family's personal immigration story with MarieClaire.com.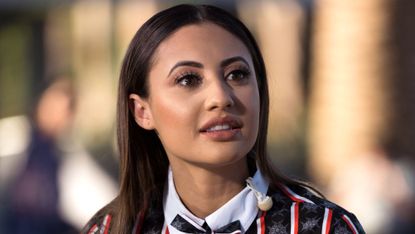 (Image credit: Getty Images)
I was 5 years old, walking next to my mom and wearing a new dress as we stepped into the school office to sign up for kindergarten. While most people don't remember kindergarten, this day stands out in my mind because my mom was so frustrated. At the time I didn't understand what was happening—mostly because I didn't speak English.
I remember standing there watching my mom and trying to comprehend why she was so upset. Before I knew it, she grabbed my hand and we stormed out. Later that evening, when I heard her tell my dad that the school wouldn't accept me because I only spoke Spanish, it all made sense. They were heartbroken.
My mom came to America with her mom and a few siblings in 1981, when she was just 16. They were escaping my mom's abusive father, and traveled to Los Angeles with hopes of having a better life. My dad arrived in 1982—just after his parents died—with the dream of building a career for himself in Hollywood. It was a dream he worked on tirelessly to make a reality, and a dream that ended up coming true.
When both my parents arrived in America, Ronald Reagan was President. It was in 1986 that President Reagan passed the Immigration Reform and Control Act, which allowed undocumented immigrants who had arrived before 1982 a pathway towards citizenship. Luckily, my mom was eligible and safe. She applied and obtained her temporary green card while waiting for her background check, medical history, and proof of employment to be cleared. My dad barely missed the cut, but later was able to obtain a green card through his employer.
Six years later, I was born. We only spoke Spanish in the house, and once my parents found a school that would finally accept us, my sisters and I eventually learned English. I grew up deeply immersed in our culture and surrounded by our traditions. I watched everyone around me work hard to achieve their dreams while providing a good life that was full of opportunity for my sisters and me.
We went from only being able to afford beans and rice to living in a beautiful two-story home. My parents worked hard and raised a family in America, while barely speaking English. My father, whose English primarily consists of the phrase "Hello my friend," hustled every day to achieve his dreams of being a successful radio personality in Los Angeles.
At the peak of his career, he averaged about 35 million listeners and used his platform to be an advocate for the Latino community. He told jokes, provided commentary on current events, gave life advice, and, in 2006, launched a national voter registration drive called "Votos por America." He encouraged Latinos to take part in activism against anti-immigration legislation. Throughout his career he helped millions of people. All of which was possible because he was given the opportunity to stay in America while he worked hard to receive his citizenship.
I grew up very aware of where my family came from and how lucky we were to have all the opportunities America had to offer. When President Obama announced Deferred Action for Childhood Arrivals (DACA) on June 2012, I was both relieved and excited. The policy allows some undocumented immigrants who entered the country as minors (also known as Dreamers) to receive a renewable two-year period of deferred action from deportation. It also means they are eligible for a work permit. Though it isn't the same opportunity that my parents received, it felt like a small victory and reminded me that we need to keep fighting for the bigger goal—a pathway to citizenship.
So it's no surprise that when the news of DACA being rescinded by the current administration hit, I immediately panicked. I was at home when the phone notifications started flooding in. Instantly I turned on the news, started my online search for additional information, and then called my mom. Is anyone in our family in this program? Was anyone going to be in trouble? Are you okay? Fear rushed through me as the horrors of losing everything we'd worked so hard for played in my mind.
These fears are rippling through our communities, being lived out at this very moment by thousands of people. What most people may not realize is that not only does it take tons of paperwork and multiple background checks to apply for DACA, once you finally get it, you're then asked to go through more paperwork and background checks. Needless to say, the entire process of getting a green card and/or being granted citizenship is both mentally and emotionally stressful.
In today's world, there are programs that my parents didn't have access to in 1982. Programs like TPS for Central Americans and the Dreamer Program, through which employment is obtained, families are formed, homes are bought, and children are raised. Through these programs, our vulnerable communities have access to the resources our country provides—or rather, resources our country used to provide.
It's 2018 and the President of the United States of America is trying to revoke these programs. Parents who have had children in America and were once allowed to stay and raise them here are being forced out. Families who rely on programs that have allowed for them to call America home for years are being threatened with deportation and injustice. Vulnerable populations are now at a higher risk for exploitation through human trafficking—and at a higher risk of being taken advantage of by a fraudulent attorney. This is not an isolated situation. This is something that will impact people we know in our very own neighborhoods.
Dreamers built their lives here, were educated here, and have been raised with all the opportunities that America has to offer. And now—if Congress doesn't act to extend DACA—anyone whose permit expires after March 5, 2018, will no longer have Deferred Action or employment authorization. It's not just stripping away a policy, it's stripping away lives.
The statue of liberty stands tall today as a reminder of the open arms this country once had. It is a beacon of light to those—like my mom, grandmother, and aunts—whom escaped their countries, and it's the ultimate symbol of opportunity to those—like my father—who are chasing after their dreams. Our country fought hard to be the land of the free and the home of the brave, and by revoking existing programs we're eradicating what we stand for. By spreading fear and increasing vulnerability within our communities, we're doing an injustice to those who need us most. Freedom is what makes America great, and I pray we go back to welcoming those who want to join us here.
"It's not perfect, but 2.9 million people came forward [during Reagan's amnesty bill]. If you can bring one person out of an exploited relationship, that's good enough for me." – Senator Simpson, Wyoming.
RELATED STORY
Celebrity news, beauty, fashion advice, and fascinating features, delivered straight to your inbox!