The Cast of Game of Thrones Visited Syrian Refugees in Greece
"We can do better for them. We must do better for them."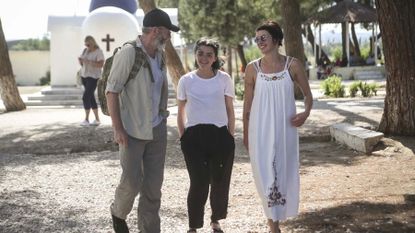 (Image credit: @theIRC/Twitter)
After the explosive season 6 finale of Game of Thrones, it's strange to see the actors playing Arya Stark, Cersei Lannister, and Davos Seaworth all together. But the three stars teamed up to go to Greece for a very important reason.
Maisie Williams, Lena Headey, and Liam, Cunningham spent the week after the show's finale meeting Syrian refugees alongside the International Rescue Committee.
"They want to go home but they can't, because we have destroyed it." GoT cast visits refugee camps in Greece.https://t.co/kFmwYj8S4zJuly 2, 2016
See more
The three actors, who spent time with several refugees, are advocating for the European Union to reconsider its agreement with Turkey. The deal forces refugees to apply for asylum in the "safe third country" before they are allowed to travel to the rest of Europe, according to Time.
The actors are also using their platform to bring attention to the humanity of those escaping Syria. Many people argue that those fleeing the war torn region could be terrorists, a sentiment that has only increased surrounding U.K.'s Brexit vote and anti-immigrant rhetoric from Republicans in the United States.
Here are some of the best moments and insights from their journey:
Journey continues. @Maisie_Williams @IAMLenaHeadey & @LiamCunningham1 on visiting Lesbos w/ IRC. #RealmToTheRescuehttps://t.co/XLvkW9hzBQJune 30, 2016
See more
I have met some incredible, strong people today. People who need us to stand in solidarity.June 30, 2016
See more
It's shames us all when we behave like it's not our problem. It is. We can do better good people.June 30, 2016
See more
#refugeeswelcome @theIRC pic.twitter.com/dLMihEzbqWJuly 1, 2016
See more
"This is only the beginning."@maisie_williams @iamlenaheadey & @liamcunningham1's @theIRC trip has come to an end.https://t.co/YitMzZR50eJuly 1, 2016
See more
For more details on their trip, listen to the trio's extended interview about their experience with the IRC:
Full Game of Thrones interviewHT @Maisie_Williams @IAMLenaHeadey @LiamCunningham1 #RefugeeCrisishttps://t.co/MfyU6aM3xzJuly 2, 2016
See more
Celebrity news, beauty, fashion advice, and fascinating features, delivered straight to your inbox!