Chelsea Everywhere
How the audaciously funny Chelsea Handler parlayed a successful cable talk show into a money-minting media empire. And she's only just begun.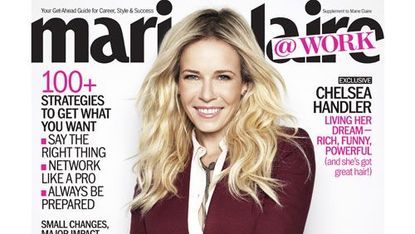 (Image credit: Marie Claire)
I'm a little afraid of Chelsea Handler. We're having an early dinner at the Brentwood hot spot Katsuya, and I'm worried that the wrong line of questioning could provoke her to gouge my eyes out with the chopsticks she's using to eat her yellowtail sashimi. A few hours before our interview, I'd read somewhere that Handler was a "mean sober"--for those unaware, she is most comfortable with a highball in hand--never mind her reputation as a blonde barracuda with a razor-sharp mouth. So when she sat down at our corner table and told the waiter she'd be passing on a cocktail this night of all nights, I braced myself for the worst. I even ordered a white-grapefruit Cosmo of my own to help me get through it. (Handler herself inspired the strategy: "I went out with a guy who once told me I didn't need to drink to make myself more fun to be around," she joked. "I told him, 'I'm drinking so that you're more fun to be around.'")
But here's the thing: Chelsea Handler is totally not a bitch. In fact, she's beyond lovely--open and warm, utterly unfazed by cringe-worthy direct questions, like when I ask her about the cancellation of her ratings-challenged, critically panned NBC sitcom Are You There, Chelsea? ("obviously I care about anything I do, but this was more of a pain in the ass after a while"); or when I inquire about her current boyfriend, hotelier Andre Balazs, of whom she once warned a reporter she would never discuss ("I'm definitely worried about maintaining my relevance and not wanting to go too far out of bounds to accommodate someone else"); or even when I ping her about accusations--courtesy of the original celebrity shit-talker, Joan Rivers--that she "made it on her back, fucking" ex-boss Ted Harbert, current chairman of NBC Broadcasting and former E! Entertainment Television chief who put Chelsea Lately on the air ("I so didn't, and I so don't care about you asking about it").
The truth is, allegations that she slept her way to the top are stupid--just look at Chelsea Lately's monster success: Since it debuted five years ago, it's become the most popular late-night talk show among women 18 to 34, a clutch demographic for advertisers; the show has been a veritable cash cow for E!, reportedly generating $40 million in ad revenue a year, according to The Hollywood Reporter. Cable, of course, is rife with B-listers who have carved out lucrative niches (ahem, Bill Maher). But Handler, 37, has bested them all, leveraging her show's success into an extraordinary media empire that includes a behind-the-scenes postshow called After Lately, four best-selling books that have together sold nearly 3 million copies, even her own publishing imprint with Hachette Book Group USA. There are the sold-out comedy tours and a production company, Borderline Amazing, with nine projects in development, including a comedy for MTV and a series about a lippy 12-year-old based on (you guessed it) Handler. All told, Handler has already banked an estimated $22 million from these ventures, plus annual seven-figure payouts.
"I don't like to be that aggressive or ambitious," she says. "I know it doesn't seem like that, but I don't feel like, 'Oh God, I've got to do this, I've got to do that.' I have severe ADD, and I'm constantly looking to amuse myself."
The sixth child of a German-born Mormon mother and Jewish father, Handler grew up in a financially strapped household in an upper-middle-class New Jersey suburb where dad was a used car salesman. When she was 19, she decamped for Los Angeles with dreams of becoming an actress, but wound up working the stand-up circuit instead. Her bit about getting a DUI left fellow tipplers in stitches, and Handler, encouraged, figured she'd try out a set at the legendary Improv. Soon, she was a regular on cable countdown shows, had a costarring role on the Oxygen series Girls Behaving Badly, and was catching the eye of Harbert, who saw star material in the boozy blonde. Eventually, he gave Handler her own late-night talk show. (As for their relationship, Handler says, "I would come home from work, and Ted would be like, 'Do you want to watch your show?' and I'd be like, 'No, I just came from my show. That's the last thing I'd want to do.' That was the reason it didn't work out, ultimately. I think.")
While much has been written about Handler as Hollywood phenom, often overlooked is the audience she seized upon: smart, young, ambitious women hungry for a witty straight shooter who tells it like it is--minus Leno's yuk-yuks, Letterman's smugness, and Jon Stewart's smarty-pants editorializing. Handler has made a lucrative career as the best friend you're desperate to have: gorgeous but not intimidating, always game for a night out, and loyal to the death, as evidenced by her numerous on-the-record critiques of Angelina Jolie, bête noire of her good pal Jennifer Aniston. Further proof: Chelsea Lately features a roundtable of regulars, many of them female stand-ups, whose careers Handler has had a hand in fostering. The most famous among them is Whitney Cummings, whose career exploded last year with two network sitcoms (CBS's 2 Broke Girls, which she cocreated, and NBC's Whitney) and who is in the process of developing a third program that Handler is executive producing, this one a weekly talk show called Love You, Mean It With Whitney Cummings, which debuts this fall on E! "She doesn't want to have other people be less than her," says Cummings. "She wants everyone around her to succeed."
"She always wants to know, 'Hey, how can we help them get their own show?'" says Handler's head writer and business partner, Tom Brunelle, who first met Handler when he was brought on to write and produce for her first E! program, a sketch comedy series called The Chelsea Handler Show. "Being her partner in a production company, it helps a lot when she doesn't want everything to be all about her."
It also makes good business sense: Associating with Handler automatically ups your visibility. In return, she gets a piece of every venture she can attach her name to. She is careful about alienating fans with gratuitous licensing deals (no fragrances, she insists, and on the heels of This Means War, in which she costarred with buddy Reese Witherspoon, no more supporting roles), and network brass have no doubt taken note of her ability to deflect the occasional misstep. Case in point: Are You There, Chelsea?, which lasted just 12 episodes, has generated scarcely any blowback for her. "Creatively, it was a really good lesson, and I knew I was due for one" she says. "I can't just throw my name on something and hope everybody gets it. Everything I've done has been really fortuitous, but you don't learn a lot when everything's easy all the time."
For the first time in five years, Handler is taking a break--After Lately is on summer hiatus, there are no new books or comedy tours to promote. The downtime has inspired Handler to refresh Chelsea Lately, which is moving from a lot in West Los Angeles to Conan O'Brien's old studio at Universal Studios in Burbank. She says she wants to tackle more serious topics this season--Lindsay Lohan and the Kardashians have been typical fare. "There was a period of time when I started getting antsy and was like, 'Ugh, I can't sit here and gossip anymore,'" she says. "I want to talk more about politics and human-interest stories, like when somebody shoots somebody else at a drive-through over Chicken McNuggets--stupid stuff like that."
The shift raises the tantalizing question of whether she's getting bored with her current job. (Her contract for Chelsea Lately is up in late 2014.) Her name has been bandied about for a higher-profile late-night network gig--a Handler-Fallon face-off would make for some of the choicest must-see TV in years. For now, at least, Handler claims she's not interested ("I'm not a network kind of girl") and that she's focusing on E! "There's no long-term goal," she says. "I just know I'm on a contract for two years and in the interim I'm gonna do whatever I can to make that as fruitful as possible, and try and get as much success as I can for the people around me." That's our gal.
Yael Kohen's book, We Killed: The Rise of Women in American Comedy (Sarah Crichton Books/Farrar, Straus & Giroux) will be out in October. Follow her on Twitter at @YaelKohen.
Celebrity news, beauty, fashion advice, and fascinating features, delivered straight to your inbox!