Jennifer Weiner Vs. the World
Her 10 books have sold more than 4 million copies and have consistently landed her at the top of best-seller lists. So why is Jennifer Weiner still trying so hard to get noticed?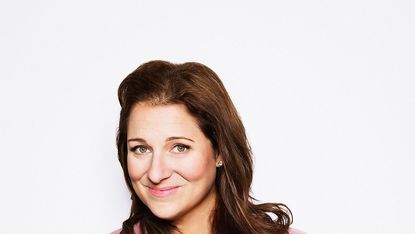 (Image credit: Peter Yang)
Marie Claire Newsletter
Celebrity news, beauty, fashion advice, and fascinating features, delivered straight to your inbox!
Thank you for signing up to Marie Claire. You will receive a verification email shortly.
There was a problem. Please refresh the page and try again.
If you're traveling this summer, you may have some reading material stashed away in your tote, probably a novel of some kind. That's the great hope of the publishing industry, at least, which positions its fun, fizzy reads for this time of year, when most of us reach for a literary diversion to savor along with an umbrella'd drink or two. It's an especially lucrative season for novelists like Jennifer Weiner, who, since her debut in 2001 with Good in Bed, a delicious tale about a writer's romantic woes, has become something of a summer staple. Much of her work is of this ilk: witty narratives of a beleaguered everywoman in search of satisfaction (and maybe a little titillation, too). Though her next novel, All Fall Down, isn't due out till next summer, several of Weiner's 10 previous efforts — all best sellers — still figure prominently on "best beach reads" lists. All told, Weiner has sold 4.5 million hardcover and paperback editions, according to Nielsen.
You'd think that a novelist who's achieved that level of success would retreat to a lush estate somewhere and just take in the view for a while before writing her next best seller. Not Weiner. She keeps busy in other ways. In May, in an essay on Slate, she took author Claire Messud to task for disparaging "likable" female characters, the kind that Weiner has built her career upon. "If you're reading to find friends, you're in deep trouble," warned Messud, remarks that Weiner construed as subtly sexist. "Calling a novel's characters the L word [likable] doesn't just imply that the author in question is writing like a girl," Weiner railed. "It hints that she is writing like the wrong kind of girl — a dumb, popular, easy girl."
Needless to say, Weiner's piece kicked up some dust in publishing circles, not just because she took a public shot at a rather well-regarded colleague, but also because she does it so often. Weiner is a loud, proud, and routinely bombastic critic of an industry's double standard that dismisses fiction for women by women (derisively termed "chick lit") as frivolous tripe, while equally commercial fare from male authors earns full-page reviews in The New York Times. "When Good in Bed was published, I knew the deal. When you have a book with that title and there are naked legs and a cheesecake on the cover, you're not going to get the Joyce Carol Oates treatment," Weiner tells me over éclairs at a café on Manhattan's Upper East Side. "And that's OK. I am perfectly comfortable being seen as a fun, entertaining writer. But then I started noticing that books like mine by men were treated very differently than books like mine by women. I would read David Nicholls, who wrote One Day, which is a romantic comedy. That got reviewed twice in The New York Times. Jonathan Tropper, who wrote This Is Where I Leave You [also reviewed in The Times], writes funny books about messed-up Jewish families. I'm like, 'Damn it, I write books about messed-up Jewish families! What's happened here?'"
Weiner's critics charge that she has self-interested motives for all the pot-clanging: After all, publicity sells books, right? "I think she wants attention, and this is how she goes about it," says a publishing executive. One literary deal-maker calls Weiner a "bully" who "attacks other women constantly." "She is supremely financially successful," explains writer Ayelet Waldman, who has also tussled with Weiner over Twitter. (The pair have since reconciled.) "For struggling writers, they think, Do you want all of it? Do you want to be reviewed and be taken seriously and get the money? It seems like you're asking for too much. And her very logical point is, 'Fuck yes, I want all of it!'"
Weiner isn't off the mark in pointing out that male writers command more coverage. Among the nation's most venerable literary publications — Harper's and The New York Review of Books, for example — women represent just a fraction of both the book reviewers and those reviewed, according to VIDA, a nonprofit for female writers. Female authors get shortchanged all the time, in often insidious ways: In May, it was revealed that Wikipedia had been systematically removing all the female writers from a page devoted to "American novelists" and placing them on their own womenonly page. (Following an uproar, Wikipedia returned the women writers to the page.) And, as Weiner pointed out in her Slate essay, female writers are often pressured to dumb down their work. "I've heard, for years, anecdotes about young female writers being told to 'chick lit' it up—to make their leads less bitter and biting, more sweet and self-deprecating, or else no one would buy what they were selling," she wrote.
Weiner's tumultuous upbringing was, by her own admission, fodder for Good in Bed. Raised in a suburb of Hartford, Connecticut, Weiner was abandoned by her late father, a psychiatrist, when she was 16. He told his four children that he'd rather they think of him as an uncle. "The last time I talked to him was when Good in Bed had been sold," Weiner recalls. "He called up and asked for money. It was a really awful conversation." While at Princeton University during the late '80s, she organized protests against men-only eating clubs and, after college, landed a job at a small Pennsylvania newspaper. She eventually worked her way up to The Philadelphia Inquirer, where she covered pop culture.
Then in 1999, reeling from a difficult breakup, Weiner was inspired to try her hand at writing after reading an article in New York magazine about the lit world's new rising stars, including Helen Fielding, author of Bridget Jones's Diary, which had just arrived stateside. It earned what Weiner calls a "hat trick": a profile of Fielding in The New York Times and a review in both the arts section and weekend book review. So-called important authors gushed about it, too. ("A brilliant comic creation. Even men will laugh," effused Salman Rushdie.) "Back then, you could make young women and romance and workplace comedy your subject, and still be taken at least semiseriously as a writer," says Weiner. Good in Bed proved an instant hit and went on to spend 56 weeks on The New York Times best-seller list.
In the 12 years since, as chick lit has fallen out of favor, her genre now elicits sneering (if it elicits anything at all) from reviewers, Weiner grouses. Not so for lighter works by men. "The New York Times does a regular column about thrillers and mysteries. Some of them are by women, most of them are by men," she explains. "I think the idea is that this is a genre that men are consuming and thus has become worthy of notice. What I'm saying is that genres of fiction that women consume are also worthy of notice."
Weiner isn't the lone critic of these inequities—writers Jodi Picoult and Meg Wolitzer have also spoken out about the issue. But what makes Weiner so much more polarizing is her willingness to name names. And name them she does. She dissed National Book Award winner Jonathan Franzen, whom she said was lavished attention by the publishing establishment at the expense of other worthy authors when his 2010 novel, Freedom, came out. (While Franzen declined to comment for this story, his agent, Susan Golomb, e-mailed, "There isn't anything wrong with prominently reviewing the first novel in nine years from a writer whose previous novel was short-listed for every major prize in the country.") When Pulitzer Prize winner Weiner, who told a reporter, "I'm sure she has just no clue that these books she's reviled may have in some teeny, tiny way made her show possible."
Of Paris Review editor Lorin Stein, who called demands to review more chick lit as "fake populism," Weiner said, "I think it's hilarious that a guy who went to Sidwell Friends, Yale, and Johns Hopkins; favors made-to-measure Lord Willys shirts; and snacks on charcuterie...is presuming to lecture anyone on what constitutes true populism." Last summer, she shelled out about $10,000 out of her own pocket to run an online ad mocking a Times Square billboard for Jeffrey Eugenides' latest novel. Weiner's ad read, "Jeffrey Eugenides doesn't have a book this summer, but Jennifer Weiner has...The Next Best Thing." And then there was last year's epic dustup with New York Times Magazine scribe Andrew Goldman, whom Weiner ripped for asking actress Tippi Hedren if she had ever considered sleeping with director Alfred Hitchcock. Goldman, on Twitter, replied, "Little Freud in me thinks you would have liked at least the opportunity to sleep [your] way to the top." (That barb cost Goldman a four-week suspension.)
"You do get labeled jealous, bitter, strident, angry, as if angry's the worst thing they can say," Weiner declares. "If you're not angry, you're not paying attention." Worth noting is that she's a relentless cheerleader for emerging female writers—she frequently promotes up-and-comers on her book tours and liberally offers to blurb their books. Jami Attenberg, author of last year's critically acclaimed The Middlesteins, says that even before her novel was published, Weiner heavily promoted it to her 68,000 Twitter followers, though the pair didn't even know each other. "I've also heard from other authors that if Jennifer decides to throw her weight behind a book, she can really help launch it," says Attenberg. "Her support of other female authors has always been extremely valuable. Her readers love her and pay attention to what she says."
Like earlier this summer, when she drew a packed house to a reading in New York City with writers Sarah Pekkanen and Elizabeth LaBan. After all these years, Weiner easily commands a room like this and regaled the crowd with funny anecdotes, including one amusing bit about how, at Disney World recently, her daughter announced that she wanted to be a Jewish princess. The cavernous room echoed with laughter. Afterward, Weiner was quickly flanked by crowds of smiling, chatty fans, many carrying a copy of their favorite Weiner novel and angling for some face time. @jenniferweiner
Celebrity news, beauty, fashion advice, and fascinating features, delivered straight to your inbox!