Watching the 'Roseanne' Reboot Is a Political Statement
Despite efforts to seem inclusive, the show is problematic. And by tuning in you're ignoring those issues.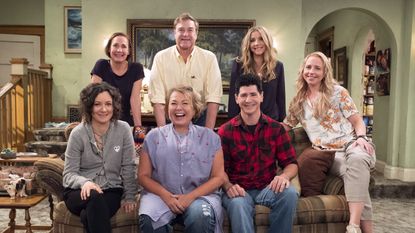 (Image credit: Getty Images)
I watched the premiere of the Roseanne reboot, my conscience screaming at me with every laugh, because I knew what each view would mean to the network. Eighteen million viewers sent the message that Roseanne Barr—one of Trump's loudest supporters, a wealthy, white woman who hasn't been part of the "working class" for decades, who makes racist and transphobic comments, and tweets unfounded conspiracy theories—was welcome into our homes once again. Not three days after the premiere, ABC announced that they had picked up Roseanne for a second season. That's when I felt sick.
I believe in free speech, but I am also a realist. America is a democracy, but not one where each person has an equal voice. Racism, sexism, and xenophobia are rampant and equality is a long way away. But there is one thing that speaks louder than color, race, or religion in America: the almighty dollar. Every single one of those 18 million viewers put money into Barr's pocket, without blinking an eye at the propaganda she serves. And for what? Nostalgia? The myth of bringing peace to divided families? Submitting to either is just willful ignorance and an act of privilege.
Showrunner Whitney Cummings (an avowed liberal) and executive producer and co-star Sara Gilbert (an out lesbian) have made statements about why they got behind the Roseanne reboot, even though the eponymous creator's views ostensibly counter their own. Writer and executive producer Wanda Sykes (a gay woman of color) has remained unusually quiet about her involvement with the show. Bruce Helford, another showrunner, quipped during a panel that "we wanted to make sure that all sides were represented in the show, which seems to be taboo today."
That's a nice sentiment, but doesn't acknowledge the fact that, to truly see all sides, you would have to have a diverse writers' room. Roseanne's isn't. According to IMDB, the show has just one non-white writer: Sykes. One person of color does not equal a diversity of ideas, just as one black character does not equal representation on screen. In fact, it screams of tokenism. Two episodes in, we've seen very little of Roseanne's black grandchild and have yet to hear her speak. In an interview with The Hollywood Reporter, Cummings, Barr, Gilbert, and Helford admit to never discussing her race on the show, evidence of how little they wish to address the true issues at hand. You cannot have a realistic discussion about the current administration and its influence on society—as the show claims it does—without addressing race, racism, and how people of color are affected by the politics of Trump.
Perhaps the most puzzling to me (besides Sykes' involvement) is Gilbert's support. As a champion for LGBTQ rights, she stands for everything Trump and his VP, Mike Pence, are against. The Advocate highlighted opinions of the show from notable LGBTQ writers, some of whom will not be tuning in. Others want to give the reboot a chance because of Gilbert's and Sykes' involvement, and because of a new character: Darlene's son Mark, who on-screen seems to be non-gender conforming but is "not gender fluid; he just likes to dress in more feminine clothing," per Gilbert. Which is really to say that they're not going to challenge Roseanne on her transphobic comments. It's just another layer of deceit.
When I posted about the rebooted show last week, several of my liberal friends commented, offering support of the show because of Mark. It's great that the Conner grandchild may ease conversations about gender fluidity with conservatives; for some of my friends, it allowed them to bond once more with family members they hadn't spoken since Trump's candidacy began. But support of the show based on that storyline alone is hypocritical. Does having a more feminine-dressing male on the show make up for the fact that the title character supports a man who installed a transgender military ban? And who enforces the deportation of undocumented immigrants, separating families permanently (not just until they can get over their discomfort with each other's opinions)? Or that Barr continuously tweets and retweets conspiracy theories, including PizzaGate, various InfoWars columns, and recently, even a fake picture of a Parkland survivor doctored to look like he was doing the Nazi salute? The answer is simple—it doesn't.
Nostalgia can be a powerful thing. To yearn for something that once made you laugh, that you once related to, is a strong pull—especially in times of chaos. But nostalgia is also deceiving. Nostalgia is a snake charmer. And make no mistake of it, Roseanne is the snake and it's ready to bite.
RELATED STORY
Marie Claire email subscribers get intel on fashion and beauty trends, hot-off-the-press celebrity news, and more. Sign up here.
Yolanda Machado is a Los Angeles based award winning blogger (SassyMamainLA), critic and freelance entertainment journalist with bylines at Broadly, Moviefone, Remezcla and more. She is a Latina mother of one daughter, and has an obsession for pop culture and Broadway musicals.