Queen of the Screen
Anya Taylor-Joy is proving to be Hollywood's fiercest player. Here, the Netflix star reflects on the moves that got her here.
Marie Claire Newsletter
Celebrity news, beauty, fashion advice, and fascinating features, delivered straight to your inbox!
Thank you for signing up to Marie Claire. You will receive a verification email shortly.
There was a problem. Please refresh the page and try again.
Anya Taylor-Joy doesn't consider herself to be a particularly competitive person...at least, not with other people. "I can be very, very hard on myself," she says from a sun-drenched hotel room in Belfast, Northern Ireland, where she's been camped out since August filming Robert Eggers' The Northman. She pauses to note the "miraculous" amount of light pouring in through the window, laughs, apologizes for interrupting herself, and then returns to her point: that she is perhaps her own greatest adversary.
"I think I learned how to be more gentle through Beth," Taylor-Joy says, referring to Elizabeth Harmon, the chess prodigy she portrays in Netflix's magnificent new drama The Queen's Gambit. "The thing I connected [with] a lot was when you have that sort-of single-minded determination and you have a gift with it, you do tend to be isolated from the herd. And when you are just alone with yourself for intense periods of time...that level of pushing yourself can start to mess with you a bit."
Beth and Taylor-Joy may as well be two sides of the same coin (or, perhaps, two sides of a chess board). In the Scott Frank–directed limited series, Beth routinely and almost absent-mindedly dazzles the people in her orbit, often gobsmacked older men, with her unmatched cleverness and unwavering resolve for success. Meanwhile, Taylor-Joy's own steadfast work ethic and shrewd talents have led to her swift and spectacular rise in the industry.
In the five or so years since breaking onto the scene, the 24-year-old has been nominated for the BAFTA Rising Star Award; become a horror darling thanks to notable roles in The Witch, Split, and Glass; cut her comedic teeth in last year's beloved Jane Austen adaptation, Emma (the promotional tour for which turned her into one-to-watch on the fashion scene); and was the 2017 winner of the Cannes Film Festival's Trophée Chopard. She's been in a Skrillex music video; modeled professionally; had a starring role in BBC's hit show Peaky Blinders. And just hours before of our interview, it's announced that Taylor-Joy will star opposite Chris Hemsworth and Yahya Abdul-Mateen II in the Mad Max: Fury Road prequel, playing a younger Furiosa, the role Charlize Theron held in 2015. ("You could say I'm excited," she says with a monstrous grin.)
The similarities between Taylor-Joy and Beth could be owed, Taylor-Joy says, to her not having the energy to "create a barrier between myself and this person" due to a non-stop filming schedule. She wrapped Emma, had one day off, shot Edgar Wright's psychological horror film Last Night in Soho, had one day off, then landed in Berlin ready to fill Beth's shoes. But that fluidity between herself and her on-screen counterparts, while good for Taylor-Joy, the actress, took a toll on Taylor-Joy, the person.
"In playing 21 characters over the last six years, there has not been an awful lot of time for figuring out who I am or what I like to do," she explains. "The years that I've been in front of the camera, and the years that I've been playing different people, have been incredibly formative years. I think if that carousel had continued the way that it had—I was so happy with the work—that I would have neglected myself pretty continuously."
The pandemic forced her to take a beat and clear the board, so to speak—even if she felt the first few weeks of lockdown were "touch and go."
"I think I was so lonely as a kid," she says. Taylor-Joy was just 6 years old when her family moved from Buenos Aires to London; she couldn't speak English. "I felt so isolated that I created this story in my head about: lonely was bad, being alone was bad. And that can be stressful when you're surrounded by people all the time, and then all of a sudden you're alone in a hotel room. That can be quite an impactful feeling, especially if you've taught yourself to fear it."
Over the past year, though, Taylor-Joy has been able to process those feelings, ultimately reaching a point where she feels she needs "very little to be happy."
"You are your own home," the actress muses. "That sounds very hippy and lala, but it's true."
While Beth, who was orphaned as a child found her "home" in a chess board, Taylor-Joy began turning to books for comfort as a kid. The actress learned English by reading Harry Potter with her uncle. (Order of the Phoenix is her pick of the series, which she admits to having read seven times because "that's the magical wizarding number.") Reading still serves as a kind of self-care. She just finished My Dark Vanessa by Kate Elizabeth Russell and is currently on Burnt Sugar by Avni Doshi. Her all-time favorite book is Peter Pan by J.M. Barrie.
"The first time I read the opening sentence of that [book], which is like, 'When the first child laughed for the first time that laugh broke into a million pieces, and they all went skipping about, and that was the beginning of fairies,' my childhood heart could not cope. I was like, 'Oh my God, poetry!'" Taylor-Joy says. "I slept with [my windows] open for months. I was like, 'He's coming. I am going to Neverland.' I mean, it was the same thing with not getting my letter from Hogwarts," she says, bursting into giggles. "I was convinced it was coming."
(The irony is not lost on her that Harry Potter actor Harry Melling, a.k.a. Dudley Dursley, co-stars in The Queen's Gambit as a rival chess master. She calls Melling "a gentle, beautiful human" and says he graciously entertained her "weirdo" fawning over his muggle ties to the Wizarding World.)
Perhaps because Taylor-Joy has a penchant for starring in period pieces (Queen's Gambit included, which is set mainly in the '60s) or perhaps because she is on the precipice of A-list levels of fame, Taylor-Joy's easy references to absurdly relatable millennial anecdotes—about Harry Potter and S Club 7 and AOL Instant Messenger and boys she met at summer camp—seem jarring. That same quality, of existing both in and out of your time, of and beyond your years, bleeds into Beth.
"One of my favorite things about Beth is that, despite the fact that she is a young woman in the '60s, it's like she was born without the book of, 'You're a girl. This is what you're allowed to want. This is what you're allowed to dream of. This is how you're allowed to go forth into the world.' I found that really beautiful...a future where your gender or how you identify doesn't dictate the dreams that you're allowed to have and doesn't dictate the niche that you're allowed to occupy."
Still, that Beth is a female chess master was an important detail to Taylor-Joy. "I wanted her to have a very distinctive way of moving the pieces that was still, whilst very quick and ruthless, undeniably feminine. Beth doesn't have to choose." Part Audrey Hepburn, part Stephen Hawking. Taylor-Joy drew on her own years as a ballet dancer to create the physicality of Beth—how she walked and played chess from the ages of 15 to 21. "I just got to learn really nifty, cool choreography with my fingers."
The show's intricate chess matches were taught to the actress minutes before the scenes were filmed, with Beth's gameplay flourishes Taylor-Joy's own touch. "I showed [my chess trainer] the way I wanted to move the pieces and how I wanted to kind of flip them over as like a sleight of hand," the actress continues. "He very graciously was like, 'I've never seen a chess player do that, but it looks cool. And if you can pull it off and do it quickly, then I see no reason why it shouldn't be part of her character.'"
The intensity of Beth's focus on chess causes the character to retreat into herself, falling into patterns of addiction with alcohol and tranquilizers. Taylor-Joy says she and Frank, the show's director, were cognizant of their portrayal of addiction, ensuring that it didn't fall into "caricature" territory. The result is subtly heart-breaking moments magnificently paced into the show's seven episodes. "[Showing addiction] doesn't have to be this massive bombastic disaster. It can be in the silent moments," she adds.
Coincidentally, it was Taylor-Joy's months of stillness that finally afforded her a chance to focus on her endgame.
"I used to look at the future and I was scared," she reveals. "But I was scared because I hadn't made a home in myself. [Now] I know how to take care of myself in a different way. I finally am like, 'I get it. I get what's important to me. I get what I care about.'"
Your move, Hollywood.
Hair: Carlos Ferraz| Make-up: Nathalie Eleni | Styling: Fabio Immediato
Celebrity news, beauty, fashion advice, and fascinating features, delivered straight to your inbox!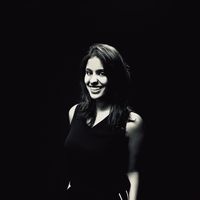 As Marie Claire's Entertainment Director, Neha oversees and executes strategy for all editorial talent bookings and culture coverage across the brand's print and digital entities, including covers, celebrity profiles and features, social takeovers, and video franchises as well as handles talent relations for MC's flagship summit, Power Trip. She's passionate about elevating diverse voices and stories, loves a hot-take, and generally hates reboots. She's worked in media for more than 10 years and her bylines about pop culture, film & tv, and fashion have appeared on Glamour, Vanity Fair, GQ, Allure, Teen Vogue, Brides, and Architectural Digest. She is a graduate of the Columbia School of Journalism.