Your Favorite Teen Heartthrobs Then vs. Now
* Pretends to be shocked that they're still hot. *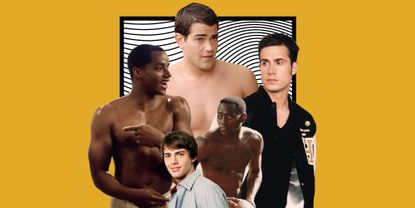 (Image credit: Design by Morgan McMullen)
Marie Claire Newsletter
Celebrity news, beauty, fashion advice, and fascinating features, delivered straight to your inbox!
Thank you for signing up to Marie Claire. You will receive a verification email shortly.
There was a problem. Please refresh the page and try again.
We can safely assume that you had a crush on one of the people on this list at some point during your teen years. It's not like you didn't have IRL options at school or soccer practice, but something about a fictional character just hits different. These guys were always up-to-date on the latest trends, and just looked good while doing...everything. Looks aside, pop culture without them would have been pretty dull. So, to honor their achievements in teen cinema and television glory, we decided to take a trip down memory lane and see what some of our favorite celebrity men we loved as teens are up to these days. Overall, most of these men are still acting today, while others have thrown in the towel. Some of them look like they haven't aged a day. Others...not so much, but we still love them. Ahead, reminisce on 20 dreamboats from your teenage years, whether you were an '80s, '90s, or early aughts kid.
1/31
Now: Jonathan Bennett
Since then, Bennett has acted in some of your favorite Christmas romance movies on the Hallmark channel, and reprised his role as Samuels in Ariana Grande's "Thank U, Next" music video.
2/31
Then: Shane West
One glance at this photo, and I already have tears in my eyes. Before A Walk to Remember, Shane West had a bunch of small TV roles, but his role as the bad-boy-turned-good-guy Landon West captured our hearts.
3/31
Now: Shane West
West has since starred in some of your favorite shows like ER, Gotham, and Salem. He and Mandy Moore still have a tight bond too. At Moore's Hollywood Walk of Fame ceremony, he gave a cute speech to his former co-star saying, "Mandy, you are an absolute gem. Your smile is ridiculous, seriously it's ridiculous, it lights up a room when you walk in. Your energy is irresistible and your heart is second to none."
4/31
Now: Chad Michael Murray
Murray is still acting! He's been in numerous TV shows like Marvel's Agent Carter, FOX's Star, and, most recently, the CW's Riverdale.
5/31
Now: Jesse Metcalfe
Since then, Metcalfe has starred on ABC's Desperate Housewives, TNT's Dallas, the Hallmark Channel's Chesapeake Shores, and many other small-screen roles. Has he aged a day? Absolutely not.
6/31
Now: Jesse Bradford
Since he was Torrance Shipman's number one fan, you've probably seen Bradford on The West Wing, Guys With Kids, or talking about how much he loved playing Cliff. He told Entertainment Weekly in 2015, "Cliff is probably the most accurate version of the real me that I've ever portrayed on camera."
7/31
Then: Mark-Paul Gosselaar
Saved by the Bell would be nothing without Mark-Paul Gosselaar as the ever-so-charming Zack Morris. The idea of someone else ending up with Kelly Kapowski sends shivers down my spine.
8/31
Now: Mark-Paul Gosselaar
Don't worry, Gosselaar is still doing the TV thing in shows like Mixed-ish, Franklin & Bash, and most recently, the Saved by the Bell reboot.
9/31
Then: Matt Dillon
TBT to English class when your hardest dilemma was deciding who was the hottest out of the Greasers while watching The Outsiders. Matt Dillion's portrayal of Dallas Winston in the 1983 film was swoon-worthy.
10/31
Now: Matt Dillon
Dillon went on to star in many more acclaimed films...just ones you didn't watch during school hours, such as the comedy There's Something About Mary and the horror flick The House That Jack Built.
11/31
Then: Milo Ventimiglia
Jess Mariano in Gilmore Girls! Peter Petrelli in Heroes! Chris Pierce in American Dreams! Milo Ventimiglia was everywhere in the '00s, and we have zero complaints.
12/31
Now: Milo Ventimiglia
Fast forward to today, and Ventimiglia is still on our screens in hit shows like This Is Us to movies such as Second Act, Creed II, and The Art of Racing In the Rain.
13/31
Then: Corbin Bleu
Sure, people were freaking out over Troy Bolton in High School Musical when it dropped, but those with refined taste (me!) knew the real deal was Mr. Chad Danforth.
14/31
Now: Corbin Bleu
Post HSM, Bleu starred in other shows and movies you loved like Discovery Channel's Flight 29 Down and the Disney Channel original movie Jump In! Today, he's still acting in minor TV roles.
15/31
Then: Sean Faris
The idea of a high school rising junior (senior?) who looks like Sean Faris circa 2004 having a crush on you when you were going to be a freshman in high school is next-level insane! But we ate it up in the movie Sleepover.
16/31
Now: Sean Faris
Faris later starred, and caused some major drama, in Pretty Little Liars as Gabriel Holbrook. He's also been in a ton of holiday Hallmark movies...if you were looking for a reason to watch one.
17/31
Then: Jordan Calloway
Avid Nickelodeon watchers might remember Jordan Calloway as one of Emma Roberts' BFFs, Zach Carter-Schwartz, in Unfabulous. When you weren't singing the catchy theme song, you were definitely thinking about him.
18/31
Now: Jordan Calloway
Calloway has been busy since his days on Nickelodeon. He played douchebag Chuck Clayton in Riverdale's early seasons and most recently starred as Khalil Payne in Black Lightning.
19/31
Then: Aaron Taylor-Johnson
The British actor did star in some TV shows in the early parts of his career, but everyone came to know and love him as Robbie in Angus, Thongs and Perfect Snogging.
20/31
Now: Aaron Taylor-Johnson
Taylor-Johnson is still acting! Since he played Robbie, he's been in big blockbusters like Kick-Ass, Tenet, and Nowhere Boy. He even won a Golden Globe in 2017 for his role in Nocturnal Animals.
21/31
Then: Tom Welling
You either know him as Superman in Smallville or as the second oldest Baker, Charlie, in the Cheaper By the Dozen franchise. I mean, him wearing that red cap in the majority of the first movie? How could we forget!
22/31
Now: Tom Welling
Welling may not be playing superheroes anymore, but you can watch him in shows like Lucifer or the action TV show Professionals.
23/31
Then: Patrick J. Dancy
Patrick Dancy first made his appearance on Saved by the Bell, but we got to really know him as Ted Curran on the '90s sitcom Family Matters.
24/31
Now: Patrick J. Dancy
Dancy hasn't acted in anything since 2004, unfortunately, but he does have an Instagram account!
25/31
Now: Adrian Grenier
Since the teen flick, you most likely loathed him as Andy's boyfriend in The Devil Wears Prada or maybe wanted to date him (just not his friends) as Vincent Chase in HBO's Entourage.
26/31
Now: Rob Lowe
Since then, Lowe has received six Golden Globe nominations for his work in numerous productions like The West Wing, Square Dance, and Behind The Candelabra.
27/31
Now: Omar Epps
Lucky for us, we still get to see Epps on our screens. He's starred in House, This Is Us, Resurrection, and many more of your favorite shows.
28/31
Now: Freddie Prinze Jr.
Besides playing a really good Fred in the live-action Scooby-Doo franchise, he's also an author! Prinze Jr. recently released his cookbook, Back to the Kitchen, and his wife, Sarah Michelle Gellar, wrote the foreword.
29/31
Now: Donald Faison
Today, Faison is making us laugh in reruns of Scrubs or The Exes. He also shows off his voicing talents in the animated series, Robot Chicken.
30/31
Then: James Van Der Beek
Unless you've been living under a rock for the past couple decades, then you know James Van Der Beek played Dawson on Dawson's Creek—as in, like *the* teen drama series from the '90s.
31/31
Now: James Van Der Beek
Van Der Beek and his great eyebrows are still making Hollywood moves. He had a role on the hit FX show Pose, and played DJ Diplo in the comedy series What Would Diplo Do? over on Viceland.
Celebrity news, beauty, fashion advice, and fascinating features, delivered straight to your inbox!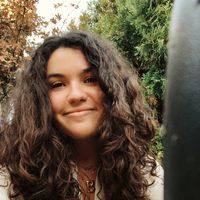 Bianca Rodriguez is the Fashion & Luxury Commerce Manager at Hearst Magazines, covering fashion, beauty, and more for Cosmopolitan, Elle, Esquire, Harper's BAZAAR, and Town & Country. She likes lounging about with a good book and thinks a closet without platform sneakers is a travesty.