The 63 Best 2000s Movies
Juicy Couture tracksuit recommended, but not required.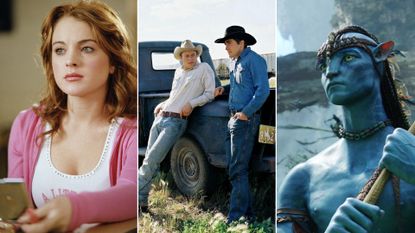 (Image credit: Alamy Stock Photo)
The 2000s were marked by iconic '00s trends: Juicy Couture tracksuits, thin eyebrows, low-rise jeans, MTV's Cribs—and the films of that time were equally seminal. What other decade could we escape to such magical new worlds like those of Harry Potter, The Lord of the Rings, and Avatar? Movies like My Big Fat Greek Wedding and How to Lose a Guy in 10 Days signaled the golden era of rom-coms, while The Dark Knight and Iron Man brought on the superhero craze we know today. And don't even get us started on the cultural reset that was Twilight.
From Elle Woods reminding us all that we can do anything we set our sights on to Napoleon Dynamite teaching us to just listen to our hearts, the best 2000s movies just hit differently. Maybe it's because it was one of the last decades before streaming made it big (RIP Blockbuster), so we were able to watch all of our favorites in a not-so-comfortable seat at the movie theater with a large bucket of buttery popcorn. Or maybe it's because it was the decade in which many of us felt like we were coming of age. The '00s were a kiss goodbye to old Hollywood tropes as Tinseltown welcomed in all kinds of new, unique stories.
To remind you just how great of a decade it was, we've scoured the archives to round up the best 2000s movies. More than a decade later, these movies from the aughts are still on our must-watch films list. And because the 2000s boasted such a variety of great films, we've arranged this list by genre so you can easily navigate your favorites. Without further ado, here are the greatest, most essential 2000s movies.
Best Comedies of the 2000s
'Mean Girls' (2004)
The high school comedy written by Tina Fey is the '00s pop culture staple. Cady Heron (Lindsay Lohan), the new girl at school, is taken in by the uber-cool mean girl group "The Plastics." Everything is going well until Cady has eyes for the leader of the pack, Regina George's (Rachel McAdams) boyfriend. Chaos ensues!
'Almost Famous' (2000)
A kid is offered the chance to follow an up-and-coming band on tour and write about the experience for Rolling Stone. What sounds like a dream for many aspiring music journalists is loosely based on what happened to rock journalist Cameron Crowe in real life. You'll be forever jealous after watching this one.
'The Hangover' (2009)
Three friends on a bachelor party in Vegas wake up after a wild night to find the bachelor is missing. The friends find themselves tracing their steps to find the soon-to-be groom, from returning Mike Tyson's tiger to figuring out how they ended up carrying around a baby. It's highly inappropriate at times, but oh, is it funny.
'Napoleon Dynamite' (2004)
A not-so-popular teenager named Napoleon Dynamite (Jon Heder) decides to help the new kid at school, Pedro (Efren Ramirez), run for class president against the ever-so-popular Summer Wheatly (Haylie Duff). The story is one that most audiences will be familiar with, but with characters like these (Uh, hello Uncle Rico? Kip?), it becomes a tale all its own.
'Legally Blonde' (2001)
When your boyfriend dumps you and heads off to Harvard Law School because you're too "blonde," you get into said law school and prove you're far more than just a pretty face. Elle Woods (Reese Witherspoon) soon finds out that she'll have to do more than what made her stand out at her college in L.A. to win him back and close her case. What, like it's hard?
'The 40-Year-Old Virgin' (2005)
Judd Apatow's directorial debut is very funny and has a lot of heart. Andy Stitzer (Steve Carrel) is a 40-year-old geeky guy who works at his local electronic store. On the outside, he seems happy with his life, but one poker night he lets it slip to his friends that he's never been intimate with a woman. His friends then make it their own mission for Andy to meet "the one."
'Juno' (2007)
When 16-year-old Juno (Elliot Page) finds herself pregnant, she tries to get an abortion but then finds herself deciding to give the baby up for adoption to a wealthy couple. Juno was one of the first films to start a discussion about teenage pregnancy, and the Oscar-winning screenplay still holds up years later.
'Superbad' (2007)
It's safe to say Superbad was able to freeze in time what was so great about the year 2007 and throw it into a tale about a wild Friday night for two best friends who are about to graduate high school. The "McLovin" fake ID will live rent-free in my mind for all eternity.
'Zoolander' (2001)
So far, this has been a list FOR ANTS. And that's because it doesn't get any more early aughts than Zoolander. Ben Stiller and Owen Wilson play ridiculously good looking male models who become assassins. That's a quality script, folks. Plus, is that Winona Ryder, Natalie Portman and Paris Hilton we see in the trailer? Why yes, yes it is.
'School of Rock' (2003)
'00s kids will have a complete nostalgia trip watching this film and remembering the days when they hoped Jack Black would turn their classroom into a rock studio. Plus there's an appearance from 2000s It Girl Miranda Cosgrove, pre Nickelodeon.
'Step Brothers' (2008)
This comedy starring Will Ferrell and John C. Reilly might just be the most quotable movie ever made. From Brennan sneakily playing Dale's drumset to Brennan and Dale becoming best friends and building bunkbeds, this movie is downright hilarious. Sure, it may lean on the immature side, but Ferrell and Reilly are a match made in comedy heaven.
'Freaky Friday' (2003)
This remake of the 1976 classic is an early-aughts teen movie masterpiece. Come for the hilarious hijinks and eventual moments of post-body-switching mother-daughter bonding between Tess (Jamie Lee Curtis) and her angsty teenage daughter Anna (Lindsay Lohan), stay for the absolutely incredible soundtrack—all these years later, "Ultimate" by Anna's band Pink Slip still holds up.
'Bring It On' (2000)
Cheerocracy may not be a widely accepted form of government, but it certainly worked for the Rancho Carne Toros once they'd installed a more benevolent team captain at the top, in the form of Kirsten Dunst's Torrance. She helped them reach a new level of mutual respect with their closest competition, the East Compton Clovers (led by Gabrielle Union's Isis). Maybe governments around the world should take note?
Best Rom-Coms of the 2000s
'Bridget Jones's Diary' (2001)
Bridget Jones (Renée Zellweger) is kicking off the new year by keeping a diary, swearing off bad men, and abandoning her other bad habits. As luck would have it, when she starts to do these things, she meets two men that pique her attention. Bridget soon has to find out not only which one likes the real Bridget, but also must dig up the self-love she's had for herself all along. Can I tempt you further by saying Hugh Grant has ridiculously great hair in this?
'Mamma Mia' (2008)
Did someone call for one of the best musical films ever made? Because Mamma Mia answered. A bride-to-be, Sophie (Amanda Seyfried ) doesn't know who her real father is despite pleading with her mom (Meryl Streep) for the answer. Logically, instead of walking down the aisle alone, she invites all three of her potential dads to the wedding. There's a lot of ABBA music and dancing, which is equally as great as the all-star cast.
'My Big Fat Greek Wedding' (2002)
To love romantic comedies is to love My Big Fat Greek Wedding. When Toula Portokalos (Nia Vardalos) falls in love with a non-Greek man (John Corbett), it'll take a lot of convincing to her family for them to have a happily ever after.
'How to Lose a Guy in 10 Days' (2003)
Probably the ultimate 2000s rom-com, this one stars Kate Hudson as an ambitious journalist and Matthew McConaughey as a sorta-sleazy marketing rep who start dating to fulfill separate bets (though neither knows about the other's plot) but—surprise, surprise—they soon start developing actual feelings for one another. And don't forget about the love fern!
'She's the Man' (2006)
I don't care what anyone else may say, this is one of the funniest rom-coms ever. Amanda Bynes stars as Viola, a soccer player who disguises herself as her twin brother Sebastian to play on his elite boarding school's team. There, she meets the school's star player Duke (Channing Tatum) and soon a tangled web of relationships real and fake is spun. Just thinking about this movie, especially the tampon scene, get's a huge laugh out of me.
'The Proposal' (2009)
Sandra Bullock and Ryan Reynolds are a rom-com match made in heaven. Bullock plays snobby publishing exec Margaret who narrowly dodges deportation after announcing she's engaged to her assistant, Andrew (Reynolds). Andrew goes along with the charade only when Margaret agrees to meet Andrew's eccentric family in Alaska. Come for Bullock and Reynolds' chemistry, stay for Betty White's dancing to "Get Low."
'A Cinderella Story' (2004)
Behold: The "You've Got Mail"-ification of the classic Cinderella fairy tale. Hilary Duff plays Sam, the all-but-invisible "Diner Girl," who dreams of going away to Princeton for college despite the best efforts of her evil stepmother (a perfectly cast Jennifer Coolidge). She's also carrying on a secret online relationship with Austin Ames (Chad Michael Murray), the most popular guy in school. Run, don't walk, to rewatch this classic—because waiting for it to come to you would be like waiting for rain in a drought: useless and disappointing.
'Ella Enchanted' (2004)
Most fairy tales have extremely dark undertones, and this one is no different, with our heroine (played by Anne Hathaway) burdened with a lifelong curse that forces her to obey all direct orders, no matter what. But let's focus on happier things: Minnie Driver as Ella's household fairy! Hugh Dancy as the positively charming Prince Char! Heidi Klum as a lovesick giantess! The triumphant rendition of "Don't Go Breakin' My Heart" before everyone lives happily ever after!
'13 Going on 30' (2004)
After her 13th birthday wish magically comes true, Jenna Rink (played as a teen by Christa B. Allen and as an adult by Jennifer Garner) learns pretty quickly that adulthood isn't all it's cracked up to be. But that won't stop us from wishing to be 30, flirty, and thriving every opportunity we get—if only for the chance to one day save a boring party with a perfectly-timed "Thriller" dance.
Best Romances of the 2000s
'The Notebook' (2004)
By the time you finish watching the love story of Allie and Noah, there will not be a dry eye in the house. This famous Nicholas Sparks novel is the classic poor boy (Ryan Gosling) who falls in love with a girl from the upper class (Rachel McAdams) kind of drama. Still, it's a classic romance movie I can't stop watching years later.
'Twilight' (2008)
Hear me out: Twilight was a cultural reset! The story of a teenage girl (Kristen Stewart) who moves to the sleepy town of Forks, Washington, where she meets a handsome dude (Robert Pattinson) with a bloodthirsty secret rocked my world as an adolescent. Maybe you watch for the plot or a young Taylor Lautner, but real cinema fans know it's all about the scene of Pattinson getting out of his Volvo at school wearing Ray-Bans.
'Pride and Prejudice' (2005)
Who knew eye contact could be so sexy? In this retelling of Jane Austen's novel of the same name, we meet Elizabeth Bennet (Keira Knightley) and Mr. Darcy (Matthew McFayden), two people who fall in love from different social classes. Can they put their pride and, yes, prejudice aside to be together?