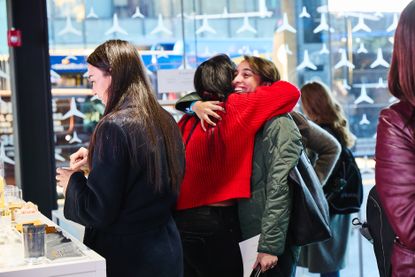 (Image credit: Marie Claire)
Last week, Marie Claire hosted its fifth annual Power Trip: Our 36-hour jam-packed summit that brings together female founders, CEOs, and business leaders for the ultimate networking experience. This year we decided to take our Power Trip "off the grid": After more than 18 months of zoom calls, remote work, and battling burnout, we wanted to make our summit all about recharging, reconnecting, and refocusing. To do this, we brought 70 power women to Miraval Resort in the Berkshires and planned an itinerary full of honest conversations, inspiring panels, self-care moments, and effortless luxury to fuel their mind and bodies. Here, my five favorite moments from the Power Trip:
The Kickoff
Usually one's arrival someplace is rather unremarkable, but for this year's Power Trip it immediately set the stage for the unbelievable 36 hours ahead of us. Not only was it the first time our 70 Power Trippers got to meet each other, but our meet-up spot was at the Mercedes-EQ Experience in the Meatpacking District of New York City, an interactive space dedicated to the launch of the brand's first line of electric vehicles. It had the instant wow-factor Power Trip is all about and signaled the kind of luxury and innovation ahead of us. To get to the check in, guests walked over floor tiles that felt like they were moving or shifting slightly--an energy harvesting pathway, created in partnership with Pavegen, that generates reusable clean energy with each footstep. With each step, the attendee's weight compressed an electromagnetic generator, which in turn worked to transform each individual footstep into a small amount of energy that is converted into clean electricity. It was literally getting us off on the right foot and created an energizing moment that felt like it set the intention for the next 36 hours to come.
Our arrival also gave us our first sneak peek at the EQEQS, Mercedes' first fully electric luxury sedan, which marries luxury with sustainability, and, as we welcomed our guests to Power Trip, they got their first surprise. In her welcome remarks, Mercedes-Benz Vice President of Customer Services Dianna du Preez, who was a guest on the trip, shared the story of Bertha Benz, a true female pioneer who laid the foundation for the motor vehicle industry and paved the way for the Mercedes-Benz success story (and took the first long-distance road trip!), before announcing that a select group of women would get to travel to Miraval in one of the yet-to-be-released vehicles (they're now available to the US market!). It was the perfect sendoff for this group of inspiring, empowering women--and a real treat for those getting to kick back and relax for a luxurious ride at 7am!
Sparking a Flame
Once we arrived at Miraval, we had a quick refresh (prosecco and sandwiches, anyone?) before heading to our first activity: Forge a Fire. All of the attendees were split into smaller groups and tasked with using a compass to discover a hidden box of supplies and then, using the wood and flint provided, spark a fire. Before we got to work, the groups each chose a word that was meant to set an intention for our time at Miraval. My group chose connection, which felt like both an apt description for what we were doing in the moment--working together to achieve a goal--and what we planned to do during our time at Power Trip--form and feed relationships and meaningful in-person interactions after so many months working remotely.
The activity was not only the ultimate ice breaker, but it was also an extremely satisfying moment where we worked together and cheered each other on as we struggled (some more than others!) to get a spark that would turn into a real, sustainable flame. Once each group lit its fire successfully, we used the flames from the individual fires to light one big fire in the center of our group, and as we added our flames, each group shared the word of intention they had chosen.
Alicia Keys Lights Up the Room
Our first panel moment featured singer, entrepreneur, activist, and overall incredibly cool human Alicia Keys. She was a surprise guest, so attendees didn't know what they were about to experience, and when Alicia walked onto the stage after being introduced by Entertainment Tonight's Nischelle Turner, the crowd went, well, WILD. During the conversation, Alicia opened up about learning to own her power and encouraged all of the Power Trippers to do the same.
"For so long, I felt like what am I doing here? Honestly, I still feel that in so many ways. There's an awe about it. I don't think it's necessarily a bad thing to feel like you're excited amongst the things that are coming to you in your life, but I have noticed that I've gotten much more comfortable with knowing what I'm worth and knowing what I deserve and demanding it," she shared. "Sometimes it takes a lot because I think as women, oftentimes we do feel like we have to be so busy and so damn compromising. There's a part of me that just wants to hold on to your space and to your original thought and idea...I'm definitely done giving my power away."
Making Powerful Connections
Because the focus of this Power Trip was on recharging and reconnecting, it was really important to us that we carved out time for these women to have more focused, small group and 1-1 conversations. These were some of my favorite moments of the trip.
My first opportunity to further connect with fellow Power Trippers was in one of our breakout sessions, titled "Loneliness in Leadership." The off-the-record conversation was a powerful reminder that sharing our own experiences and opening ourselves up to others can have a real impact. I left the conversation feeling reenergized and filled with so much respect for these strong women leaders.
I got my next opportunity during our Mercedes Meet-ups, where we arranged 1-1 conversations for some of the Power Trippers. I was paired with Dianna du Preez, and while we got to know each other more, we were treated to the full EQS experience and a gorgeous look at the scenery of the Berkshires (it's peak leaf-peeping there!). Driving around in the EQS it felt like we were in our own uber luxurious private pod–the car is next-level smart so it learns all your preferences, but for a first-timer like me, I got to select my most comfortable seat adjustment and even choose to get a light back massage (yes, really). Everything is displayed on a 56-inch high-tech glass hyperscreen that runs seamlessly across the dashboard, putting everything at your fingertips, all the while looking incredibly attractive. The hyperscreen is almost as pretty as the view!
Something I loved too, being an infrequent and not the most confident driver, is that part of the car's artificial intelligence includes learning your behaviors and driving preferences to help increase your safety. That is a whole different kind of comfort and luxury in addition to, you know, having the most comfortable seat tailored to your every whim waiting for you. On top of all the impeccable design details and innovative technology, the EQS vehicles are sustainably made, which makes them a responsible choice. I walked away from my Mercedes Meet-up feeling refreshed and so lucky to have gotten to experience a taste of the Berkshires with Dianna.
Finding Our Forward
Our final business panel of the trip was themed "Find Your Forward," featuring Catherine St-Laurent, founder of Acora Partners, designer and creative director Carly Cushnie, and ClassPass founder Payal Kadakia, moderated by CBS Saturday Morning co-host Michelle Miller, discussing business success, pivoting, and what comes next.
"I've learned from some of the best philanthropists and changemakers in the world," shared St-Laurent who left Melinda Gates's investment and incubation firm, Pivotal Ventures, just as the pandemic was starting to join the Duke and Duchess of Sussex's newly launched Archewell Foundartion, "and one of the things that I took away from all these experiences is [to seize] the opportunity to pay forward and bring that good experience to the next person."
"To me it was important to support two people who had such an ambition to change the world," she said. And even with all the uncertainty unfolding at the time, "we learned and we listened. The place you start is what matters to you the most. What is the kind of change you want to see? What are the things that are so visceral to you that they wake you up in the night and you have to do something about them?"
Listening to these powerhouse women share their experiences and what pushes them forward was the perfect end to our 36 hours and sent me back to New York City feeling inspired, empowered, and excited to explore the road ahead--whatever that might look like.
Sally is the Editor in Chief of Marie Claire where she oversees coverage of all the things the Marie Claire reader wants to know about, including politics, beauty, fashion, and celebs. Holmes has been with Marie Claire for five years, overseeing all content for the brand's website and social platforms. She joined Marie Claire from ELLE.com, where she worked for four years, first as Senior Editor running all news content and finally as Executive Editor. Before that, Sally was at NYMag.com's the Cut and graduated with an English major from Boston College.