Meet the First Female Surfer in Bangladesh, 18-Year-Old Game-Changer Nasima Akter
They tried to force her into prostitution. Instead, she hit the waves.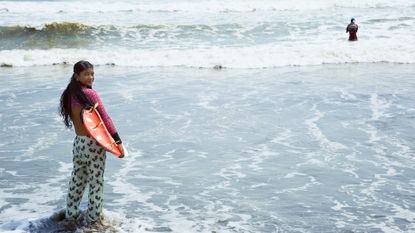 (Image credit: Jordan Dozz)
In a conservative Muslim country where it is taboo for most women to even swim in public, 18-year-old Nasima Akter is making waves as Bangladesh's first female surfer. But Akter isn't only a pioneer—she's a survivor.
Homeless at just seven years old (her parents kicked her out because she reportedly refused to earn money for the family as a prostitute), she found hope in the surfing community in Cox's Bazar, home to the world's longest uninterrupted sandy coastlines. It was there she learned to surf through a club, eventually besting the boys in local competitions. Her story caught the eye of Sausalito, California-based documentary filmmaker Heather Kessinger, who is submitting The Most Fearless (opens in new tab) to film festivals this month.
The film chronicles Akter's journey, which has been choppy at times: She's been called a whore by locals just for getting into the water. "Nasima wants to be a good Muslim wife and a respectable part of her community—but she's completely unwilling to let go of her passion for surfing for that," Kessinger says. "And by telling her story, she's broken the barrier for all girls to do the same." That makes Akter a triple threat: pioneer, survivor, and now, role model.
Watch the trailer and just *try* not to get chills.
This article appears in the August issue of Marie Claire, out on newsstands now.