This Woman Is Changing Undocumented Immigrants' Lives in Under an Hour
Meet Allegra Love, who's crisscrossing the Southwest to make sure undocumented children have a chance at a legal future in the only home they've ever known.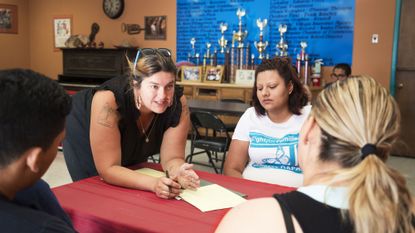 (Image credit: Julie Ann Grimm/Santa Fe Reporter)
Marie Claire Newsletter
Celebrity news, beauty, fashion advice, and fascinating features, delivered straight to your inbox!
Thank you for signing up to Marie Claire. You will receive a verification email shortly.
There was a problem. Please refresh the page and try again.
Allegra Love makes quick work of changing lives. When she rides into a town like Farmington, New Mexico in her turquoise RV turned mobile legal clinic, she and her staff at the Santa Fe Dreamers Project—the outreach program she founded in 2015 to provide free representation to young undocumented immigrants—can determine if someone is eligible for legal residency and get the paperwork rolling in under an hour. Even half a day in a new town can make a big impact. "There's nothing like it in the country," Love, 36, says of the mobile clinic.
When President Donald Trump began his sweeping crackdown on illegal immigration in January, Love and her team decided to spend a lot of 2017 in the RV traveling to "remote and afraid" immigrant communities, which often lack legal resources, around New Mexico and in neighboring states. Love wants to be sure that residents who came here illegally don't lose their chance to stay, legally, because they don't have access to a lawyer. It can be simple, but it takes meeting immigrants where they are, and in the new, deportation-focused administration, it's work that's more vital and time-sensitive than ever. "You've got to think, What would need to be happening for you to leave your country? What would your neighborhood have to look like?" Love says. " I don't think Americans know the conditions people are in...for me, it was something I couldn't ethically ignore."
It all started in 2007 when Love was teaching third grade in a bilingual classroom in Santa Fe. One day, Immigration and Customs Enforcement (ICE) officials conducted a series of raids around the city. Love's school wasn't targeted, but the next day, only three students out of her class of 20 showed up—the rest had stayed home, worried about additional raids. Until then, Love hadn't realized how many of her students lived in fear that they or their loved ones might be deported. "Deportation is a neat legal word," Love says. "But I don't think people connect it with tearing families apart."
Love felt she had to act, so before long she quit her job and enrolled in law school at the University of New Mexico in Albuquerque. "It seemed like the most logical thing I could do to help," she says. "Being a lawyer is cool, because all of a sudden, people listen to you in ways they didn't before."
A year after Love finished law school, in June 2012, President Barack Obama issued an executive order known as Deferred Action for Childhood Arrivals (DACA), which allows undocumented immigrants who entered the U.S. before they were 16 years old (known as "dreamers"), and who were under the age of 31 at the time the order was issued, to stay in the country and access education and employment. So, after she graduated, Love returned to Santa Fe and began processing DACA applications for students as an in-house lawyer for the school district where she had once taught. Thanks to her, Santa Fe became one of the only school districts in the country to offer aid to undocumented students, and 96 percent of the students Love represented went on to graduate from high school (compared to 65 percent of Santa Fe high school students overall). Within two years, her work had grown so popular that she took it off school grounds.
The Santa Fe Dreamers Project officially began as a solo act in March 2015. Love hosted a free drop-in legal clinic at a local church one night a week and processed 100 cases in her first year. The organization, which is funded by grants and donations, has since grown to include an office in Santa Fe and a weekly clinic in Albuquerque (chosen because of the increasing demand from dreamers in Colorado and Texas), and Love was able to hire two additional bilingual attorneys. Together, they've helped 700 people gain legal status through DACA.
Since this past election, their phones have been ringing nonstop. During his campaign, Trump promised to end DACA immediately, and although that didn't happen, the president's hard-line approach to immigration so far—in January, he ordered the suspension of the admission of refugees, blocked travelers from seven Muslim-majority nations, and directed the immediate construction of a U.S.–Mexico border wall—has Love and other activists fearing the worst. At press time, the Trump administration hadn't yet said what would become of the 800,000 immigrants who have already been granted legal status under DACA if the policy is repealed, and a recent wave of ICE raids suggests a firm stance.
That's why, until DACA's fate is sealed, Love and her team will be on the road, sacrificing sleep and meals in order to help as many immigrants as they can—all because they know every case they take on has the ability to make that person's life better, safer, and more secure. One recent client is now working on a master's degree; another was able to leave an abusive relationship as a result of her new immigration status. "These [policies provide] ladders out of poverty, and that has a long-term positive impact on the whole community," Love says. "We're showing what's possible when you pull people in from the margins."
This article appears in the April issue of Marie Claire, on newsstands now.
Celebrity news, beauty, fashion advice, and fascinating features, delivered straight to your inbox!