Put Young Girls at the Center of Development
Christy Turlington Burns and Monique Villa delves into developing young women leaders in honor of the UN's International Day of the Girl Child on October 11. By Christy Turlington Burns, Founder of Every Mother Counts; Monique Villa, Thomson Reuters Foundation CEO.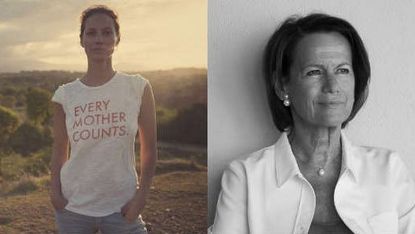 (Image credit: Archives)
Left Photo: Christy Turlington Burns (Credit: Kasia Meador); Right: Monique Villa (Credit: Courtesy of Subject)
Do you remember your favorite toy as a child? Your first day at school? Your first love? The moment you clearly felt you'd become an adult?
Many young girls will never have any of those memories. As of today, the International Day of the Girl Child, around 250 million of them live on less than $2 a day. They don't go to school. They've never seen a doctor. In many cases, they're married before they turn 15 and many die from childbirth complications.
Adolescent girls are not children, but they're not quite adults. That makes them particularly vulnerable, powerless and at risk of different forms of exploitation. They are a category on their own, with very specific needs that global policy makers and the international humanitarian community must identify, understand and tackle appropriately.
So far, this hasn't happened. Adolescent girls have notably been left out of the Millennium Development Goals agenda which, while successfully targeting the improvement of healthcare standards for women and children, has failed to address crucial issues regarding teenagers. In the eyes of those driving development, an adolescent girl is invisible.
There are plenty of 'invisible girls' around the word: 50% of Tanzania's population is under the age of 15; 30% of the demographic of the entire Middle East is between the age of 15 and 29; and in India, more than half the nation is under 25. This is the largest youth generation in history. Its potential is unrivalled, yet left completely untapped. Worst, this category is now at risk.
Very rarely is contraceptive promotion targeted to the specific needs of young girls. Standard family planning for adult women is implemented instead. The unfortunate result is a rise in HIV infections and sexually transmitted diseases, along with 86 million unintended pregnancies, almost half of which lead to abortion. Three million of such abortions are unsafe, and are a leading cause of maternal mortality.
Nearly 10% of all girls in low-income countries are mothers before they turn 16. They are five times more likely to die in childbirth than women aged 20; their bodies are just not ready for pregnancy. Yet in African countries - where half of all births are to adolescent girls - sexual and reproductive health services tend to focus exclusively on married women.
Violence against girls continues to be one of the most pressing challenges the world faces. Nearly half of all recorded sexual assaults worldwide are against girls aged 15 or younger, but very little has been done by the international community to create the right framework for these young victims to come forward, so justice can be enforced. As a result, the vast majority of violent crimes against girls go completely unreported.
How can we turn things around before it's too late? We must start with the girls.
Teenage girls must be listened to and taken seriously. It's time for the international development community to identify them as a priority target, one that must be consulted when implementing and evaluating new programs and services. The top-down approach has failed too often.
Girls must be the focus of targeted funding. But for that to happen, they must be properly identified first. Data must be compiled and analyzed in a much smarter way, classifying people not only by sex, but also by very specific age segments (10-14, 15-19). Failure to do so will result in ineffective programs, and further waste of aid money.
Sexual violence against girls must be increasingly addressed at both international and national levels. There is a chronic data deficit worldwide, as victims often don't report rape. Even in countries such as the UK, only 15% of all victims of rape come forward.Much more has to be done to reassure young girls that justice is firmly on their side, preventing them from falling into the trap of self-blame.
Countries that don't meet their obligations in enforcing the rule of law must be held accountable. Perception polls are a good to way to start, especially when data is lacking. The latest expert poll on women's rights by the Thomson Reuters Foundation showed India to be the most dangerous country for women within the G20. The finding came six months before the infamous Delhi gang rape, and has since been used extensively by activists to demand change.
Education, however, must top all priorities. Placing girls in a safe learning environment means reducing their chances of being sexually or economic exploited, or married off as child brides. Giving girls the right skills means making sure they enter adulthood as active citizens, with more choice in life. It's a matter of human rights, but also an investment that could solve global challenges. On average, 70% of every woman's salary is spent directly on her family. This has obvious positive consequences for society at large.
It is estimated that just one additional year of secondary schooling can boost girls' future earnings by 15-25%. In practical terms, that means that if girls in Nigeria had the same employment rate as boys, the country would add $13.9 billion annually to the economy. In Kenya, this would add $27 billion to the national GDP. In India, 4 million adolescent illiterate mothers translate into a loss of over $383 billion in potential lifetime income.
There are tipping points in history that must be exploited. And the tipping point for gender seems closer than ever. But to trigger real change, we must be strategic and tackle the root of the problem, not just the symptoms. The main obstacle to girls' empowerment – from access to healthcare, to safety and education – lies in the many discriminatory social norms embedded within their respective communities.
We know that cultural change is the hardest to harness, but with the active involvement of committed governments at a national level, and with the active participation of men, it can happen. The recent progress in the fight against female genital mutilation in Kenya is evidence that the backing of national governments is essential and can create wide-scale victories. When men see women leaders within their communities they understand the importance of education for their daughters.
Our tipping point is now. It's time to take action. It's time to make a radical shift, to start seeing girls not as vulnerable or as a liability, but as potential leaders. It's time to see girls for who they are: the driving force of their generation, one poised to bring real social change.
Women's access to healthcare is one of the themes at the forthcoming Trust Women Conference held in London on December 3-4. The event is organized by the Thomson Reuters Foundation in partnership with the International New York Times.
Celebrity news, beauty, fashion advice, and fascinating features, delivered straight to your inbox!