Summer Color Trends That Double as Mood Boosters
From mellow yellows to powdery pinks.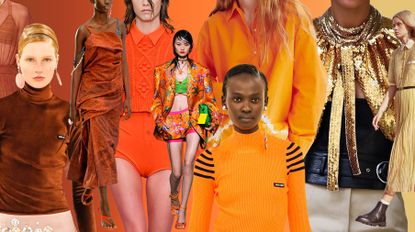 (Image credit: Courtesy / Susanna Hayward)
You can choose to ignore the runway trends (opens in new tab), but color? It's everywhere. Finding your favorite hue may come down to how it makes you feel, and wearing it, even unknowingly, can be a powerful communication tool. From ethereal blues to gentle yellows to feminine pink hues, the spring/summer 2021 runways are leaning into the power of color theory. Here are the top color schemes to tap into.
Sky Blue
Reminiscent of a cloudless sky, designers are embracing soft, soothing blue hues. The color's calming influence graced short suits for business, jumpsuits for play, and floaty dresses for wiling the summer away in.
Rust
This earthy tone is no longer reserved for the autumn season or '60s corduroys. In a sheer fabric or silky strap dress, we're putting it at the top of our summer wish list.
Mellow Yellow
Contrary to bright canary yellows, this gentler iteration is suited for a monochrome look. Luckily, the effects of wearing it are still mood-boosting.
Powdery Pinks
Exuding charm, romance, and hope, a dusty pink color can be worn as a neutral. The runways were chock-full of it; on sophisticated dresses, light summer knits, and quirky tailored suiting.
Golden Hour
Synonymous with ambition and good fortune, summer's gold tones express optimism. Wear the alluring color on everyday staples like windbreakers and maxi skirts or parade them celebratory on capes and gowns.
Soft Grey
Perfectly poised for plush sweaters and trims in cold weather, we're reminded that grey is anything but a drab winter tone. From breathable knit dresses to vacation-ready gathered skirts, soft grey is the ideal warm-weather palette cleanser.
Orange Theory
Designers played with uplifting orange colorways in statement-making prints and proportions. If you're not ready for all eyes on you, opt for an attention-grabbing citrus accessory instead.