The Jewelry Trends for Spring 2021, Straight from the Runways
From crushed metals to show-stopping earrings.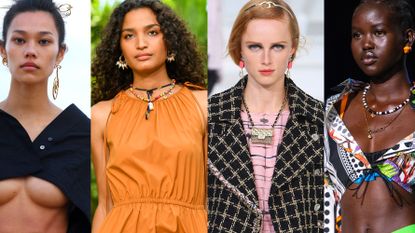 (Image credit: Getty Images)
With the exception of hand-beaded chains for your mask, jewelry has been overlooked for the larger part of the past year. Despite this, designers sent a mix of gorgeous styles down the runway for the new spring season, ranging from casual jewelry to black-tie baubles. We saw beach beads at Etro and Versace, show-stopping XL earrings at Dolce & Gabbana and Ulla Johnson, and so much more. Once again, designers tried to sell us on mini bags as necklaces, but the question remains: Are we buying it? You decide. Below, five trends from our four favorite fashion cities to invest in now.
1/29
Beach Beads
Whether worn alone or layered, these colorful beads are the perfect addition to your beach look. Here's to the hope of vacationing in 2021.

Versace
2/29
3/29
4/29
Chan Luu Mauve Mix Seed Bead Necklace
These champagne-colored beads make this necklace a neutral piece.
5/29
Éliou Dree Necklace
Surfer meets sophisticated in this Lapis Lazuli necklace from Éliou.
6/29
Anni Lu 18kt Gold-Plated Alaia Beaded Necklace
This colorful necklace is the perfect layering piece.
7/29
Pearl Power
Pearls are no longer just for your grandmother. Designers sent these stones in a mix of silhouettes down the spring runways. From drop earrings to layered necklaces, there's a style for you.

Jason Wu
8/29
9/29
White Space Kenna Birthstone Pearl Necklace
This baroque pearl necklace will stand out whether worn alone or layered.
10/29
Agmes Baroque Patrice Earrings
This freshwater pearl style is a great choice for everyday.
11/29
Anita Berisha Pearl Clip-on Earrings
Try this cluster pair for a heavier look.
12/29
Metal Crush
Trade in your smooth gold hoops for a textured pair. This season, designers swapped flat gold and silver pieces for rigid, "crushed" styles.

Acne
13/29
14/29
15/29
Épifenē Textured Statement Earring With Lion-Head Post
This textured pair is perfect for a night out.
16/29
Ambush Crush Bangle
If you buy one bracelet this season, make this it. The 18kt gold plated silver bangle won't disappoint.
17/29
Jlani Jewels Toni
This textured band comes in at a great price.
18/29
Shoulder-Grazing Earrings
Make an entrance in a pair of shoulder-grazing earrings. Whether for day or black tie, these earrings are more versatile than you'd think.
JW Anderson
19/29
Shoulder-Grazing Earrings
Dolce & Gabanna
20/29
Shoulder-Grazing Earrings
Ulla Johnson
21/29
Fenty Crystal Drop Hoops
RiRi strikes again with this incredible pair of crystal drop hoops.
22/29
Opuline Ariana Earrings
This stone and glass style pairs perfectly with an LBD.
23/29
Isabel Marant Marisa Drop Earrings
Stevie Nicks would approve.
24/29
Bags as Necklaces
Both chic and delightfully irrational, bags worn around the neck have been trending for a few seasons now. Maybe in 2021 Apple will make an iPhone to fit into these pint-size purses.
Chanel
25/29
26/29
Bags as Necklaces
Balenciaga
27/29
Mini Medea Necklace Bag
This punch-colored pink will brighten up any outfit.
28/29
Loewe Small Heel Pouch
This half-moon bag is the perfect travel piece. Throw your essentials in it and go.
29/29