Women Make Up 10% of Kitesurfers—Moona Whyte Is One of Them
Moona Whyte is a champion kitesurfer who travels the world for her sport.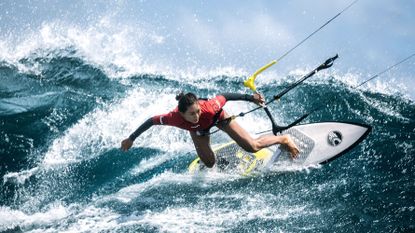 (Image credit: Courtesy of Moona Whyte)
Growing up in Oahu, Hawaii, Moona Whyte followed the normal path of island childhood development: learn to crawl, learn to walk, hit the waves. As a surfer, she planned her schedule around the swells and tides—"Daily life revolved around what the ocean was doing," Whyte remembers—but it wasn't until she discovered kitesurfing at 14 that a beach pastime began to morph into a future profession. In 2013, after only a year on the competitive circuit, she won the KSP Women's World Championship. Now, at 24, Whyte travels the world wherever the wind—and the tournaments—take her. (Check out her Instagram if you can handle the tropical FOMO.) Here, she discusses life on the water, her T-shirt side hustle, and why a good swimsuit might be the most important gear of all.
How did you get into kitesurfing?
I grew up on the North Shore of Oahu, which is a great place to get into water sports. I learned to surf at a young age, and my dad, who was a professional windsurfer, taught my brother and me to kite in the summer of 2008, when I was 14. I went to my first competition, on Maui, in 2012; that was the first time I really saw other girls riding. I ended up winning that event, and I got my first sponsorships from there. I've been competing and traveling since then.
Travel seems like a nice perk of the job. Where have you been recently?
I went to the Great Barrier Reef area in Australia to explore some new kiting areas. I also went to Mauritius for a competition—it's a little island near Madagascar with amazing waves—and Indonesia after that to get some waves. Earlier this year I visited Cabo Verde, a little island country off the coast of Senegal, and I'm currently in Morocco.
As an athlete and outdoors enthusiast, who's been your biggest inspiration?
I've always been inspired by Carissa Moore. She's also from Oahu, and one of the best female surfers in the world, with a really powerful style. She has an amazing work ethic, remaining both focused and humble. Another person I look up to is Kimi Werner, a champion spear-fisherwoman from Hawaii. She's really carved her own path in life, enjoying the outdoors and sharing her simple and sustainable way of life.
How important is good gear to your success?
Gear is a huge part of every sport, and it helps to have gear that you can trust and that will last through anything. I'm really happy with the kites and boards, and my Athleta suits fit in perfectly with those. I love how solid they are—they'll stay on through crashes and wipeouts, and they're also super-cute. Some of their pieces also have sun protection built in! The UPF fabric is really nice because it keeps your skin safe from ultraviolet rays when you're spending all day in the sun! And even better, it's recycled.
Kitesurfing in a two-piece probably adds a degree of difficulty, huh?
Every girl has experienced bikini malfunctions. Whenever you lose your board, you have to use your kite to pull yourself back to it. It's called "body dragging," which, as you can imagine, puts a lot of force on your suit! At least you're underwater when your bottoms slip, so it's not too embarrassing. But that's why it's so important to have good suits.
What do you do when you're not competing?
I started a small business called The Shallow Reef Studio, designing, printing, and selling T-shirts online from my garage. When I'm not in the ocean or hiking in the mountains, I'm usually working on that, or doing some kind of graphic design. I've done different types of art my whole life, so every once in awhile I like to paint. And I also recently got interested in cooking.
Where do you see your sport in ten years?
Right now, we're trying to push the women's side of kitesurfing, so hopefully in the coming years we'll have more female participation, and we'll see more women charging on the water with the guys!
1. All Good SPF 50+ Water Resistant Zinc Sunscreen Butter
"Most sunscreens, even 'natural' ones, contain ingredients like oxybenzone that are actually killing our reefs. I use this reef-friendly sunscreen butter on my face. I also like that it comes in a tin can, not a plastic bottle."
2. Cabrinha 5'7" S:Quad Surfboard
"My favorite board to kite on in all different conditions, from big waves to small, mushy waves."
"This set stays on really well and fits securely since it has adjustable ties in the back. I love the cut and print, too."
Celebrity news, beauty, fashion advice, and fascinating features, delivered straight to your inbox!