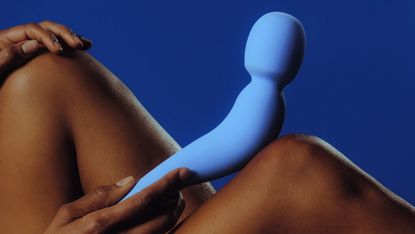 (Image credit: Dame Products)
Happy New Year! Do you have a moment to discuss orgasms? Specifically, the pleasure gap—the gender disparity in orgasms during intercourse? You see, in the last year, women were four times more likely than men to report that the sex they were having was "not at all pleasurable." Frankly, that's just not the good news we were hoping to hear this year.
While the existence of the pleasure gap can be attributed to many things—the stigma around sexual pleasure, the portrayal of penis-centered intercourse in popular culture, or the general taboo when it comes to talking about orgasms—how to help solve the problem is easier. Enter: Dame, the revolutionary female-founded sexual wellness brand that's giving vulva-owners the tools they need to prioritize their pleasure and close the gap. (And read on for an exclusive discount for Marie Claire readers!)
Dame has engineered a range of sexual wellness products for couples and solo adventurers alike, developed and tested by real people with vulvas to ensure these toys really do what they promise. These products are next-level: Dame has reinvented the wheel when it comes to classic sex toy shapes like wands and bullets, adding thoughtful touches that could only have been created by someone who actually used these products.
So, because no two bodies or orgasms are alike, Dame invites you to get in touch with yourself—literally, of course, but figuratively too. When you take the time to explore your own sexual wellness and pleasure, you gain insight into what works, what doesn't, and even your overall health.
Now about those products: You may recall that Dame was the genius brand behind Eva, a hands-free couples toy that focuses pleasure on the vulva during penetrative sex. Thanks to its unique design and its impossibly chic color options, Eva practically begged to be put on display as a conversation piece instead of hidden in the bedside drawer.
Also in the Dame family is Pom, a cute and bendy little vibe that adapts to you, with five speeds, five intensities, and a waterproof exterior so it can be used anywhere. And Aer, the suction toy to end all suction toys, which uses pulses of air to mimic the best parts of oral sex. Then there's Arc, a discreet G-spot vibrator that can be used internally or externally, with a squishy bulb and focused ridge for the ultimate self-exploration.
And now there's Com, an external, curved rechargeable wand that contains Dame's strongest motor to date. Unlike other wands, Com was designed with comfort in mind—it's actually quiet, with a light design, an hour of battery life, and an ergonomic handle that works with your body. This isn't a "personal massager" denying its a sex toy: This is a sex toy that totally works as a personal massager, too.
So make this year the one where you get in touch with yourself and figure out what you really, really like. Because closing that pesky pleasure gap means first prioritizing your pleasure. Dame just gets it.
Exclusively for our readers, take 15% off your first order with code 'MARIECLAIRE' at checkout.
Visit Dame to check out the products, and follow them on Instagram at @dameproducts.
Celebrity news, beauty, fashion advice, and fascinating features, delivered straight to your inbox!