Editors handpick every product that we feature. We may earn commission from the links on this page.
The 6 Best Air Fryer Toaster Ovens
Shop these top-tested toaster ovens that can do it all, from air frying to toasting, baking to broiling.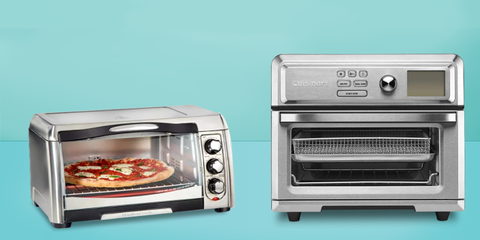 In the Good Housekeeping Institute Kitchen Appliances Lab, we tested 15 different air fryer toaster ovens for their ability to air fry, bake, broil, and, of course, toast. That means we air fried more than 15 pounds of wings and frozen fries to see how well they crisped up, as well as how quickly and evenly. We, of course, didn't stop there. In each one, we baked a cake, roasted a chicken, broiled a steak, and toasted more than 12 slices of bread (that's more than 180 slices in total!) to make sure it would live up to all of your toaster oven needs. Here are the best air fryer toaster ovens you can buy in 2020.
1
Best Overall Air Fryer Toaster Oven
Cuisinart TOA-65 Digital Convection Toaster Oven Air Fryer
This air fryer toaster oven air fries the quickest with no additional preheat time. It made chicken wings super crispy in 20 minutes, as well as fries in even less time. Its power is impressive and is comparable to the best free-standing air fryers. Just keep an eye on food when experimenting for the first few time to prevent accidental burning. It uses a basket that sits atop the broiling pan to air fry, which prevents grease from dripping onto the elements and makes cleanup easy; all accessories are dishwasher safe.
Bread toasted well and evenly, too, in addition to cake that baked quickly with just a small dome that needed to be trimmed. Frozen pizza cooked in no time, as did broiled steak. The oven comes with a user guide loaded with cooking charts and recipes; plus, the oven is programmed with more than 10 settings and five that are specific to air fry. The ability to dual cook is a unique feature: It allows you to program the oven for two different times and temps at once, useful for starting foods at a high temp to crisp up the skin and lowering to finish cooking inside.
2
Most Versatile Air Fryer Toaster Oven
COSORI CO130-AO 12-in-1 Air Fryer Toaster Oven Combo
All of the tests we conducted in the Cosori Air Fryer Toaster Oven Combo, from air fry to bake, received top scores. It produced crispy wings and fries, toasted bread well and evenly and made a very good cake that was evenly browned and level. It even crisped up the steak on the broil function, which is a feat that impresses us when done well. It comes with high-quality accessories, including an extra large baking/broiling pan, an air fryer rack, and rotisserie spit for chicken and other roasts.
The one downside is wings took about 20 minutes longer to cook than other air fryer toaster ovens tested, and an extra six minutes to preheat. The results, however, were worth it: Crispy, juicy, and even.
3
Best Air Fryer Toaster Oven for Easy Storage
Ninja Foodi Digital Air Fry Oven
A large 13-inch by 13-inch air fryer rack means more air frying at once without having to toss ingredients a lot during cooking. It also usually means that the appliance is large and bulky, but this one flips up for storage. Yes, when not in use, this air fryer toaster oven can be stored upright, perfect for the smallest kitchens. It also makes it easier to clean because the bottom releases so you can wipe it down. The control panel is easy to read and very intuitive – we barely needed to refer to the user's guide when using for the first time.
4
Best Value Air Fryer Toaster Oven
Hamilton Beach Countertop Toaster Oven
This small, basic oven impressed us with its air frying abilities. Wings and fries crisped up nice and even without drying out. Bread toasted very evenly, and the cheese on a 12-inch frozen pizza melted with no hot or cold spots.
While we typically prefer digital models that offer more accurate programming, we did not mind the dials on this model, especially for the price; they were easy to use and program using the clearly labeled control panel. It's also a great option for those limited on counterspace.
5
Best Large Capacity Air Fryer Toaster Oven
Breville Smart Oven Air
The Breville Smart Oven Air is equipped to air fry and dehydrate on four different racks at once (additional racks sold separately). It can comes with two racks (most come with one), and can fit a 14-pound turkey. The control panel is very easy to use and all the settings are clearly spelled out so you don't need to keep the user guide handy. In our tests, it toasted, baked, and roasted evenly and quickly.
6
Best Compact Air Fryer Toaster Oven
Crux Digital 6-Slice Air Fryer Toaster Oven
Apartment dwellers will appreciate this air fryer toaster oven that is small but can still fit a four-pound chicken. It has a sleek design with modern accents, like a rose gold trim around the handle and smooth buttons. It has an LCD screen that's easy to program. In our tests, it air fried very well and quickly. It also toasted bread evenly, gently baked a cake with no dome or cracks, and cooked up a frozen pizza quickly.
This content is created and maintained by a third party, and imported onto this page to help users provide their email addresses. You may be able to find more information about this and similar content at piano.io