Michelle Wolf's Most Brutal Jokes from the White House Correspondents' Dinner
Here are Michelle Wolf's most brutal jokes from the White House Correspondents' Dinner.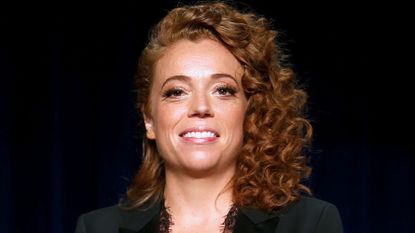 (Image credit: Getty Images)
Last night, comedian Michelle Wolf took the stage at the White House Correspondents' Dinner to roast the Washington elite and the media alike. Her no-holds-barred speech gained mixed reactions. While some thought she was too harsh, others said her jokes were probably just hard for some to stomach because they cut to uncomfortable truths.
I attended the WHCD last night. Donald Trump has so poisoned the atmosphere by attacking the disabled, gold star parents, Muslims, Mexicans, Blacks, women, the press, the rule of law that a comedian who simply tells the truth is offensive? She's joking. He's not.April 29, 2018
See more
Here are some of Wolf's most brutal jokes from the 2018 White House Correspondents' Dinner.
On Sarah Huckabee Sanders:
"I have to say I'm a little star-struck. I love you as Aunt Lydia in The Handmaid's Tale. Mike Pence, if you haven't seen it, you would love it."
On Kellyanne Conway:
"She has the perfect last name for what she does, Conway … You guys have got to stop putting Kellyanne on your shows. All she does is lie. If you don't give her a platform, she has nowhere to lie. It's like that old saying, if a tree falls in the woods, how do we get Kellyanne under that tree? I'm not suggesting she gets hurt. Just stuck. Stuck under a tree."
On Ivanka Trump:
"There's also, of course, Ivanka. She was supposed to be an advocate for women, but it turns out she's about as helpful to women as an empty box of tampons. She's done nothing to satisfy women. So, I guess like father, like daughter."
On the voices of women in 2018:
"It's 2018 and I'm a woman so you cannot shut me up. Unless you have Michael Cohen wire me $130,000."
On the media:
"You guys are obsessed with Trump. Did you use to date him? Because you pretend like you hate him, but I think you love him. I think what no one in this room wants to admit is that Trump has helped all of you. He couldn't sell steaks or vodka or water or college or ties or Eric. But he has helped you. He's helped you sell your papers and your books and your TV. You helped create this monster and now you're profiting off of him. And if you're going to profit off of Trump, you should at least give him some money because he doesn't have any."
On an insult she thinks would actually hurt Trump:
"People call Trump names all the time. And look, I could call Trump a racist or a misogynist or xenophobic or unstable or incompetent or impotent. But he's heard all of those and he doesn't care. So tonight, I'm going to try to make fun of the president in a new way, in a way that I think will really get him. Mr. President: I don't think you're very rich. Like I think you might be rich in Idaho, but in New York you're doing fine."
On white nationalists:
"[Trump] loves white nationalists, which is a weird term for a Nazi. Calling a Nazi a white nationalist is like calling a pedophile a 'kid friend.' Or Harvey Weinstein a 'ladies man.' Which isn't really fair. He also likes plants."
On Democrats:
"Democrats are harder to make fun of because you guys don't do anything. People think you might flip the House and Senate this November, but you guys always find a way to mess it up. You're somehow going to lose by 12 points to a guy named Jeff Pedophile Nazi Doctor."
Kayleigh Roberts is a freelance writer and editor with more than 10 years of professional experience. Her byline has appeared in Marie Claire, Cosmopolitan, ELLE, Harper's Bazaar, The Atlantic, Allure, Entertainment Weekly, MTV, Bustle, Refinery29, Girls' Life Magazine, Just Jared, and Tiger Beat, among other publications. She's a graduate of the Medill School of Journalism at Northwestern University.