First I Had to Survive My Husband Stabbing Me 42 Times. Then I Had to Survive the Louisiana Floods.
Deborah Harris was just getting her life back on track when horror struck for a second time in one year.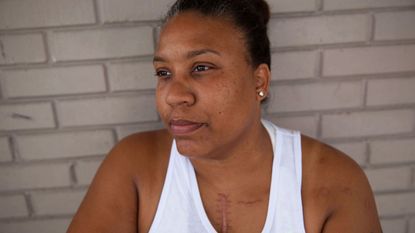 (Image credit: Lorena O'Neil)
Marie Claire Newsletter
Celebrity news, beauty, fashion advice, and fascinating features, delivered straight to your inbox!
Thank you for signing up to Marie Claire. You will receive a verification email shortly.
There was a problem. Please refresh the page and try again.
This story contains extended descriptions of graphic violence.
Around 8 p.m. on August 13, 2016, Deborah Harris woke up and realized her mattress was wet. That's when her 17-year-old son Daniel rushed in shouting, "Mama, we gotta get you out!"
Flood water was pouring into their Baton Rouge home so quickly that Daniel and her oldest son Nathan, 20, had to think fast. Harris can't get around without a walker and a cane, so they scooped her up and carried her into the back of a truck. The rest of the family and friends living with them piled in—nine in total, plus the family's four dogs.
But water gushed around the truck at speeds they couldn't fathom, flooding the engine and preventing their escape. They were stranded in front of their house, watching as the water kept rising. Daniel and Nathan rushed to rescue their three cats from the attic while Harris frantically dialed 911 over and over and over.
Harris' chest and body ached. She had taken her medications and had tried to go to bed early to alleviate the pain she was feeling that night—a familiar, recurring throb she'd had to fight for the past year.
She watched, helpless, as her home was destroyed. She couldn't believe this was happening again.
---
Harris, 41, married Anthony McKinney almost exactly two years ago. "When I first met him, he was just the sweetest, charming-est person," she remembers.
As their first anniversary approached, McKinney, 46, started picking fights with Harris' three sons. There were small ones about how cold to keep the air conditioning and big ones, like a fist fight with Daniel. Harris' own arguments with McKinney—an attempt to protect and defend her children—intensified; she says he pulled a gun on her on two different occasions, each time with her 13-year-old son, Johnathan, in the room.
"I ignored that sign," she says, shaking her head. And then McKinney's behavior escalated after Harris started cleaning office buildings to support the family. "He wasn't happy about that. He didn't want me to work."
McKinney became increasingly controlling. If Harris combed her hair before walking to the store, he would insist on joining, angry at the idea that she might be visiting another man.
"It's like I was on a rollercoaster," she whispers, "and it wasn't stopping."
On September 22, 2015, an otherwise normal day, Harris' boss dropped her off at her house after work. McKinney was waiting outside, smoking a cigarette and fuming that she'd come home later than expected. "He said, Where the fuck have you been, you can't call me?" she recalls. "He said, Bitch, I'll kill you."
As McKinney put his key in the door, Harris tried to take it away. It broke inside the lock. Hearing her son Johnathan crying inside, she rushed to get into the house—and then she heard a whoosh as a deadbolt flew over her head.
"I immediately called the police," says Harris. "First of all, you threaten to kill me. Second of all, you threw this lock at me. I'm not going to let you keep sliding."
McKinney was arrested that day for domestic abuse battery, child endangerment, and aggravated assault. Harris packed up his clothes and made plans to move to a domestic violence shelter.
Just three days later, McKinney was given a total bail of $1,500 and was able to get out with a bond of $210—that's it. Harris was terrified when she received a call from the courthouse saying her abuser had been legally released.
The next afternoon, at 3:10 p.m., McKinney started banging loudly on the door. Harris ran into the bathroom and called 911. McKinney kicked the door down, pulled out a knife, and started stabbing her.
He yelled "You want to play games? You gonna see!" as he attacked. He knocked her unconscious with the blunt edge of a knife, leaving a cross-shaped mark between her eyebrows.
"I woke back up and he was still stabbing me," she says, telling the story slowly and methodically. But McKinney's knife got lodged in the bone near her elbow and the handle snapped off. He left to go look for another knife.
Harris says she took that opportunity to spring into action, pulling the blade out of her elbow and running out of the bathroom to escape. She started reciting Psalm 23 in her head, "The Lord is my shepherd," as she felt her body going numb.
McKinney pounced. He stabbed her again on her arm, her hip, her thigh—anywhere he could land his blade. "You trying to leave me?" he asked. She kicked him. She fought back. But she also thought about how she was never going to see her children again.
Less than two minutes after McKinney broke in, three police officers pulled up with flashing lights and blaring sirens. One policeman recalls McKinney trying to flee and then running back inside the house. Colonel Dustin Strickland was approaching the carport door when, according to the police report, he heard a "blood-curdling scream for help."
He ran in and immediately saw someone coming at him, a 12-inch-long kitchen knife covered in blood whizzing by his face. Strickland instructed McKinney to drop the knife—instead, McKinney doubled back into the hallway, dove onto Harris, who was laying in a fetal position, and continued to stab her.
"Drop it!" screamed Strickland, before shooting him four times.
Finally McKinney let go of the black-handled knife as he slumped to the floor and died.
Harris was stabbed 42 times in total—on her left arm, her chest, her back, her hip, her stomach, her thigh, and her face. She lost three pints of blood and her heart stopped multiple times in the hospital.
"I started crying," a then-19-year-old Nathan remembers of seeing his mother, bloodied and bandaged on a hospital bed. As her next of kin, he had to be in charge of making all of Harris' medical decisions. He listened to what the doctors recommended, which was to put his mother on life support. She remained on a ventilator for three and half weeks.
When Harris finally woke up last October, she began a long period of physical and emotional recovery.
---
Harris felt conflicted about McKinney's death—about the way he died but also lingering trauma from such horrific abuse at the hands of someone she loved. "I didn't know what emotions to really have," she says. "This is the man I loved. How could he do this to me? Evidently, he didn't really love me."
For many months, Harris blamed herself, wondering why she hadn't paid attention to the warning signs, or hadn't left him earlier. She still feels like some members of his family blame her for his death.
Nearly a year later, she has a metal plate in her chest, and the wounds near her spine and her hip have weakened her ability to walk. She has difficulty breathing and sleeping, and in March she was diagnosed with congestive heart failure.
But Harris is, above all, a survivor. She says her children motivate her to keep fighting—for her health, for her life, and for her home. The Baton Rouge flooding has been tough on her psychological state; she's since started two new types of medication to battle her depression, which she says was threatening to swallow her up completely.
"It's just hard to get started over and over again," she says from the motel near New Orleans where she currently lives. And yet, she's in an optimistic mood. On August 25, her first grandson, Zechariah, was born.
"I'm a proud Mimi and a proud Mommy," she says, beaming about Nathan starting at Louisiana State University next year.
Harris has made plans to relocate with Johnathan to Kansas to live with a family friend, and hopes to become a domestic violence advocate for other survivors. Despite her struggles, she's tried to motivate other women at the disaster relief shelters, sharing her own story of resilience. As she tells people what happened to her, she proudly shows off her scars—emblems of her strength, of her powerful will to live.
"When you see that first sign, it's time to get out," Harris says. "Grab your bag, get in your car, leave, and don't come back. When a person shows you who they are, believe them."
---
Special thanks to Save the Children for their assistance in sourcing this story, and for outfitting Harris' family with items like diapers and baby blankets after they lost everything in the flood.
If you or someone you know is being abused, you can seek anonymous, confidential help at the National Domestic Violence hotline: 1-800-799-7233 (SAFE). Domestic violence survivors have been left particularly vulnerable after the Louisiana floods. You can donate to the Louisiana Domestic Violence Disaster Relief fund here or contribute to organization aiding Louisiana flood victims like Save the Children and American Red Cross.
Celebrity news, beauty, fashion advice, and fascinating features, delivered straight to your inbox!
Lorena O'Neil is a reporter and photojournalist based in New Orleans covering reproductive health, gender, culture, and politics. She has written for The Atlantic, Elle, Esquire, Jezebel, and NPR.