Listening to Dr. Ford's Testimony, People Are Heartbroken
"Outside the hearing there are groups of women huddled over phones, streaming Dr. Ford's testimony, crying."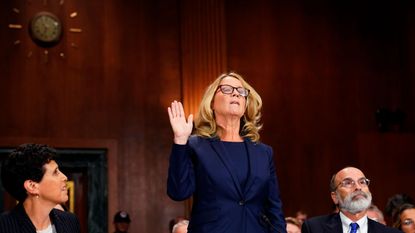 (Image credit: Getty Images)
Christine Blasey Ford does not want to be here. She said as much at the beginning of her testimony—that she feels it is her duty, to her country and to the people in it, and that is why she's here. "I am terrified," Dr. Ford admitted, her voice breaking as she began to speak about what she says happened to her at the hands of Brett Kavanaugh, the man President Trump nominated to the Supreme Court. (Kavanaugh denies Dr. Ford's claims.) Watching Dr. Ford force herself to confront a past trauma, in full view of the entire world and an army of men who have already said they don't believe her, is unspeakably hard.
Rachel Mitchell, the prosecutor brought on by Republicans to question Dr. Ford and Kavanaugh, took a moment to acknowledge Dr. Ford's terror. "The first thing that struck me from your statement this morning was that you are terrified. And I just wanted to let you know I'm very sorry," Mitchell said. "That's not right."
Even a cursory glance at Twitter during Dr. Ford's brave testimony revealed that women and survivors—many of whom say they're forcing themselves to watch it to honor Dr. Ford and her courage—are finding it exceedingly difficult to behold. How could it not be? Watching someone relive one of the worst moments of their life, knowing that she won't be believed, knowing that the men watching her are actively trying not to engage with her pain—it's impossible not to feel profound empathy.
Note that Christine Blasey Ford *still,* in this context, felt the need to make a lighthearted joke to ease the palpable discomfort of the men around her. This is the burden of being a woman: at your most vulnerable, most traumatized, it is still your job to make men feel betterSeptember 27, 2018
See more
If you listened to that opening statement by Dr. Christine Blasey Ford, and it did not break your heart, please go see a cardiologist because you have no heart.September 27, 2018
See more
There's something heartbreakingly idealistic about Christine Blasey Ford believing the senators in charge would genuinely want to hear from her before they voted.September 27, 2018
See more
A genuine question: were men out there brought to tears or shaking visceral response by that? Because the messages I have from women, and what's happening in my own apartment, suggest that many many women were.September 27, 2018
See more
I'm imagining there are so, so many women watching Dr. Ford right now, reliving their own horrors like this. Told and untold.This is gut wrenching.September 27, 2018
See more
"Courage is not the absence of fear, it's the assessment that something is more important than fear." Dr. Christine Blasey Ford should not have to do this, but her courage is inspiring to me as a survivor. Thank you, Dr. Ford. #IBelieveSurvivors #KavanaughHearingsSeptember 27, 2018
See more
How could anyone with a heart and in tact soul watch Dr. Ford and not believe her? #KavanaughHearingsSeptember 27, 2018
See more
I'm feeling three emotions right now and I believe this is true for many women:1) Bone-deep, crushing heartbreak for Dr. Ford, for what all women have to do to defend our humanity.2) Exhaustion.3) Rage. Unbridled, seething rage. We will avenge this.September 27, 2018
See more
I am very afraid to fly. Every time I get on a plane, I am triumphing, with the help of therapy and medication, in the face of an immense lifelong struggle. To hear someone suggest by implication that working to overcome a fear means the fear must be exaggerated...I am livid.September 27, 2018
See more
A number of Democratic politicians also shared their support for Dr. Ford and her bravery during the hearing.
I believe Dr. Blasey Ford. I believe survivors. I believe women.September 27, 2018
See more
I believe Dr. Christine Blasey Ford. Watch the entirety of her compelling testimony and you will too. https://t.co/S5ICZBJ3BcSeptember 27, 2018
See more
RELATED STORY
Director of Content Strategy
Jenny is the Director of Content Strategy at Marie Claire. Originally from London, she moved to New York in 2012 to attend the Columbia Graduate School of Journalism and never left. Prior to Marie Claire, she spent five years at Bustle building out its news and politics coverage. She loves, in order: her dog, goldfish crackers, and arguing about why umbrellas are fundamentally useless. Her first novel, EVERYONE WHO CAN FORGIVE ME IS DEAD, will be published by Minotaur Books in 2024.