One Week Post-Midterms Here's What We Know
A pink wave—and a blue wave—swarmed the shore.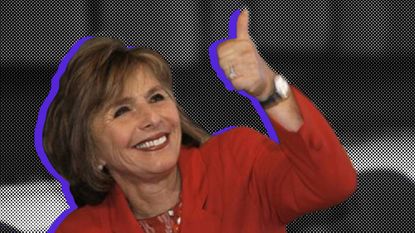 (Image credit: Morgan McMullen)
Every Tuesday since mid-October, former senator Barbara Boxer and her filmmaker and activist daughter, Nicole Boxer, who host a political podcast together, have been breaking down everything you need to know about the midterms, from the issues at stake to the candidates who deserve our vote. This week, the mother-daughter recap what actually came out of last week's vote.

As is my post-Senate tradition, I watched the election returns in Los Angeles with 60 or so like-minded friends, colleagues, and family. As we gathered around multiple TVs blaring multiple newscasts, we experienced communal ups and downs in sync with breaking news on each must-win race. Emotions veered as early returns in Florida, Georgia, and Texas looked bleak—our rock stars were losing. But, as the evening danced on, our candidates started flipping seats blue and my heart began to soar.
The magnitude of groundbreaking first-time female candidates elected around the nation is still sinking in. More than 120 women will be sworn in to Congress on January 3, 2019—a pink wave, indeed. Democrats picked up at least 32 seats in the House of Representatives. It's safe to say we experienced a blue wave, too, despite Republican claims otherwise. We have the momentum—of new voter participation, of a strong ground game among the grassroots, and a continued exuberance for a big win in 2020.
More good news: We elected leaders who reflect the change we desperately crave, representing the beautiful diversity that is America. This new leadership will stand up to those who try to take away our freedoms, like freedom of the press and the right to choose and the right to affordable health care.
Still, we experienced heartbreak too. We watched some of our favorite candidates, like Beto O'Rourke, come up just a bit short. Losing is part of politics, and there are lessons in it. Many years ago when I was 32, I came up short in my first election and had to face the fact that I lost. Did I give it everything I had? Was I overly confident? Did I let others know how much I needed them to walk door-to-door one more day? The main lesson I learned is to never give up. This cycle, especially bittersweet were the initially apparent losses of gubernatorial candidates Stacey Abrams and Andrew Gillum, who ran dynamic campaigns in the face of radical racism and voter suppression. But it's not over: An official recount is underway in Florida, and, in Georgia, a judge has ruled that all provisional ballots must be counted.
We cannot give up the fight. After my first loss, I won 11 straight elections and was proud to serve 40 years in government. Elections are like life, with ups and downs and joy and sadness, but the best thing about them is they come around again. Twenty-twenty is just around the corner, and we will once again get excited about our new crop of candidates who will make our democracy even stronger.

Let the lesson of this election be that winning takes hard work by all of us—candidates and supporters alike. If we care about our lives and our democracy we must participate so that "a government of, by, and for the people" are not just pretty words, but the reality of the country we love.
—Barbara Boxer
You made history this midterm election, Voter. Turnout was historic, with 48 percent of all eligible voters casting ballots. And, your votes are still being counted. Right now, the forces rallying against voter suppression are fighting back. Contested races in Florida, Arizona, and California remain undecided. But here is what we know. You participated.

When you marched, volunteered, phone-banked, donated money, and door-knocked, Americans woke up. And then you voted: by mail, early, absentee ballot, you stood on line, in the rain for hours, and you cast your vote. Some of you even had to use provisional ballots because of harsh voter ID laws. You didn't give up. These provisional ballots will decide the outcomes of races in Florida and Georgia. In Georgia, Stacey Abrams ran on the very American ideal that every vote counts equally, and a run-off election is in her reach. We have not reached the end of the road yet.
Hey, Voter, this is just the beginning. This is what democracy looks like. It's messy and sometimes heartbreaking. Congressional candidates who lost in close contests inspired us, such as M.J. Hegar and Amy McGrath—female military vets who took on seemingly unwinnable fights against incumbents deep in the heart of red America—once again put service above self. Please run again. It was so close. These candidates and others will motivate the next great Americans to take a chance, to run against all odds, too. Who knows—next time it might be you.
At the end of the day we created a blue wave, after all. My mom was elected during another huge midterm flip in 1981—a rebuke of Reagan, the biggest losses since Watergate. But this wave is decidedly bigger, decidedly different. A pink wave, fronted by women who will lead us to values like gun safety, climate science, and green tech development, protection of our health care, and a rejection of political corruption.
Your votes are a rejection of the politics of fear and a return to sanity to be led by the "First-Evers:" the first ever black woman from Massachusetts in Congress, the first ever lesbian mom in Congress, the first ever Muslim-American women in Congress, the first ever Native American women in Congress, and the first ever black female Attorney General of New York.
With this change comes a powerful message delivered to the status quo. As we prepare for 2020, here's my advice: Keep up the momentum. Don't stop organizing and using your time and voice for good. Our hearts were lifted as we watched historic numbers of women be elected. But it isn't over. In many ways, this is just the beginning.
—Nicole Boxer
RELATED STORY
Celebrity news, beauty, fashion advice, and fascinating features, delivered straight to your inbox!
Until the day she left the United States Senate in January 2017, Barbara Boxer was a forceful advocate for families, children, consumers, the environment, and her state of California. Boxer served 24 years in the Senate, 10 years in the House of Representatives, and 6 years on the Marin County Board of Supervisors. Teaming Up with her daughter Nicole, Boxer now hosts a podcast called "Fight Back with Barbara Boxer." It focuses on current political issues and interviews with people who are in the fight for America, and can be downloaded on iTunes or Podcast One. Nicole Boxer is an Emmy Award–winning documentary filmmaker and political influencer. Boxer believes in the unique power of social impact media advocacy as a tool to create positive change in the world. That belief is the central focus of Boxer's media portfolio, which spans multiple platforms, including TV, film, podcast, and print journalism. Ms. Boxer is an Executive Producer of the Oscar-nominated documentary films THE INVISIBLE WAR and THE HUNTING GROUND, investigations of rape and sexual assault in the military and on college campuses, respectively, which earned her a Peabody Award and two Emmys. Ms. Boxer serves on the Board of Directors for Headcount.org.