'Time' Magazine's New Cover Is Dedicated to the Women's March
And features a *very* familiar hat.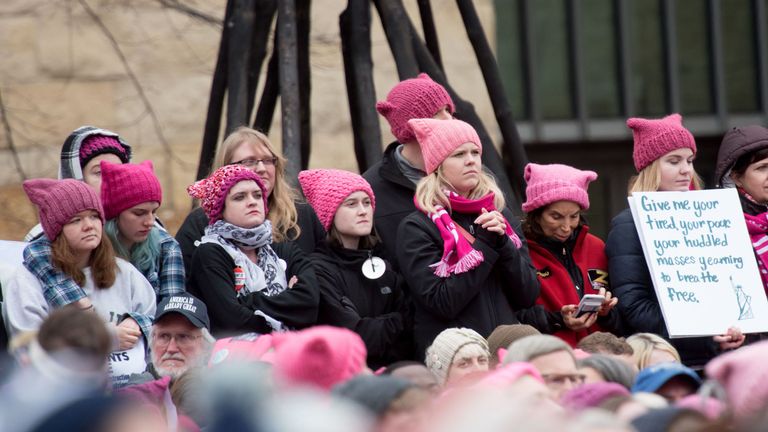 (Image credit: Archives)
Time magazine has revealed the cover star for its February 8th issue: A single, pink pussyhat (opens in new tab) and the words "The Resistance Rises" right above it.
TIME's new cover: How the Women's March is becoming a movement https://t.co/EH4jmCwPKi pic.twitter.com/v6EtMGAn1pJanuary 26, 2017
See more
The hand-knit pink hat became an iconic symbol of the Women's March, and a natural way for Time to illustrate its latest cover story on the significance and power of this new "resistance."
The cover story (opens in new tab) is titled "Perhaps the Largest Protest in U.S. History Was Brought to You by Trump" and includes an online photo gallery of the men, women and children (opens in new tab) who showed up across the country to march. In the article, Karl Vick writes:
"That was the incongruous message that came out of a huge turnout--possibly the largest in U.S. history: go home and think small. While holding the White House for the past eight years, Democrats lost big at the state level. With control of only 14 state legislatures (to the GOP's 32), and 16 governors, the consensus preached at every rally is that the party needs to rebuild from the ground up. "I'm sure I'm not the only one thinking, Maybe I could run for political office," said Gari Ann Dunn, who traveled to D.C. from Cincinnati, where she will look into local leadership positions when she returns home."

Vick also notes that the success of the march was due to the fact that is was billed as pro-women, not anti-Trump. While it was an answer to the "deep trough of despair, dread and worse" that many Hillary-voters had spiraled into after election night, it was also an answer for anyone who wanted to stand up for women and marginalized communities. (And it worked; according to FiveThirtyEight, more than 3 million people in the U.S. alone showed up for a march.)
Even with coverage like this, it can be hard to feel optimistic, especially with the latest round of President Trump's executive orders. But as Margo Kelly, a physician quoted in the story, says, "If there's any silver lining, it's that this is a call to action."
Follow Marie Claire on Facebook for the latest celeb news, beauty tips, fascinating reads, livestream video, and more.
Madison is a staff writer at ELLE.com, covering news, politics, and culture. When she's not on the internet, you can most likely find her taking a nap or eating banana bread.