Russian Women Saved from Sex Trafficking in the Nick of Time
Plus, find out how you can get involved in a new human trafficking public awareness campaign.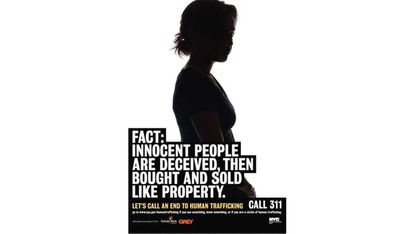 (Image credit: NYC/Somaly Mam Foundation)
Marie Claire Newsletter
Celebrity news, beauty, fashion advice, and fascinating features, delivered straight to your inbox!
Thank you for signing up to Marie Claire. You will receive a verification email shortly.
There was a problem. Please refresh the page and try again.
Think slavery in the United States ended with the Civil War? Think again — there are currently about 10,000 people in the United States working as forced laborers, according to the Human Rights Center in Berkeley, California. Many are tricked into slavery or sex work by organizations masquerading as groups that help people come to the States to find (safe, legal) work. A story currently making the rounds on the Internet is hammering home just how easily this can happen.
Earlier this week, a user of a community blog and message board called MetaFilter posted a concerned message about two Russian friends of his who'd paid $3,000 to a program that promised to bring them to the United States and find work. When they arrived in Washington, D.C., the program told them to meet a representative in New York at midnight to start work as hostesses in a lounge.
MetaFilter users sensed the danger immediately and jumped into action, providing the concerned pal with contact information for the NYPD and human trafficking resources — and offering to intercept the girls when they arrived in New York.
According to the thread, a MetaFilter user found the girls yesterday and helped them understand what they were getting into — the "lounge" where they'd hoped to start working was a shady strip club in Coney Island. The young women are now safe and sound, and if the posts on MetaFilter are to be believed, they've got plenty of offers for places to stay, temporary work, and other resources to make sure they don't end up like so many others.
This happy ending occurred on the same day that the Office of the Mayor of New York and the Somaly Mam Foundation, a leader in the fight against human trafficking, announced a new public awareness campaign called "Let's Call an End to Human Trafficking." The new ads will appear on bus shelters and in subway stations across the five boroughs of New York City and will call attention to the scary realities of human trafficking (one ad reads, "He promised me a place to stay, then he forced me to work as a prostitute.") and urge New Yorkers to report suspicious activity.
Visit the campaign's official site to read more about the initiative and learn how to report tips regarding suspected trafficking. And no matter where you are, visit the Somaly Mam Foundation's site to join the fight against slavery worldwide.
Celebrity news, beauty, fashion advice, and fascinating features, delivered straight to your inbox!