For the First Time Ever, Saudi Women Are Registering to Vote
Two women make history—and make way for thousands more.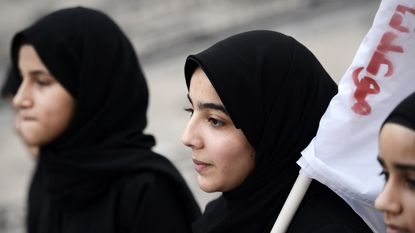 (Image credit: Getty Images)
In Saudi Arabia's 83-year history, men have been the only citizens allowed to vote in public elections. Until now.
A royal decree passed in 2011 is finally coming into effect: Women will be allowed to vote—and run—in municipal elections come December 2015. Arab News reports that since the announcement, 70 women have indicated their intent to run for office.
And this weekend, women began signing up to cast their ballots. Safinaz Abu Al-Shamat and Jamal Al-Saadi, from Makkah and Madina, were the first two on record.
"The participation of the Saudi women in the municipal elections as voters and candidates was a dream for us," Al-Saadi told the Saudi Gazette. "The move will enable Saudi women to have a say in the process of the decision-making."
But how much of a say remains to be seen. In a country where women rarely have a voice, publicly or privately, there are doubts about the impact of the gesture. At the very least, it's a not-insignificant step in the right direction.
As the editor of Cosmopolitan, Jess oversees the editorial for all of Cosmo's efforts across print, digital, video, and emerging platforms. Previously she served as the digital director of Marie Claire, where she tripled the readership, and she's held print and hybrid posts at Glamour and Teen Vogue. In 2013 she launched an interactive e-commerce platform for a fashion-tech startup, and in a former life she was a ballet dancer and NYU film student. She lives in Manhattan with her scruffy dog George.