Survival Sex: Iraqi Refugees
Imagine: One day you're a nurse leading a quiet middle-class life; a few years later you're in a strange country doing the unthinkable: selling yourself. For some Iraqi refugees, prostitution is the only trick they feel they've got left.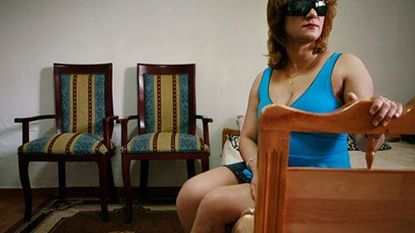 (Image credit: Jason Florio)
It's late evening in Amman, Jordan, and the city, a sea of white stone, is particularly quiet. But not far from the center of town, in a neighborhood known as the Gardens, the Cottage is coming to life. A staircase leads down to a windowless room filled with sweet, stinging hookah smoke and shrill Arabic ballads, courtesy of a sweaty lounge singer and his electric keyboard. Men lean over small tables around the dance floor, taking in the club's main attraction: young Iraqi women swiveling their hips. For about 100 Jordanian dinars ($140), each can be bought for a night.
"When you start, you just watch and learn," explains Malak, a 34-year-old from Karbala, ruffling her coppery hair as she talks. Malak's eyes are dark, almost black, and her mannerisms — hair flips, giggling, crossing and recrossing her legs — seem like the studied result of months sitting at the bar. "You dance, and if someone is interested, he will invite you to have a drink. You never ask what they do. They don't give their real name, and you never give yours."
Five years ago, Malak was living in one of Iraq's wealthiest cities. She'd studied English, Polish, and Italian in college, and remains a big George Michael fan — her liberal mother, whom she lived with (her father died of cancer a decade ago), bought her his tapes when she was younger. Their house was next door to a Karbala hotel, a target during the U.S. invasion thanks to the Iraqi soldiers who occupied it. When the bombs started coming, Malak wound up in the hospital for a month. After she got out, she learned her mother hadn't survived.
"Being a translator prepared me for this job," she says drily, explaining that her Western clients prefer English speakers. Malak wasn't working before the war. When the Americans took over Baghdad, she stayed, interpreting for the U.S. military and making $850 to $1000 a month. One night, while out on patrol with the Marines, she was shot in the leg. Less mobile, she started taking desk jobs for foreign embassies and contracting companies like KBR and Lucent Technologies, which kept her solvent and independent. She says she sold the land in Karbala where her house had stood for $100,000 cash, and as there were no secure banks, she kept it in a bag under some clothes in her apartment in the Green Zone. Then one evening she came home to find her building swallowed by flames. Mortar attack. The money was gone. Soon after, on her way to work, she was shot in the same leg again, in a terrorist drive-by, leaving her right thigh twice the size of her left. It was time to quit Baghdad. An American friend arranged for her flight to Jordan.
Malak and I meet in her basement apartment in Amman. It could be a dorm room — the bed littered with stuffed animals, the humming mini-fridge, the chipped wooden dresser covered with neat rows of lipstick, eyeshadow, blush, and jewelry. She tells me she resisted prostitution when she first arrived in the city. "My friends who'd been in town a while laughed at me. They said there are no jobs for us," she says. "But I went on interviews. I got an offer from a dentist, to be his secretary, and he said I'd have to sleep with him. So I said, 'Fuck you. I won't do that.'" She kept looking, but whether it was a restaurant or a law office, the quid pro quo was the same. With her money nearly gone, she went to the disco at the Grand Hyatt Amman.
"The first time I had a client, I asked him to turn the light off," she says. "But he wanted to watch me undress." When the man, an American, saw Malak's deformed leg, he assumed she had a disease. She explained that she had taken a bullet while working for his government. "He told me to go."
If she wanted to make the rent, Malak had to try again. Her friends gave her advice. "They would say, 'You have to do this. You can't be too proud. You don't have to care about him.' They saw that I was scared and quiet, and they told me to be happy and laugh and pretend to have fun — that's the only way I could make money. They told me to forget myself." She started getting clients, American, French, Jordanian. "The first time, it was difficult," she says. "You have someone touch you, and you think you are respectable, but you let them do this. I was dying. Every minute I was dying inside. I was thinking, Please don't touch me. In Iraq, I was afraid I'd be killed by terrorists or kidnapped, and then I come here to do this."
After a year of getting by this way, the impossible happened — Malak met a good man and married him. Her friends wouldn't be so lucky.
Although prostitution has long existed in Amman, that job is now being filled by Iraqis. Since the U.S. rolled into Baghdad in 2003, more than 2 million people have fled Iraq. Most live in Syria and Jordan and await official resettlement to someplace safe, where they can work. A fraction have found new homes this way in Sweden, Australia, and the Netherlands, and around 6000 in the U.S. — but it can take years. Only 5000 of the 750,000 Iraqis who have come to Jordan have been resettled. In the meantime, the discos and coffee shops are filled with desperate, displaced Iraqi women.
There are no solid statistics on how many of the displaced have turned to prostitution. "We can't get a count because the girls don't come for help," says Enaam Asha, with the Sisterhood Is Global Institute, an NGO in Amman. "They don't want to be seen by anyone. They fear for their lives." For these women, "honor killings" — when a woman is murdered by a male relative for damaging her family's reputation — are a real threat. Last year, there were 17 in Jordan.
What we do know about the new prostitutes is that many come squarely from Iraq's middle class. A short time ago they were nurses, salesclerks, students leading normal lives. After the Americans arrived, many stayed and worked as liaisons for the U.S. forces — translating on night patrols, interpreting in interrogations, facilitating work with contractors. But when the Green Zone became a fortress, and the car bombs that occasionally rocked the ground started coming two and three times a day, they fled. They had money enough to get to Jordan, but not to survive for very long.
"They came here and thought that it would only be a couple of months," says Rana Sweis, of the United Nations Human Rights Council (UNHCR). "But they hear from relatives back home that the situation isn't safe there. And now they're running out of savings, and it's a very bad situation."
Meanwhile, Jordan is collapsing under the strain, with schools, hospitals, and utilities all stretched beyond their limits. The government estimates that it spends $1 billion a year on displaced Iraqis, who rely on handouts because the country can't issue them work permits. "Unemployment is a major problem for our own citizens," says Nasser Judeh, a spokesman for the Jordanian government. "How can we accord more favorable treatment to expatriates than to our own citizens?"
Making matters worse, Iraqis, identified by their accents, are part of the underclass in Amman. They can't get taxis because drivers think they're untrustworthy. They don't go to restaurants because waiters don't want to serve them. They must carry their papers with them at all times or face deportation. They exist in a kind of purgatory — unfamiliar, unemployable, unclaimed by any side. They register with the UNHRC, beg NGOs for assistance, and pray for escape, for the day they might wind up in an American town with pine trees and a Mac store.
The crowning irony among many of the women I met: Their best clients in Amman are American and European military personnel and contractors — the same sort of men they had worked for as translators and fixers. Now they are servicing them in a different way altogether.
Samara is a 23-year-old from the Diyala province in eastern Iraq. She spends several nights a week at the Cottage (or the disco at the Holiday Inn, or the Hyatt) to make enough money to last a few days. She wears short skirts, drinks, smokes, flirts.
Later, as she sits on the edge of the coffee table in my hotel room, it's hard to picture her as a nightclub denizen. She has long, dark hair and a round face that barely moves when she talks — her eyebrows don't furrow; her chin never stiffens. She is almost completely still, except for when she drops her head and stares at her lap. She explains that since she moved to Amman in 2006, she has slept with "British men, Americans, Egyptians, Saudis, Jordanians. God knows how many." She has been pregnant, and sold a thin gold necklace, her only piece of jewelry, to pay for the abortion. "I love children," she says. "I would love to have children someday."
Before the war, Samara was a virgin. She didn't touch alcohol, and she wore a headscarf to show her modesty. She worked hard in high school and hoped to be an artist, often visiting the library after class to sketch the Venus de Milo or van Gogh from images in books. Her talent was sufficient to earn her pocket money doing portraits for her neighbors.
When U.S. soldiers took her brother, the household breadwinner, to Abu Ghraib, her family dispersed — to Baghdad, Syria, Jordan.
Samara joined her sister in Amman. "I got a job as a secretary that paid 100 dinars a month. And I had to pay the rent, and 30 dinars for power and water, and I couldn't live on that," she says. After six months, she grew desperate, and her sister introduced the idea of prostitution. (A year before, another refugee had taught Samara's sister how to sell herself.) Samara had a few encounters, earning 50 dinars from each, but she was disgusted by what she was doing. She returned to Baghdad, but she had no options there, either, and fell back into prostitution.
"Our clients were Americans. They would come to the house. Some girls went to the Green Zone, but I didn't think it was safe," she says. One day, a letter arrived at the brothel from lieutenants of insurgent leader Muqtada al-Sadr threatening to kill anyone engaging in prostitution. She returned to Amman, where she met Malak at a nightclub. Both far from home, broke, and desperate, they made a tacit pact to do whatever it took to stay alive. "I can't get a real job," says Samara. "So I stay and I work and I forget about the work that I do. I stay in hiding."
Najah, a striking 34-year-old former nurse with tweezed eyebrows and a perfect round-brush blowout, talks to me in the lobby of my hotel. "Before the war, I was married, settled with my husband of nine years," she says. "He disappeared. I don't know where he is now." She echoes a sentiment shared by many of her peers: "There were prostitutes in Baghdad, but I thought they were just bad girls. I never thought I would be one of them." Now Najah clings to her faith for comfort. "Am I a good Muslim if I sleep with strange men?" She pauses. "I think so, because I was forced. But I must repent."
Even as things appear safer in Iraq, returning is not an option. "My country does not want me because I was working for the Americans," Malak says. "I have no home anymore, no family, no piece of land." What Malak does have now is her husband, Nizar, an Iraqi who is able to support them both. He knows her history and doesn't care.
"I love my wife," he says. "She's a good person. She was an orphan, away from her homeland. She had nothing — I don't feel pity for her, I only feel compassion."
Marriage is one form of rescue from this life, but it's a long shot, particularly in a culture that looks askance at an unmarried woman's even talking to a man. Another way out can come from the UNHRC, which finally granted Samara an interview.
"They say I will be resettled!" she says when I meet her a few days later in a new Iraqi café in Amman. Despite the odds stacked against her, despite all the chaos, the bureaucracy, the uncertainty as to where she'll wind up, Samara is now the most hopeful person in the world. "I must always believe I will get out," she says. "I must always believe that I will have a better life."
Back at the Cottage, the night is under way. The lounge swells with young Iraqi girls and men of all sorts. Three fair Europeans, transfixed by the show, pass the hookah pipe around. Quietly directing it all from a corner is the madam, 60, in a tailored suit and pearls. A client approaches, and after some discussion, she signals to one of her girls, who will leave discreetly, followed a few minutes later by the man who chose her. By early morning, a few girls are left on the dance floor. They haven't made any money tonight, but they'll come back tomorrow.
Samara, Malak, and Najaf, all Iraqi refugees who have turned to prostitution, were photographed in the reporter's hotel room.
Danielle Pergament is a frequent contributor to the New York Times. She lives with her husband in New York.
Celebrity news, beauty, fashion advice, and fascinating features, delivered straight to your inbox!