Inside the Gloucester Pregnancy Pact
In 2008, 18 teenage girls upended a quiet Massachusetts town and caused America to let out a collective gasp. But was there really a pact?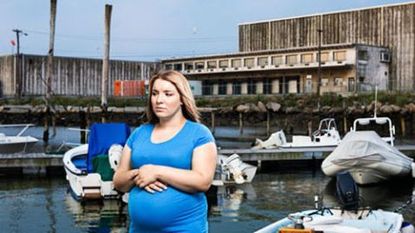 (Image credit: Archives)
There's something wrong with this one. Do another one," 16-year-old Kyla Brown begs Gloucester High School nurse Kim Daly. Sure, Kyla's breasts ache. And she had unprotected sex with her boyfriend just a month ago. Still, she is not ready to accept these results.
Nurse Daly slides the second pregnancy test - its two pink lines undeniable - in front of Kyla. "What are you going to do?" she asks kindly.
Kyla's soft features sag as she blasts out of the room to find her friend. Holy shit, the friend says, passing her cell phone to Kyla so she can call her mother.
"Mom," Kyla says weakly when her mother answers the call at home. "How do you feel about becoming a grandma?"
The question floats there, unanswered. "I'm picking you up," her mother finally manages.
Thank God, Kyla thinks. I just want to go home and eat tuna melts with my mom and breathe.
Nurse Daly first noticed last October, about a month into the school year, that more girls than normal were wearing a path to her office for free pregnancy tests. (Down at the local CVS, they're a hefty 9 bucks apiece.) She'd confirmed four pregnancies, as many as she had the entire previous year. More ominously, the kids - many of them under 16 - were returning week after week asking for new results, as if they were trying to get pregnant. Some were giddy when two lines glowed pink, others cried when the results were negative. By March, the tally of expecting teens, including Kyla Brown, ticked up to 10. By May, after some 150 pregnancy tests were administered, the count rose to 17, more than four times the previous year's total.
And then, on June 20 - one day after tween idol Jamie Lynn Spears had her baby - Time magazine hit the newsstand with a story about 17 young Gloucester girls (it would soon nudge up to 18) who had coordinated their efforts to get pregnant - a pact, the article called it. According to Joseph Sullivan, the school's Irish-Catholic principal, not only had these girls planned this, but they were so desperate that one contrived to get knocked up by a 24-year-old homeless guy.
Suddenly, the blue-collar town of 30,000 about 30 miles up the coast from Boston was under siege. Every major network hooked into the story. Media outlets from as far away as Japan trained their halogens on this once-proud fishing village - chasing its abundance of young-looking mothers around Friendly's and McDonald's.
Since then, a handful of the Gloucester 18 have denied the existence of a pregnancy pact. The others have gone underground, protected by their laconic New England neighbors, the school, and privacy laws. Still, people talk. Suddenly, Kyla Brown's pregnancy seems utterly devious. Kyla, some whisper, slept around with a whole slew of guys, intent on getting pregnant. Kyla, some say, is part of that pact.
"I was freakin' devastated, are you kidding me?" Kyla Brown, now 17 and eight months along, says on a recent evening when I ask her about the gossip. Perched on her porch next to her mother, Wendy, who is still sweaty from cleaning the tub, and flanked by two boxers on high alert, she wants to make sure that I know - that the world knows - she is not one of those girls.
While a storm thunders around the sky-blue porch hung with discount-store paper lanterns, Kyla insists it's not as if she tried. It's just that, like many of the 750,000 other American teens who get pregnant every year, she didn't try too hard not to.
"I did not want this," Kyla says, smoothing her highlighted hair and clunkily pulling her legs under a body stretched round. Then she rubs her belly, a dreamy smile floating across her young face. "He was a surprise." Kyla pinpoints the conception to an early-December night. "We didn't use anything," admits Kyla. Explains her mom, "It was one of those teenage things, like, It won't happen to me."
And abortion? "Never considered it. I always knew that I was going to keep him," Kyla says as her mother nods vigorously. She refuses to talk about the father, except to say that they're no longer together but he's planning on being in the baby's life.
Although she doesn't have a job or a diploma yet, Kyla does have a solid support system. Her parents are Gloucester natives who've been together for 20 years. Her mom cleans rooms at a motor inn by the ocean; dad delivers packages for FedEx. He relocated his NASCAR collectibles from his "Man Room" so that his daughter could use it as a nursery. Great-grandpa-to-be even surprised Kyla with a sage-green baby carriage, embroidered with giraffes.
And, no, it's not as if this pregnancy is forcing Kyla to trade in a promising academic career for poop-stained onesies. Kyla hates school and hadn't given too much thought to college. "I'm the spoiled brat," she says, laughing, and her mother chuckles. But she will return for her senior year in November, eight weeks after giving birth, and, she hopes, secure one of seven coveted spots in the high school's free day-care program. "I picked a heck of a time to get pregnant," she says. "There are so many girls having babies now."
And not just in Gloucester. The Centers for Disease Control reported a 3 percent jump in the teen birth rate for 2006—the first increase in 15 years. Some blame Hollywood's glamorization of unplanned pregnancy—cool-chick comedies like Juno and Knocked Up; 17-year-old Jamie Lynn Spears's declaration on the cover of OK! that "Being a mom is the best feeling in the world!"
But it doesn't seem to be Greenwich and Santa Barbara girls who are susceptible to these messages. It's the ones in devastated inner cities and has-been towns like Gloucester, where fishermen are hurting for work since the shoals were stripped bare, while preppies colonize the coastline in multimillion-dollar mansions. Where Catholics battle progressives over whether schools should pass out condoms. And where girls like Kyla Brown short-circuit their futures.
When Amanda Ireland was 13, she and her father, a Gloucester factory worker who had a tough time keeping a job, were living in Ohio. There, Amanda lost her virginity in the living room of their decrepit apartment to a sweet boy named Donovan. They'd had sex twice in one afternoon—the second time without a condom. After missing her period twice and being more tired and cranky than your average seventh-grader, she wanted a pregnancy test. Amanda had no money and wasn't allowed to walk through her neighborhood alone, so she asked Donovan to get her one. Later, a doctor confirmed that she had joined a statistic. Soon, she moved back to Gloucester.
Amanda, now 18, sits at a local seafood restaurant where her aunt is a waitress. She picks up a beef kabob with her long acrylic nails, in swirling yellow-and-white polish. Her $8-an-hour job bagging groceries at the Stop & Shop leaves her short at the end of the month, so she supplements with welfare checks. Though Amanda and her 4-year-old, Haley, share a tiny apartment with her mother, money is always tight. Still, she knows she has a lot to be proud of.
After giving birth to her chubby-cheeked daughter, Amanda wrote a list of dreams to chase: Get a job. Get a car. Finish high school. "I've accomplished the short-term goals," she says, twirling a lock of the long hair she's growing in order to donate it to charity. "Because nothing was going to stop me." And now it's time to attend to her long-term goals: Go to college. Study business. Open a bed and breakfast. Get married. Amanda will matriculate at North Shore Community College just as Kyla Brown gives birth—and Amanda, Kyla's best friend, will be the baby's godmother.
On a typical Friday night, Kyla and Amanda stroll through the Liberty Tree Mall, a mini city of mid-priced stores 20 minutes down Route 128 in Danvers, MA. Usually Kyla's mom drops her off with her guy friends, because girls are "so bitchy." But Amanda's an exception. They met in bio class last year and started hanging out immediately. On a recent night, as big-bellied Kyla and stroller-pushing Amanda wandered through the mall, a woman in her 20s stared them down, appalled. Kyla didn't notice; Amanda was used to it.
Like many of the North Shore kids marooned at the mall with no money, Kyla and Amanda tend to browse rather than buy (Deb and Wet Seal are favorite stores). Still, they come, because Gloucester offers few options. Dance night at the bowling alley was shut down when kids got too rowdy. For a while there was a teen center that hosted student bands, but that was closed because of fights. And so, weekends here see roving groups of kids hanging out at the 7-Eleven by the projects or along the flag-lined harbor front. Others will gather in someone's basement to play video games, or sneak out to the woods with 30-packs of cheap brew.
Who besides Kyla makes up the Gloucester 18? There is Lindsey Oliver, 17, who became pregnant as a junior by her 20-year-old shaggy-haired boyfriend, Andrew. Due next month, Lindsey has said the girls in Gloucester didn't make a pact; they're just unlucky. Then there's Brianne Mackey, also 17, who just finished her sophomore year and gave birth in June. Brianne has heard the pact rumors, but while she has said that girls get pregnant for different reasons—including for the attention—she has never heard of anyone doing it because of peer pressure. As for the others, most went into hiding when the media came to town.
"I have a feeling that there was some sort of friendship-based, let's-get-pregnant-together scenario," says Ronna Hammond Resnick, of Action, Inc., the city's antipoverty agency. "For kids who don't see a future, they think, Let's have babies together. That can be our immediate future."
For his part, Joseph Sullivan is sticking to the pact story, even though the mayor, Carolyn Kirk, held a press conference denouncing it. Brian Orr, the school medical director, calls the very idea "hogwash" and has since quit under protest, as has Nurse Daly, who administered the tests. Both had been agitating for school-sponsored birth control for years, and in their minds, the pact theory was a lame effort on Sullivan's part to downplay the need for and efficacy of condoms—i.e., if the girls were trying to get pregnant, condoms would be useless. They're just bad apples, Sullivan seemed to suggest. Not much you can do to help them. Feeling betrayed by the mayor and the school board, Sullivan eventually quit his job as principal in August.
"SLUT!"
Loitering kids spit the word at Kyla Brown while she and her mother drive along Gloucester's winding main street. Whatever, Kyla thinks.
Some of the kids at school are sweet about her pregnancy. Others ask her why she's keeping it. One bitchy clique accuses her of faking, for attention. You're just getting fat, they say. Kyla laughs it off, she says.
But Kyla's mom can't laugh. It was just two decades ago when her own sister got pregnant as a GHS student, and Wendy is intimately familiar with the whispering and the stares and the hostility. She knows that the same fate now belongs to her daughter—a worse version, even, since she is a member of the infamous Gloucester 18.
Kyla knows she's not part of any pact. Knows there's no reason to be embarrassed about her baby boy, even if she is only 17. But she's sick of getting yelled at. Just the other day, Amanda yelled at her to stay in school. It was annoying. But it beat being called a slut.
Follow Marie Claire on Instagram for the latest celeb news, pretty pics, funny stuff, and an insider POV.
Celebrity news, beauty, fashion advice, and fascinating features, delivered straight to your inbox!