Theresa May Is Expected to Become Britain's Second Female Prime Minister
What you need to know about the potential next leader of the U.K.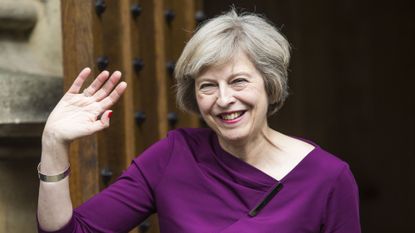 (Image credit: Getty Images)
Marie Claire Newsletter
Celebrity news, beauty, fashion advice, and fascinating features, delivered straight to your inbox!
Thank you for signing up to Marie Claire. You will receive a verification email shortly.
There was a problem. Please refresh the page and try again.
Theresa May looked set to become Britain's next prime minister Monday after her sole remaining rival, Energy Minister Andrea Leadsom, unexpectedly withdrew from the race to lead the Conservative Party.
If confirmed, the 59-year-old politician could become Britain's prime minister within days. She would be the second woman to hold the job.
Graham Brady, the head of the party committee running the contest, said the party board would meet to discuss confirming May as the winner. He did not say how long that might take.
The new Conservative leader will replace David Cameron as prime minister. He announced his resignation after the country voted in a referendum last month to leave the European Union. He had campaigned to stay in.
Cameron said he will step down on Wednesday to make way for May to succeed him. Cameron says it's clear May has "the overwhelming support" of Conservative lawmakers. He said he will attend a final session of Prime Minister's Questions in the House of Commons on Wednesday before going to visit Queen Elizabeth II and tendering his resignation. The queen has the formal role of appointing the new leader.
May, who also supported remaining in the EU, is one of the most experienced ministers in Cameron's Cabinet, serving in the notoriously difficult job of interior minister for six years.
Leadsom's announcement came after a weekend uproar over her comments about the role of motherhood in politics. Leadsom at first defended, and then apologized for, an interview in which she said that being a mother "means you have a very real stake in the future of our country." Leadsom has children; May does not.
Leadsom later accused the Times of London newspaper of practicing "gutter journalism" and twisting her sentiments.
The Times released a recording of part of the interview to show it had quoted Leadsom accurately.
Before her announcement, Leadsom had apologized to May, telling Monday's Daily Telegraph newspaper that she believed that having children has "no bearing on the ability to be PM."
Leadsom said she was dropping out because she had concluded she lacked sufficient support among Conservative lawmakers. She added that "business needs certainty" in the wake of Britain's vote to leave the European Union, which has unsettled the markets and sent the value of the pound plunging.
"We now need a new prime minister in place as soon as possible," Leadsom said. The leadership vote among Conservative Party members had been due to run until early September.
Leadsom is the latest politician to fall in an extraordinary two-and a half weeks since the referendum. Aspiring leaders including former London Mayor Boris Johnson and Justice Secretary Michael Gove have all seen their hopes dashed amid political and economic turmoil.
Leadsom's rivals said both her comments on motherhood and her subsequent flip-flopping showed the junior energy minister lacked the experience under pressure required to be prime minister. Her allies accused supporters of May—Britain's interior minister—of attempting to undermine Leadsom.
Formally launching her campaign Monday before Leadsom's announcement, May tried to reassure supporters of a British exit that she would respect their decision.
She said "Brexit means Brexit" and promised that as leader she would not attempt to stay in the EU or "rejoin it by the back door."
British politics has been thrown into turmoil by the referendum result, which has sparked leadership struggles in both the governing Conservative and main opposition Labour parties.
Labour lawmaker Angela Eagle on Monday launched an attempt to unseat party leader Jeremy Corbyn, a veteran left-winger who has a strong base of support among Labour members but little backing from the party's 229 lawmakers.
Labour legislators have passed a no-confidence motion in Corbyn, and many of his top team in Parliament resigned from their jobs to protest his leadership. He is refusing to resign and says he can win a leadership battle, which would be decided by a vote of party members.
Many Labour lawmakers believe the staunchly socialist, resolutely uncharismatic Corbyn lacks broad appeal to voters. Eagle said he "doesn't connect enough to win an election."
Follow Marie Claire on Facebook for the latest celeb news, beauty tips, fascinating reads, livestream video, and more.
Celebrity news, beauty, fashion advice, and fascinating features, delivered straight to your inbox!