Why the Standing Rock Fight Is Far from Over
A report from the front lines.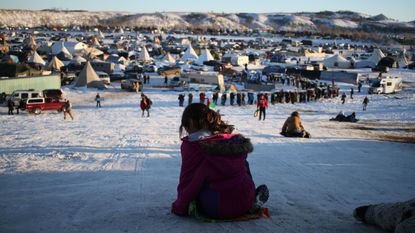 (Image credit: Ruth Fowler)
I 'm sitting on a broken bus in subzero temperatures during a blizzard. Through the whirling snow outside I can see teepees and army tents and RVs and cars and nearly-frozen people with only their eyes peeking out from balaclavas and scarves and layers upon layers of wool and Gor-Tex and thermals.
I traveled on this bus for 48 hours from Los Angeles all the way to North Dakota with 50 United States military veterans, part of an estimated 2,000 such veterans across the nation who joined the recent protest against the Dakota Access Pipeline, a construction project which would transport crude oil domestically across U.S. soil—and right through sacred tribal areas of the Lakota Sioux tribe. The "water protectors," as the protesters prefer to be known, are peaceful, non-violent demonstrators who claim that the planned construction not only breaks the federal treaties that protect tribal land, but would also pose a massive environmental risk to the nearby Missouri River, the primary source of water for the Standing Rock Sioux reservation.
Since the construction's approval this summer, increasing numbers of protestors—including actress Shailene Woodley, who was arrested at Standing Rock last month for "criminal trespasing" (opens in new tab)—have answered the Sioux tribe's cry for help and set up a number of camps just yards from the construction of the pipeline. The protest is now the largest congregation of Native Americans in the last century.
As the camp grew and established a front line of water protectors who refused to move and allow the Army Corps of Engineers to continue their construction of the pipeline, police employed violent force against the protestors—force which, in subzero temperatures, had the potential to be lethal. Sound cannons, tear gas, pepper spray, rubber bullets, and water spray were used on the gathered crowds, even, reportedly, pregnant women and children. It was this violence, coupled with ongoing mainstream media silence, that prompted American war veterans to join together, travel to Standing Rock, and give protestors some protection.
My experience of vets before boarding the bus to North Dakota (I'm a British-born writer, joining the trip as an embedded reporter) was limited, and probably biased by Hollywood portrayals of muscular shaved-headed white guys wearing wife-beaters and dog tags. In reality, I walked onto a bus full of diverse, warm, funny, creative, and passionate people from all branches of the armed forces: the army, the navy, the airforce, the marines, and even the coastguard. Their jobs, they explained to me as we set off for Utah at 3 p.m. on a warm California afternoon, were varied, from combat medics to paratroopers, photojournalists to linguists. About half of our bus were women.
As the hours ticked by and the dark crept in and the temperature lowered, we bonded, firstly, over concern for our bus driver, Judy, who did not feel the need to obey the rules of the road. Later I was won over by the boldness of my seatmate, Elizabeth, who entered the army at 18: "I walked into the recruiting office and asked them if it was true women weren't allowed to serve in combat MOS's (Military Occupational Skills). They said yes, women, as the child bearers, couldn't be on the front line, so I said, 'Okay, what if I get a hysterectomy?'" As our chat recruited more and more listeners, I asked them—many of whom, it turns out, are gay and had to "go back in to the closet" when they served—why they would choose to hide a crucial part of themselves to join the service. They all shrugged. Everyone sacrifices something, they said, to be a part of something bigger than themselves.
For the second leg of our trip, we get a new bus driver, and even though he's never heard of Standing Rock, when he hears how committed the vets are to getting there, he fudges his log book and beds down with the rest of us on the floor of a large, echoing high school hallway in Eagle Butte, our last stop before Standing Rock.
More driving. Then, after 48 hours, we're finally here. The sky is bright blue and clear and the snow is dazzling and before us an enormous, beautiful community of tents and teepees and cars and RVs and vans and buses spreads out. Immediately after setting foot on the soil, I get a call from my friend, Vincent, a Native American poet who has been on the front line for three months. "It's over," he says. "The pipeline's access has been denied. We're celebrating. You gotta get here." I relay the information to the vets, who start to cry and whoop. A victory.
We jump off the bus and march excitedly into camp. I stop to talk to a Native American woman in her 30s along the way. "Congratulations," I say, and she smiles, but replies, "I doubt it's over. I doubt they're going to stop. This is one victory, but it's not over."
At the sacred fire, hundreds of Native American veterans gather wearing their military gear with their traditional cultural clothes. Media swarm. Drums are beating and a strange calm pervades. I turn to the vet I'm standing next to: "I feel weird," I say. He nods. "Like a strange vibration? Energy? I feel it too."
We're so tired. So incredibly exhausted, but we're here just in time for good news. Vincent meets me and sweeps me up into an enormous bear hug. He's crying. "It's a victory. It's a small victory as we have to wait for the environmental review, but it's a victory," he says.
Part of the controversy surrounding the Pipeline has been the gaping lack of data on the environmental impact of piping nearly half a million barrels of crude oil through the ground every day. The ability to halt construction and buy time, at the very least, for more research, is an achievement.
The next day we join thousands of other vets and we march with the Native Americans up to the front line. By now word has spread throughout the camp that the company might still drill, they could simply face fines if they do. It seems likely to many that they will.
But as the drums beat and the Elders bless the veterans, a Native American woman cries out, "Thank you for coming. This is what you were born for. This is what you were trained for. This is your destiny. Thank you for hearing us. Thank you for listening." Faces crumple beneath helmets and gas masks, and we march on together through the blizzard, knowing that the battle isn't over, but that our presence here makes a difference.