From Pageants to Politics
Long derided for its swimsuits, sequins, and spray tans, the Miss American Pageant has undergone an extreme makeover, becoming an unlikely boot camp for political up-and-comers. Here she is — ready for office.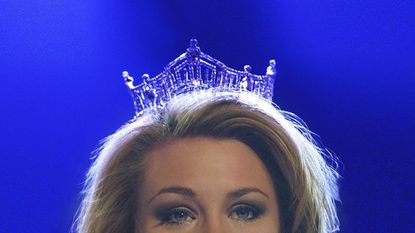 (Image credit: Ethan Miller/Getty Images)
Over the course of its 92-year history, the fabled Miss America Pageant has seen its share of quirky performances for the talent portion of the competition: a dramatic reading of an anti-nukes screed, a banjo-strummed rendition of The Beverly Hillbillies theme song, even a ventriloquist's re-enactment of Laverne & Shirley. This year Maryland native Allyn Rose, a 5'9" January Jones look-alike competing as Miss District of Columbia, adds her name to the list of Miss America curiosities, with a dance routine set to Michael Jackson's "Beat It" — performed on roller skates. The Miss America Pageant is scheduled for January 12 in Las Vegas, and if Rose has her way, that 90-second roller boogie won't make her a standout at the competition as much as her grand plans for what comes after the crown. "This is a stepping stone for my ultimate goal," she says earnestly. "I'd like to be the governor of Maryland."
It used to be that such lofty aspirations — the pageant equivalent of declaring that your career goals include achieving world peace and an end to hunger — could be counted on to draw snickers and eye rolls. Not anymore. While the crown once attracted scores of wannabe models, news anchors, and actresses (the ever-popular "communications majors"), in recent years, the profession of choice for a Miss America prospect has shifted to politics. The pageant system, long dismissed as a feminist punch line, has emerged as a surprisingly effective training ground for a new generation of female leaders. That's right: Miss America, relic of the Joan Holloway era when a girl went to college to get an M.R.S. and her potential could be gauged by her measurements (included in the official pageant program until 1985), has rather discreetly and with little fanfare been recast as a quasi — boot camp for would-be politicos, sharpening core skills like public speaking, networking, glad-handing, and grace under pressure.
"The women in our system are career-minded young ladies who go into many fields, so seeing them go into politics doesn't surprise us," says Miss America President and CEO Art McMaster.
Perhaps it should. Each year, 12,000 contestants funnel through the Miss America Organization — the Linwood, New Jersey — based governing body of the iconic pageant — vying for local and state titles in hopes of landing one of the coveted 53 slots in the national Miss America Pageant. The system has turned out more than a few highfliers over the decades — actress Delta Burke, NFL broadcaster Phyllis George, Fox & Friends host Gretchen Carlson, and, most notably, former Miss Wasilla turned vice presidential nominee Sarah Palin, among them — but it's also churned out a fair share of vapid alums who've done little to dispel the impression that the annual event, which moved from Atlantic City to Las Vegas seven years ago, is a glorified showcase of T&A. (Clips of attractive but hilariously clueless Miss America hopefuls are as ubiquitous on YouTube as videos of baby pandas.)
Challenging the long-held stereotype of the teased-and-tousled beauty queen ditz is a cadre of informed and articulate contestants whose arsenal of pageant prep now includes The Wall Street Journal and Charlie Rose, in addition to Preparation H (for thigh dimples) and Magic Grip (the tennis racket spray that keeps bikini bottoms from riding up). Among them: Miss Vermont 2010, Caroline Bright, who at age 16 worked on a commission responsible for devising a $12 million scholarship bill that was ultimately signed into law. Last year Bright threw her hat into the ring for Vermont State Senate and, though she lost, was described by a local paper as "well-grounded in the complex world of politics and public policy." While in college, Miss Hawaii 2011, Lauren Cheape, produced and directed a documentary on the plight of her state's struggling farmers, which contributed to the passage of a feed subsidy bill. This year, Cheape, now 25 and an on-the-rise Republican, won a congressional seat in Oahu's 45th District. Miss Nebraska 2010, Teresa Scanlan, was just 17 when she stunned audiences with her assured answer to a question about Wikileaks. ("We have to focus on security first, and then people's right to know.") She went on to nab the 2011 Miss America title. Now an under-graduate at the evangelical Patrick Henry College, she says she's bucking for a Harvard Law degree and wants to become a Supreme Court justice, maybe even president. And competing at this year's pageant: Miss Alabama 2012, Anna Laura Bryan, who at age 23 has already authored legislation allowing autistic children to bring service dogs to school.
How to explain the bumper crop of political wannabes? For starters, Millennials, the latest generation of Miss America hopefuls, aren't hung up on the pageant's controversial history — the feminist protests of the late '60s, the decades of segregation (black women were barred from competing until the 1970s), the Vanessa Williams debacle. (In 1983, Williams became the first African-American to win the pageant but surrendered her crown months later, following revelations that she'd once posed nude.) And besides, in this age of sexting, Snooki, and network-broadcast Victoria's Secret fashion shows, the tired argument that the pageant, with its well-proportioned bikinis and sunny smiles, somehow demeans women is harder to swallow. "In my experience, not many people actually know of the Vanessa Williams scandal," says Scanlan. "My generation is focused on embracing the new, modern, and forward-thinking aspects of the program."
Miss America has smartly cultivated a do-gooder reputation that appeals to civic-minded young women. In 1989, the pageant began requiring that contestants choose a "platform" — homelessness, AIDS awareness, education — to promote during public appearances. That, coupled with the pageant's emphasis on the $45 million in scholarships it makes available annually ("to combat the 'dumb blonde' stereotype," says Scanlan), has helped differentiate it from tawdrier rivals also doling out crowns and titles, like the Donald Trump — owned Miss USA and Miss Universe pageants, which boast no talent competition and award scholarships only to the New York Film Academy. (The prize is, essentially, publicity.) "Miss America contestants talk to me in complete sentences," jokes photographer Joe Whiteko, who's been documenting pageants for 30 years. "They are, as a group, never marginal students."
Another big factor drawing talent: Pageants are having a major moment. Though Miss America bigwigs and contenders alike hold their noses up at reality shows like TLC's Toddlers & Tiaras and its spin-off Here Comes Honey Boo Boo ("I don't agree with those sorts of programs," Miss America 2012 Laura Kaeppeler noted in an interview), it's hard to dismiss the renewed interest in pageants these shows have sparked. In late August, some 3 million viewers tuned in to watch Alana Thompson, aka Honey Boo Boo, the sass-talking, Go Go Juice — swilling 7-year-old pageant diva, do her thing — topping ratings of cable news coverage for Paul Ryan's highly anticipated speech at the Republican National Convention that same night. The Miss America Pageant has become so popular, in fact, that ABC, which dumped the event back in 2004, welcomed it back two years ago. Last year the broadcast garnered 8 million viewers, a coup considering it was up against an NFL play-off game.
For viewers, pageants are an oddly compelling glimpse into a dated world where women are scored on how effortlessly they glide across a stage in an evening gown. For hopefuls, they used to offer the prospect of stardom, though now it is exposure that's the real reward. In the clubby world of local politics, name recognition — even that secured on the pageant circuit — opens doors historically closed to young women.
Though the Miss America winner nets a $50,000 college scholarship, she must take a break from her studies during her reigning year to accommodate the grueling schedule of appearances. Much of that period is spent on the road, waving to crowds at parades and benefits, making pit stops at hospitals and fundraisers, and promoting her platform with speeches delivered pretty much anywhere that will have her — American Legion halls, USO receptions, megachurch gatherings, and the like. The scenario isn't all that different at the state level, where winners are expected to smile, schmooze, and sign autographs at car dealerships, hospitals, and public school gymnasiums. Ask a municipal mayor what his schedule looks like on any given day and you're likely to hear a similar itinerary.
"In practical terms, [being Miss Vermont] taught me how to be The Candidate," says Bright, who took a leave from her internship with Shap Smith, Vermont's speaker of the House, so she could compete in the Miss America pageant. "You learn how to be the face of an organization, deal with media, stick to talking points, how to dress yourself for different situations, how to accessorize effectively and appropriately."
Honolulu-based Cheape grew accustomed to the relentless travel necessary to succeed in the pageant system. As Miss Hawaii, she was expected to attend events all over the islands, her crown — stashed securely in a custom satin-lined wooden box — always by her side. One particularly exhausting day saw her up at 4 a.m. so she could make a jump-rope exhibition on the Big Island, then a children's charity event in Maui, followed by a dinner in Oahu. Stamina is key. "I can smile for three hours straight," she crows. "That's very helpful on the campaign trail."
Savvy contestants also learn how to parlay contacts they make along the way into career opportunities. Case in point: Miss America Erika Harold, an avowed conservative who spoke at the Republican National Convention a year after winning the crown in 2003. (She recently ran for Congress in Illinois but failed to secure her party's nomination.) And though the Miss America Organization itself is officially apolitical, its board of directors is stocked with well-connected politicos, including Sue Lowden (Miss New Jersey 1973), former chairwoman of the Nevada Republican Party; Kimberley Fritts, a veteran GOP operative who once worked for Florida Governor Jeb Bush; and Tammy Haddad, the one-time MSNBC executive who oversaw the network's political programming in Washington, D.C.
"If this is the last thing you do, you're probably not doing it right," says Tiffany Lawrence, 30, Miss West Virginia 2006, of participating in the Miss America Pageant. While traveling the state as part of her reigning duties, she kept running into Democratic Senator Joe Manchin, then the governor, at events. Manchin "really extended his hand and said, 'Let's talk about public policy issues and things affecting our state'" — guidance, she says, that helped her hone her message when she ran for the West Virginia legislature as a Democrat a year later. In November, she won a third term in office.
Two decades ago, Shelli Yoder was a 24-year-old pageant veteran when, as Miss Indiana, she belted out "This Is the Moment" from the musical Jekyll & Hyde, finishing as second runner-up in the 1993 Miss America Pageant. Afterward, she moved to Tennessee, did advocacy work for an anorexia-awareness group, and later married an Indiana University business school professor, with whom she had three kids. If not for the fact that in November she was a serious contender for Congress — handily winning her district's Democratic nomination (and even scoring an endorsement from Bill Clinton) before losing the general election — Yoder would have been yet another Miss America alum in a long list of them. Now she's starting to come across young Miss America wannabes eager to pick her brain. One beelined for her at a campaign event recently and told her, "I know who you are. You're my role model. I want to run for Congress. I'm just doing this to get some practice." Yoder couldn't help but be struck by how forward-thinking the girl was to embrace the obvious: Pageants make perfect political trial runs. Adds Yoder, "When people ask me, 'Did you know you wanted to go into politics when you were Miss America?' I say, 'Heck no!' But this girl was really bold in saying, 'This is exactly where I want to go. And as soon as I can.'"
Celebrity news, beauty, fashion advice, and fascinating features, delivered straight to your inbox!