Don't Mess With Texas Women
The Lone Star State—famous for red-blooded, gunslinging, rib-eating Republicans—is increasingly turning blue, thanks to a group of fired-up women who are determined to take Texas back from the good ol' boys.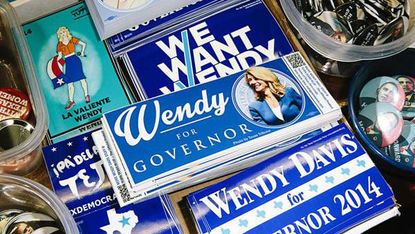 (Image credit: Joel Barhamand)
Marie Claire Newsletter
Celebrity news, beauty, fashion advice, and fascinating features, delivered straight to your inbox!
Thank you for signing up to Marie Claire. You will receive a verification email shortly.
There was a problem. Please refresh the page and try again.
The November midterm elections are still several months away, but inside a three-story brick building in downtown Fort Worth, Texas, a maze of offices buzzes with dozens of 20-something, mostly female staffers drafting press releases and fundraising pitches on laptops while others work the phones, coordinating volunteer block-walkers for Democrat Wendy Davis' gubernatorial campaign. With donated desks and a funky brown leather couch that has a hastily scrawled Don't Sit On Me sign on it, the headquarters, inside the remnants of an old hotel, are part college dorm, part war room.
Deputy campaign manager Terrysa Guerra, 32, sits in the small office she shares with two women, scanning the campaign's Twitter feed to gauge the impact of a press release sent out that morning on Davis' Republican opponent, Texas Attorney General Greg Abbott. Guerra has worked with Davis before—she successfully ran her 2012 State Senate reelection campaign, one of the toughest, most expensive races in Texas, which many said Davis would lose—and knows what it takes to win. She's had her staff of 40 pulling 12-hour days for the past seven months. "We're working as if it were a month before the election," Guerra says. "Nobody has created a structure this quickly, with this amount of staff."
Some may be surprised to see how quickly Davis was able to build support, but Guerra says that's because outsiders underestimate how angry Texas women are with the conservative, mostly male establishment that recently vetoed equal-pay legislation, gutted education, and turned women's reproductive rights into political fodder. "I love Texas, but there are policies in place right now that really hurt women," she says. "We can do better."
Guerra is one of a group of up-and-coming women in Texas politics who want to take their state back from the old boys' club that has dominated for the majority of their lifetimes. In addition to Guerra, there's Jenn Brown, 32, of Battleground Texas, a group led by former staffers of Barack Obama's 2012 presidential campaign who have set their sights on the Lone Star State; Emmy Ruiz, 30, of Annie's List, the group that led a coalition that originally recruited Davis to run for the Texas Senate in 2007; and Christina Sanders, 30, state director of the Texas League of Young Voters.
They've rallied around Davis, whose dramatic 13-hour filibuster in the Texas Senate last June to stop a bill banning abortion after 20 weeks transformed the blonde-haired, blue-eyed, Harvard-educated lawyer into a darling of the Democratic Party and paved the way for her candidacy. "After last summer's filibuster, a lot of women started approaching me and asking how they could get involved," Guerra says. "They're smart, they're willing to work hard, and they don't let anyone tell them they can't change Texas—which is important because we hear that all the time." Attacks on Davis (including the nickname "Abortion Barbie," bestowed upon her by the editor of a conservative news website) and other female Democratic politicians have only helped bolster support—and rake in cash—for women on the trail. "I am seeing enthusiasm and excitement, especially among young women, that I've never seen before," Davis says. "There's this feeling from women across the state that enough is enough."
For decades, Democratic organizations and donors viewed Texas as a lost cause: too expensive, labor intensive, and red to invest in. (A Democrat hasn't won a governorship since Gov. Ann Richards beat oil tycoon Clayton Williams in 1990.) But this time around, with an appealing, nationally recognized candidate and demographics inching in Democrats' favor, the prospect of turning Texas blue—or at least a competitive purple—is proving too tempting to ignore. "We have a lot of talented people drawn to Texas, and to our campaign, because they see a Democratic candidate who is a fighter," Guerra says.
On the national level, Texas is a heavyweight, with 38 electoral votes (of 538 total), making it second in importance only to solidly blue California. In essence, if Democrats can eventually claim Texas, it would be hard for a Republican to win the White House.
Recognizing Texas' key role in the presidential firmament, political strategist and former Obama campaign whiz Jeremy Bird formed the grassroots organization Battleground Texas, appointing California native Jenn Brown, a top field organizer from Obama's 2012 campaign team, executive director. In its first year, Battleground signed on more than 12,000 volunteers, raised almost $3 million from more than 8,000 donors, called or rang the doorbells of some 370,000 households, and logged enough miles to circle the state more than 50 times. But despite its early success, Brown says the group realizes Texas won't change overnight. "We know it's a long-term proposition turning Texas blue," she says.
Brown spends most of her time covering vast distances to meet with county Democratic clubs and other organizers—no easy task in a state that spans two time zones and has 254 counties. In her first six months, she put 24,000 miles on her Chevy Cruze and was forced to buy new clothes after being feted by so many Democrats. "After two weeks of eating barbecue and Mexican food, I realized I need to buy a scale because I was enjoying the food way too much," she says, laughing.
All those meals and miles are part of Battleground's plan to reach likely Democratic voters by amassing volunteers to knock on doors. "Neighbors talking to their neighbors about the issues that matter to their community and to their family—it changes the outcome of an election," Brown says. It's a tactic she knows well. During the 2012 presidential election, Brown led an army of volunteers in Ohio, delivering the hotly contested state for Obama by 166,000 votes, in part because she mobilized African-American voters.
Among Brown's targets this time are Hispanics, who make up 38 percent of Texas' population and are expected to eclipse non-Hispanic whites as the largest race or ethnic group in the state by 2020. Nationwide, Hispanic turnout in the 2012 election was the highest in history, with Obama winning 71 percent of their votes. (By contrast, Mitt Romney garnered just 27 percent of the Hispanic vote—the lowest level of Hispanic support for a Republican since Bob Dole ran in 1996.) But in Texas, Hispanic turnout has lagged. Only 39 percent of eligible Hispanics voted in the 2012 election, compared with 61 percent of eligible white voters. Which means, at least as of now, Democrats can't win Texas by relying solely on Latinos. They'll have to get another key demographic—women—to the polls, too.
Downstairs from the office Brown and Guerra share in the downtown Fort Worth building that has become the hub for the statewide effort, Annie's List—named for Dr. Annie Webb Blanton, who in 1918 was the first woman elected to Texas statewide office—hosts training sessions for Davis' staffers. The state organization, formed in 2003 and based in Austin, models itself on the national group Emily's List, which recruits Democratic pro-choice women to run for office and raises funds for their campaigns.
Annie's List's political director, Texas native Emmy Ruiz, grew up near the Mexico border and is among the first generation in her family to graduate from college. "I feel so incredibly lucky," she says. "My parents are immigrants from Mexico. My mother was forced to drop out of school after sixth grade and had to sell candies just to buy shoes. They were adamant they wanted a better life for their kids." Ruiz was wooed back to her home state last year by Annie's List after serving as the general election director for the 2012 Obama campaign in Nevada, where she helped turn the red state blue by getting an unprecedented number of Latino voters to the polls.
Adapting that strategy to Texas, Ruiz hopes to mobilize female voters riled up about the Republicans' recent attacks on women's health. In 2011, the legislature slashed the state's family-planning budget by two-thirds, which, according to the University of Texas at Austin's Texas Policy Evaluation Project, has since caused 78 family-planning clinics to close. Women must also now undergo an invasive ultrasound probe and hear a description of the fetus before having an abortion. Last June, Republican Gov. Rick Perry called a special legislative session to ban abortions after 20 weeks and require abortion clinics to meet the same standards as outpatient surgical centers. All but six abortion clinics are expected to close when the law is fully implemented in September. "Women are realizing they need to get involved. They can't sit on the sidelines anymore," Ruiz says. "We have to see candidates who represent our values and interests."
One way to help ensure women's voices are heard is to elect female politicians. For the first time in Texas history, two women are at the top of the gubernatorial ticket: Davis and Sen. Leticia Van de Putte, a Democrat from San Antonio, for lieutenant governor. Davis' opponent Abbott, who posed for the cover of Texas Monthly with a rifle slung over his shoulder, is staunchly pro-life and often touts his record of defending abortion restrictions. As of March, he'd raised $30 million, compared with Davis' $16 million. "The Democrats might have a slight advantage because they have an all-female ticket and, in Texas, more women turn out to vote than men," concedes Steve Munisteri, chairman of the Texas Republican Party. But he says the 11,000-member Texas Federation of Republican Women has been reaching out to voters who might be swayed by the female Democratic ticket and their message. "I'll give Democrats credit for their 'war on women' theme," he says. "It's helped them in some races around the country." Ultimately, Munisteri thinks it will be a contest to see which party frames the issues most persuasively.
Along the Gulf Coast, Democrat Christina Sanders, who has spent 11 years in community organizing and voter outreach, is working to tailor her party's message to appeal to the residents of Houston, the state's largest city and one of the most racially varied cities in the nation. As state director of the Texas League of Young Voters, Sanders canvasses neighborhoods with volunteers in an effort to reach previously neglected voters. "This is one of the most diverse cities in the country, but there's no dialogue with harder-to-reach communities," she says.
Born and raised in a historically African-American district, Sanders knows what it feels like to lack a voice. Houston's population is 44 percent Latino and 24 percent black, yet because of low voter turnout and gerrymandering (the practice of redrawing voting district boundaries to favor a particular party or group), it's primarily white Republicans who govern Houston, even though the city's population is just 26 percent Anglo. "If every person voted tomorrow, this state would be off-the-Richter-scale sky blue," Sanders says.
She recently ran for a seat on the Houston City Council to represent her home district. The first-time candidate, campaigning with little financial support, didn't win, but she's still fired up. She spends her time canvassing neighborhoods with volunteers. "Our legislators are out of touch—they want to take us back 50 or 60 years," she says. "We need more women and more people of color in office to focus on values that are important to us. Superman isn't coming, so we have to step up."
*The original story incorrectly stated that a Democrat hasn't won a statewide election since 1990.
Celebrity news, beauty, fashion advice, and fascinating features, delivered straight to your inbox!