The Rise of Women Entrepreneurs in the Middle East
"You say you want a revolution, well, you know, we all want to change the world." -The Beatles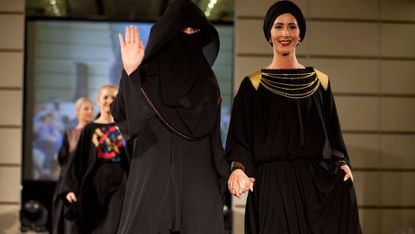 (Image credit: Courtesy of Subject)
When venture investor Chris Schroeder visited the Middle East, he was surprised to see such a large percentage of women attending Internet gatherings and pitching business ideas[1] , and when he voiced his bewilderment, Schroeder found that many of the women were offended by his questions. He witnessed this change while visiting startup hubs in Dubai, Cairo, Amman, Beirut, Istanbul and Damascus, wrote about his experience in the bookStartup Rising, where he shares the stories of women who are changing the entrepreneurship scene in the region, but aren't as well-known as their male counterparts.
At the time, Schroeder represented the typical Westerner who thinks of chaos, revolutions, and oppression when they think of the Arab world. In the past decade, the rising number of governmental overthrows in the Middle East has created a harsh image of the region that's difficult for the rest of the world to forget. Even former Secretary of State Condoleezza Rice said in a talk at Duke University in 2012 that "whatever happens, it's going to be a rocky road in the Middle East because reform has come late."
Most might think that a rocky road is bad for business, but in the Middle East, a revolution might be exactly the kind of thing women need to unleash their entrepreneurship spirit and rise up. Hanan Hallaq, who launched online retail store First Bazaar in 2012 says that people's fear of leaving their homes during this unrest period led to an increase in online shopping and businesses launched online. "Actually it was a solution, because a lot of people are afraid to go out from their homes in certain times, for example in the weekends when they have problems or something," she tells Public Radio International. "This is a solution for the woman and everybody."
Entrepreneur Dana Al Taji, owner of Cairo-based Layal, a line of fashionable abayas, admits that there is a struggle for women business owners residing in the Middle East, but that this is not "a Middle Eastern thing," but a "women everywhere thing." "I think women have more to prove than men," she says. "Is it easier for men? I'm not sure, but I do know some mentalities would rather listen to a man than a woman." Al Taji — who believes you can be fully covered in Islamic dress and still stand out fashionably—wants to help change the way people think about Arab women.
"The biggest misconceptions are that we're oppressed, that we don't have strong personalities. Believe me, we do have strong personalities," she says. "We're the ones who run the house over here. Trust me." "The way we're covered, it's thought of as not a matter of choice, but most of the time, it is a matter of choice. It comes from either culture or religion or your beliefs. It's a choice," she says. "[The Arab woman] is not oppressed. She's not sitting at home just raising the kids. She has ambition. There's nothing wrong with raising kids, sitting at home, but we can do more than that. We can juggle."
Al Taji started her business in 2007 because she found that she had a difficult time "covering up in style" with the available abayas in Egypt. "It's not about covering up like everyone else," says Al Taji, who wears a face veil when appearing in public. "You can still follow the global fashion world. If studs are in fashion, why not have studs? It's doable." The 30-year-old designer's hope is to modernize abayas so that women can feel comfortable wearing it like any other garment. Her line ranges from simple, every day wear featuring buckles and ruffles to cocktail attire with Swarovski crystals.
Hallaq, Al Taji and others like them make up the women entrepreneurs who run one-third of startups in the Middle East, a much higher percentage than businesses launched by women in Silicon Valley. "Women are natural born entrepreneurs--what kind of successes would we reach if we were provided the right tools?" says Manal Kelig, a serial entrepreneur in the tourism industry. "After [the revolution in 2011], women were very persistent to say, 'We are not passive. We will have an upper-hand. We will have a say. We will contribute.' It may not be political, but our contributions will be [seen] in other ways."
And Kelig is right on target. Think about it this way: only 10 percent of all Internet entrepreneurs are women, but experts say 23 percent of women run Internet companies in the Middle East and North Africa region and 35 percent do in the Gulf States.
And when there's something special brewing, giant companies like Google can sniff it out. The company's #40Forward initiative is aimed at increasing the presence of women in the high-tech sector by 25 percent this year and 25 percent of the chosen programs are based in the Middle East. Women in many of the Gulf States — Kuwait, Qatar and Saudi Arabia — are positioning themselves to be future leaders, receiving more diplomas than their male counterparts, according to a Booz & Company report.
When it comes to family responsibilities, women still carry the bulk of it in many Middle Eastern countries so starting businesses online is the perfect solution as it allows women to work from home if it is against her family's wishes that she takes a job outside the home. "I have seen success stories from mothers and older women, but these success stories are not well known," says Kelig. For example, the public needs to know about Mona Tavassoli, the quintessential "mom-preneur," who founded Mom Souq in 2012, which started out as a classified site for mothers but has since evolved to become an online community for moms in the United Arab Emirates. Tavassol started her company shortly after the birth of her son when she discovered that there was nothing she could do with the clothes and toys her son had outgrown. "We need more success stories out there so that we can move forward," says Kelig, who pursued a master's degree (and later a Ph.D) after finding herself bombarded with questions from tourists about women's rights.
But business — run by a woman or not — can be tough when political turmoil exists and in these situations, women are the first ones to lose. In Saudi Arabia and Qatar, women are more than three times likely to be unemployed compared to men — especially during times of economic loss. Kelig explains that her tourism business hasn't been great since the revolution in 2011. Her company went from a full-time staff of seven and a temporary staff of 150 to a full-time staff of five and a non-existent temporary staff today. She remains optimistic that tourists are just "waiting for the right moment" to visit Egypt.
Despite her struggles, Kelig says that as a woman entrepreneur, she believes that right now is an important time for women in the Middle East. "I've come to the realization that everything I do is important," she says. "Everything I do [has] an importance and we will get stronger in the coming years."
Celebrity news, beauty, fashion advice, and fascinating features, delivered straight to your inbox!