Weekend Trip Guide: Where to Stay, Eat, and Drink in the Catskills
Get your outdoors on.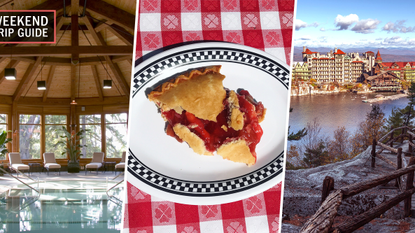 (Image credit: Mohonk Mountain House)
Where to StayWhat to doWhere to Eat
Welcome to MarieClaire.com's series on weekend travel—a smart girl's guide to making the most of those glorious two days off.
It's funny how often New Yorkers talk about escaping New York, considering we all feel a not-so-secret smugness about living there. But, then again: trees! They're nice to be around every once in a while! And when seeking asylum from the urban grind, the Catskills—packed with hiking trails and scenic mountain views—are a pretty perfect spot.
But if you're anything like me, you like a side of craft cocktails with your physical exertion. Also really good food. And a massage. And a gorgeous setting.
Enter Mohonk Mountain House, a 148-year-old Victorian castle in the Hudson Valley that's the kind of place you go to and settle in for a while because they have all the things. Here's what you need to know.
Where to Stay
A short bus or train ride from Manhattan, Mohonk is an all-inclusive resort that is, honestly, dumbfoundingly massive in scale, in every possible way. The hotel itself is 259 rooms connected by winding hallways (my husband and I got lost very often during our stay, but that was part of the fun) weaving through a mammoth structure that looks, from the outside, like its own village of interconnected buildings. It's breathtaking, especially given its age.

All that architectural brio sits on a beautiful little lake tucked between the mountains of a 40,000 acre nature preserve, which you'd need much longer than one weekend to explore in full, but climb to any of the vantage points surrounding the house and you can see it stretch out around you. Trees!
What to do
One of the many ways Mohonk blew my mind was the fact that there's just so much to do, and it's all picturesque (I uh, may or may not have spammed my Instagram feed with pics from our trip—sorry friends), and it's all included in the cost of your stay. So you can, say, walk out onto the lake's boat dock and announce to a staffer "I'd like a rowboat" whenever you damn well please and they'll bring you one. I'd recommend a little jaunt across the water as a good way to acclimate when you arrive. I'd doubly recommend having someone else do the rowing.

Have you ever heard of "scrambling"? I hadn't, but it turns out it's like the X Games of hiking, and there's tons of it to be had right around the house. To "scramble" is to follow a path—though I use the term loosely, because said path is a series of subtle arrows spray-painted at intervals along the way—that goes over, under, and in between giant boulders and stones on the sides of the mountains. Sometimes you find yourself scaling a one-foot-wide ladder 30 feet up a rock face. Sometimes you see an arrow pointing straight down into the ground and you don't understand how but you diligently obey and squeeze into a tiny hole and find yourself inside a cave made of quartz. It is admittedly hard to explain, but it's one of the most exhilarating things I've ever done, and you should carve out at least a few hours to give it a go.
If you're not the sneaker-wearing type, there's a day spa inside the hotel that you could easily kill an entire day in. Pro tip: You get free access to the heated indoor pool, which is in a striking wooden rotunda and is spacious enough to accommodate you in one end and the kids splashing around with their parents in the other. This is a great way to unwind post-hike, or, if you're a glutton for punishment, to get some extra exercise in via the swimming lanes.
You can also buy a day pass to the spa itself, where there are saunas, steam rooms, separate solariums for men and women, a sitting room for couples (toasty thanks to a giant fireplace), and a heated mineral bath outdoors. And you can book massages, facials, the works.
In the evenings, one of the hotel's central spaces—a craftsman-style rustic room large enough to hold, it seems, the entire hotel—turns into a dance party, the kind where moms and their not-old-enough-to-be-embarrassed-yet sons swing around in pairs and grandparents show off moves from their heyday and it all feels like a big family reunion. This is where the Dirty Dancing vibe (not the actual dirty dancing, but the setting of the dirty dancing) really kicks in: the sense that you're at an adult summer camp and you're all, for however long you're there, a community. It's pretty damn charming. Consider yourself warned.
Otherwise the facilities are, as I've mentioned, expansive—in such a way that if I were to write about everything you could do here, this article would be four times as long as it is. Tennis courts, a golf course, garden tours, horseback riding, tomahawk-throwing lessons (I know, right?)...cliché as it is, I have to say: There's pretty much something for everyone, no matter their interest. Not to mention just curling up in one of the dozens of cozy living-room-type sitting areas—as we saw couples and families do all over the hotel—to play board games or read a book.
Where to Eat
In many ways this place revolves around food, which is also included in the cost of your booking. (Alcohol, however, is not, so prepare to drop some extra $$$.) Here's what I'd recommend:
Breakfast
Do your first meal in the main dining room, a huge wood-paneled space with panoramic views of the Catskills. It's a robust buffet that ups the ante on normal breakfast buffets—the waffles are insane, as are the pretty little yogurt parfaits.
Lunch
Have lunch at the Granary, an outdoor camp-style area right along the lake that serves really good comfort food—barbecue, corn on the cob, mac n' cheese, and homemade pies (they're the real star).
Cocktails
The massive front porch of the hotel is called Spirits on the Sunset for a reason: It's the ideal place to take in the view while the sun sets behind the mountains. Bonus points for the rocking chairs and blankets, and the cocktails featuring local booze.
Dinner
For dinner, head back to the main dining room for their three-course meal (though the Granary also does an evening lobster bake we didn't have a chance to try ourselves but heard other guests say was great). Order the house-made pasta, which is some of the best I've ever had, and while we're talking carbs, the house-made bread is outstanding.
More Cocktails
There's not much of a nightlife scene around the hotel—things generally quiet down by midnight—but have a post-dinner drink in the Carriage Lounge, where local jazz musicians play live.
Helpful Tips
1. Mohonk attracts multi-generational families, so be prepared to see lots of children running around. Book a later dinner seating to avoid the louder kid-filled crowd.

2. Anyone who's ever been to Mohonk talks about the Lemon Squeeze, a particularly daunting but massively fun part of the house's most famous scramble. Go early to avoid getting stuck behind groups of hikers.
3. There aren't any TVs in the rooms, but really, that's not what you're here for. If you're doing any of the outdoorsy stuff, you'll be zonked by the end of the day anyway. The rooms have an antique-y rustic feel, so just lean into it.
4. Rumor has it there's a staffer who will set up an entire scavenger hunt at your request, which, considering how much space there is to play with, could get really interesting. Try it.
Celebrity news, beauty, fashion advice, and fascinating features, delivered straight to your inbox!
As the editor of Cosmopolitan, Jess oversees the editorial for all of Cosmo's efforts across print, digital, video, and emerging platforms. Previously she served as the digital director of Marie Claire, where she tripled the readership, and she's held print and hybrid posts at Glamour and Teen Vogue. In 2013 she launched an interactive e-commerce platform for a fashion-tech startup, and in a former life she was a ballet dancer and NYU film student. She lives in Manhattan with her scruffy dog George.