Ballet Beautiful: How to Take Care of Your Skin Like A Ballerina
New York City Ballet dancer Ashley Laracey reveals her offstage beauty routine.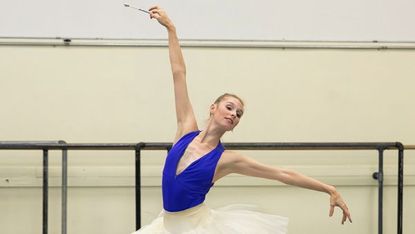 (Image credit: Archives)
Marie Claire Newsletter
Celebrity news, beauty, fashion advice, and fascinating features, delivered straight to your inbox!
Thank you for signing up to Marie Claire. You will receive a verification email shortly.
There was a problem. Please refresh the page and try again.
There's so much to envy about ballerinas. Their nimble pirouettes, frothy tutus, delicate pointe shoes, and of course, their whimsical beauty. What we're not so covetous about? All it takes to achieve the latter. There's a ton of prep that goes into the makeup looks that we admire from our front-of-house perch. Not to mention, all the havoc the layers of product can wreak on skin. And yet, dancers always seem to sport a perfect glow, even offstage. Point being, we simply must know their secrets.
With that, we looked to New York City Ballet dancer Ashley Laracey, whom we saw perform the Belles-Lettres in Mary Katrantzou's stunning lace-appliqué costumes just last month, as well as the company's makeup artist Karla Elie for answers. Our biggest takeaway: the dancers do their own makeup. It not only makes them virtual experts, but also allows them to amass an impressive, curated collection of products.
"When I was an apprentice, the makeup artist would do my makeup as a trial," explained Laracey. "Often times they'd do one eye and then you had to replicate the other. They start when you're young, give you the products, and then you kind of build your own collection."
It's a steep learning curve for certain, but also gives the dancers another outlet for self-expression.
"I'll walk them through each step, not just what products I'm using, but why I'm putting them where I am," Elie added. "Some dancers pick it up right away, and others need more time. Within one to two years, they develop their own kind of style."
Aside from stage makeup expertise, a ballerina must also pay special attention to their daily skin routine. That means cleanising, moisturizing and treating blemishes with the same precision they apply to their recitals. "After the show, I wash my face with an organic face wash," said Laracey. "Then I put on an almond aloe moisturizer—I do that religiously. I always have petroleum jelly on my lips at night to keep them moisturized. In the morning, I use a healthy skin cleanser with daily vitamins, and then reapply moisturizer with a SPF 15. If I have a blemish, I use witch hazel rose water."
Laracey also has another trick up her sleeve — an elixir you can find at the drug store in the cough and cold aisle. A quick dose of Emergen-C's Electromix ($0.39 a packet, emergenc.com) every night and she's good to go, inside out. "It has potassium, magnesium, and calcium," she said. "They advise you to put it in a liter of water, but I take it as a shot of it at night and I find that it definitely hydrates not just my muscles, but my skin as well."
The Expert Tips

To learn how we could incorporate ballerina makeup and skincare into our daily beauty routines, we asked Elie to pass on the advice and tried-and-true techniques she recommends to her dancers.
Makeup: "It's the same principals, just different products and softer. You want to see the shape of the eye, definition of the jaw line, and cheekbones. The trickiest part is highlight and contouring. It's important not just for the stage, but anywhere you're going to be presenting yourself under a lot of lights. If you have great contouring, mascara, and a lip, you'll be fine!"
Makeup Removal: "Don't be too rough with your face. It seems counterintuitive, but I think people will take makeup wipes and just go at their skin vigorously. It can be abrasive. Wipes should be a preliminary thing, if anything. The best thing to use is a cleansing oil."
Skincare: "For maintenance, I recommend a clay mask once a month. When the seasons change, and if the skin is dry, I recommend a brown sugar or coconut sugar scrub with olive oil."
Diet Secrets: "Great makeup starts with great skin. Dancers need a lot of energy, but don't have a lot of time. You should eat lots of fruit, and not just one banana or apple, but three or four pieces for a snack. It'll sustain you. What you feed your body is what your skin cells are using to renew, it's going to show up in your skin."
Celebrity news, beauty, fashion advice, and fascinating features, delivered straight to your inbox!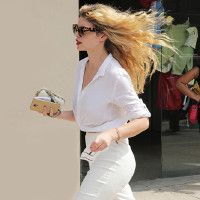 Lauren is the former beauty editor at Marie Claire. She love to while away the hours at coffee shops, hunt for vintage clothes, and bask in the rough-and-tumble beauty of NYC. She firmly believes that solitude can be a luxury if you've got the right soundtrack—that being the Rolling Stones, of course.