Editors handpick every product that we feature. We may earn commission from the links on this page.
31 Shampoos for Fast Hair Growth, According to Stylists and Derms
Get your hair goals in order.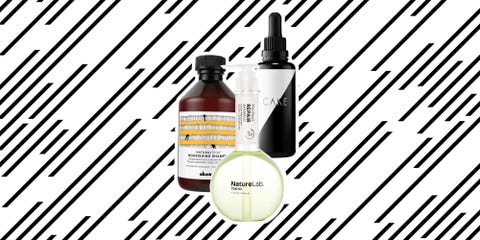 When you desperately want longer hair—whether you're trying to grow out a haircut you're not feeling anymore or dealing with hair loss, a problem that affects 40 percent of women—looking in the mirror can get depressing, and waiting can feel like an eternity. Thankfully, there are steps you can take to speed up the process, like incorporating special shampoos into your routine. But before you try to give your hair a nudge, it's essential to understand the science behind it.

Dr. Shani Francis, board-certified dermatologist and member of DevaCurl's Expert Curl Council, says that to really speed up your hair growth, supplement your shampoo with a diet rich in omega-3, fiber, sulfur ("our hair has a lot of sulfur in its internal structure"), and protein. Foods like lean meats, leafy greens, nuts, beans, and fish fit the bill. Most importantly, make sure you drink a lot of water. Francis recommends two liters a day if you want to see results. While most of this may seem like common knowledge, she adds: "It's important to remember that our hair ends up receiving the 'leftovers' of the nutrients that our body needs."
And if you're thinking of taking supplements to get the necessary nutrients, just don't overdo it. Francis warns that it's possible for people to overdo it. "What some people don't realize is that most hair, skin, and nail supplements are multivitamins," she explains. "As with anything, balance is key."

So while you're surveying your fridge or medicine cabinet for any magical healthy hair ingredients, also remember to suss out your shampoo. Francis recommends avoiding formulas with harmful sulfates that can strip your hair of the natural and essential oils that it needs. "This occasionally results in a cleansing experience that doesn't lather but is gentler for your hair," she says. "Other ingredients to avoid are parabens, silicones, and phthalates."

Now that you know why your hair might not be growing as fast as you'd like, it's wash time. Here, celebrity stylists and dermatologists share the shampoos that will give you Rapunzel-like locks.
This content is created and maintained by a third party, and imported onto this page to help users provide their email addresses. You may be able to find more information about this and similar content at piano.io