The 30 Best Hair Growth Shampoos of 2023, According to Experts
Rapunzel hair, coming right up.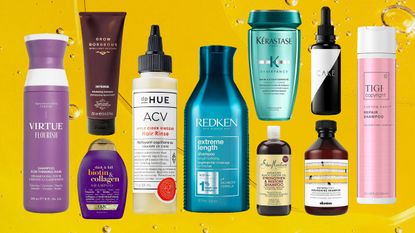 (Image credit: Future)
Marie Claire Newsletter
Celebrity news, beauty, fashion advice, and fascinating features, delivered straight to your inbox!
Thank you for signing up to Marie Claire. You will receive a verification email shortly.
There was a problem. Please refresh the page and try again.
When you desperately want longer hair—maybe you're trying to grow out a short haircut, or maybe you're dealing with hair loss, a problem that affects 40 percent of women—looking in the mirror can get depressing, and waiting can feel like an eternity. Thankfully, there are steps you can take to speed up hair growth beyond using your favorite run-of-the-mill shampoos and conditioners, such as taking nourishing hair growth vitamins, trying hair growth oils, and incorporating one of the best hair growth shampoos into your routine. But before you try to give your hair a nudge with hair growth products, it's important to understand what ingredients to look for and how to develop daily habits that consistently improve your hair growth and bring you closer to the mane of your dreams. To do that, we tapped the experts.
What To Look For, and Avoid, in a Hair Growth Shampoo
Dr. Shapiro recommends looking for natural ingredients like vitamin B3 and castor oil. Furthermore, he encourages buyers to find formulas that incorporate caffeine. and niacinamide. "Caffeine reverses the effects of dihydrotestosterone (DHT), the main hormone involved in hair loss. It is also known to increase blood circulation to the scalp and extend the anagen phase," he explains. "Niacinamide is a form of vitamin B3, an essential nutrient that supports many cellular processes. It also plays an essential role in preventing inflammation."
Meanwhile, Francis recommends avoiding hair growth shampoos with harmful sulfates that can strip your hair of the natural and essential oils that it needs. Sulfate-free shampoos offer "a cleansing experience that doesn't lather but is gentler for your hair," Francis says. "Other ingredients to avoid are parabens, silicones, and phthalates."
But what are parabens, and why are they so harmful? "Parabens are preservatives that have been proven to mimic estrogen and disrupt the delicate hormonal balance," explains Dr. Shapiro. "Sulfates usually dry or irritate the scalp and skin. Methylisothiazolinone (MI) is a preservative to avoid bacterial growth, but is a potent allergen. Phthalates are hidden in fragrances, but they are endocrine disruptors."
Dr. Tosti also emphasizes the importance of taking care of one's scalp and hair follicles, advising, "Ingredients I would avoid include a preservative named MCI/MI (Methylchloroisothiazolinone/Methylisothiazolinone), which can cause scalp inflammation and hair loss. I would also avoid UV filters, such as titanium dioxide nanoparticles and oxybenzone/benzophenone."
Can Shampoo Make Your Hair Grow?
Yes, shampoo can make your hair grow faster, but there are other practices you should consider adopting, too. Dr. Shani Francis, board-certified dermatologist and member of DevaCurl's Expert Curl Council, says that to really speed up the process, you should supplement a hair growth shampoo with a diet rich in omega-3s, fiber, sulfur ("our hair has a lot of sulfur in its internal structure"), and protein. Foods like lean meats, leafy greens, nuts, beans, and fish fit the bill.
Most importantly, make sure you drink a lot of water. Francis recommends two liters a day if you want to see results. While most of this may seem like common knowledge, Dr. Francis adds, "It's important to remember that our hair ends up receiving the 'leftovers' of the nutrients that our body needs."
Why Isn't My Hair Growing Quickly?
Dr. Antonella Tosti, a Fredric Brandt Endowed Professor of Dermatology and Cutaneous Surgery at the University of Miami and President of the American Hair Research Society, agrees. She points out that androgenetic alopecia—the most common cause of hair thinning in young women—"is often precipitated or aggravated by environmental factors that cause increased hair shedding, including systemic disorders, medications, and crash diets."
And if you're concerned that your diet, medications, and/or lifestyle are thwarting your hair growth, talk to your doctor. Dr. Jerry Shapiro, a dermatologist at the New York University School of Medicine who specializes in hair loss, adds that "stress is one of the main causes in young adults, and causes telogen effluvium (large number of follicles in resting phase)." Diets low in iron, zinc and Vitamin D, or low-calorie or protein-heavy diets, can also be responsible for hair loss, he says. In addition, "medications for acne containing vitamin A, antibiotics, antidepressants, birth control pills, steroids, and weight control pills can also produce hair loss."
Both Dr. Shapiro and Dr. Tosti advise patients to keep an eye on their central part line—if you notice a gradual widening of the line, your hair could be thinning. And if you're thinking of taking supplements to get the necessary nutrients, just don't overdo it. Francis explains: "What some people don't realize is that most hair, skin, and nail supplements are multivitamins," she explains. "As with anything, balance is key."
Best Hair Growth Shampoos for Straight Hair
Best Hair Growth Shampoos for Natural and Curly Hair
Best Hair Growth Shampoos for Thinning Hair
Best Hair Growth Shampoos for Scalp Health
Best Hair Growth Shampoo with Minoxidil
Rogaine 2% Minoxidil Topical Solution for Hair Thinning and Loss
When you hear the words Rogaine or minoxidil, you might think "for men," but Dueñas says that in reality, the product is a huge help in creating a thicker, fuller hairline for women—and can halt hair loss and prevent baldness. Dr. Engelman is also a fan of Rogaine and Ketoconazole, another over the counter option. In a study, researchers discovered that two percent of Ketoconazole shampoo increased the size and proportion of anagen hair follicles (hair that's in its growth phase).
Pros: clinical strength; easy to use; expert-approved
Cons: shouldn't be used by those who are pregnant or breastfeeding
Customer Review: "This is a true miracle for me. I've noticed for almost a year that the hair around my temples were thinning and it got to a point it was visibly noticeable when I pulled my hair back in a ponytail. After 2 months of using this product, I have tons of baby hair regrowth!! It's quite unbelievable how well this is working for me." -Walmart
Best Hair Growth Shampoo with Essential Oils
CR Lab Hair Loss Prevention Shampoo
Master trichologist and colorist Bridgette Hill knows the ins and outs of all things scalp health and stresses the importance of keeping a well-balanced hair care regimen and balanced lifestyle. "A single product [like shampoo] plays a small part in an overall regimen for combatting hair loss and thinning," says Hill. She praises CR Lab's Hair Loss Prevention Shampoo for its nourishing and strengthening properties, explaining, "It's designed to support the extension of the anagen [active growth] phase of the hair cycle. Essential oils also work to soothe and purify the scalp."
Pros: formulated by dermatologists; expert-approved
Cons: comes in a small container