The 20 Best Hair Masks for Damaged Hair, According to Experts and Editors
Healthy strands, here we come!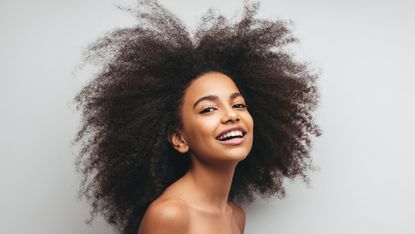 (Image credit: Getty Images)
My quest for healthy hair will likely never end. There's no shampoo and conditioner duo, hair oil, or leave-in conditioner that I won't try in my quest for shine, bounce, and hydration—especially considering the specific needs of my curly hair. But while I take the best care of my hair I can, I still find myself dealing with damage (like split ends, dryness, and a dry scalp) because of factors like changing weather, pollution, and water quality. So, to mitigate damage when those issues rear their ugly heads, I keep a few of the best hair masks for damaged hair in my beauty cabinet at all times to save the day.
"A hair mask is an intense deep conditioner—usually much thicker in consistency— that should be used on hair that is dry or on chemically treated hair," explains Carolyn Aronson, founder and CEO of It's A 10 Haircare. "Incorporating a hair mask into your haircare routine improves the condition of the hair shaft. With an influx in moisture and hydration, the hair can become healthier and stronger."
Hairstylist and brand educator for The Mane Choice Cataanda James agrees, adding, "Hair masks provide an accelerated boost of nourishment to the strands, which is what makes these formulas more intense than traditional conditioners."
But unlike traditional conditioners, hair masks are not meant to be used every day or even every time you wash your hair. Plus, hair masks are varied in terms of the benefits they provide, how long they should be left in, and the hair types they're formulated for. All these variations can be a little overwhelming, so I asked Aronson and James to break down everything there is to know about hair masks. And, with their help, I've rounded up some of the best hair masks, whether you're struggling with damage, dehydration, or you're simply looking to inject a little extra moisture into your hair routine.
Overview
What to Look For in a Hair Mask
According to James, there are three main types of hair masks: moisture, protein, and those that combine the two. "Protein-based hair masks strengthen your hair and help rebuild the bonds that are often broken down by over-manipulation from styling your natural texture and curls, or from chemical treatments," she explains. "Hydrating and moisture-based hair masks replenish essential nutrients to the hair for a healthier look and feel, and they defend against further damage."
Therefore, if you're considering incorporating a hair mask into your regimen, take a good look at your hair and consider what aspects of its health you'd like to improve. "Assess your hair for any split ends, dryness, or breakage," Aronson advises. "Depending on the state of your hair, it may indicate which type of hair mask you would need to resolve the issue. If your hair is dry and brittle, you may need a hair mask that provides intense hydration. If you have breakage or split ends, a protein or bond-building hair mask is best."
James adds that it may be helpful to write down your concerns while assessing your hair, so that you can easily employ process of elimination and cross-reference your list with the hair mask options you see while shopping. "Hair masks will have key benefits and ingredient call outs on their packaging, most commonly found on the front of the label. If you do not see your concern called out, that particular product may not yield the best results."
And if you're having trouble identifying the type of TLC your hair needs, James suggests taking an online self-assessment "to determine your individual hair type, texture, and to pinpoint specific hair concerns that you would like to address." In particular, she recommends The Mane Choice's Hair Quiz, which recommends products based on the user's preferences, hair type, needs, and lifestyle.
"Textured and chemically treated hair typically are a good fit for hair mask treatments, as the strands can be prone to dryness or breakage," says Aronson. "Textured hair thrives when moisturized and hydrated with quality ingredients and water. The same goes for chemically treated hair: It needs ingredients that will restore the hair shaft after being broken down by chemicals."
James agrees, adding that curly hair tends to be drier than straight hair. Plus, she says, "Hair masks also help ease detangling to promote strands' elasticity for length retention and curl formation."
On the other hand, if your hair is on the thin side and it's not curly or textured, both Aronson and James note that masks may not be best.
"Generally, hair masks are heavy due to the use of creams and oils, and can weigh finer hair textures down," says Aronson. In those cases, James suggests using a light hair lotion or cream for hydration instead.
Best Hair Masks for Damaged Hair