Get to Know Everyone's Favorite Makeup Artist Pat McGrath as She Takes Our Rapid-Fire Quiz
#1: If she weren't a makeup artist, she'd be an opera singer.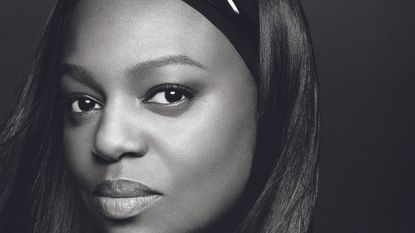 (Image credit: Courtesy of the Subject)
One of the industry's premier makeup artists, and creator of cult beauty line Pat McGrath Labs, on the power of aging gracefully, and the joys of a cold Kit Kat bar.

1. If I weren't a makeup artist, I'd be: An opera singer.
2. The three qualities that got me where I am today: Obsession. Inspiration. Addiction.
3. Moment I felt I'd made it: The first time I shot with the LEGENDARY Steven Meisel.
4. Worst pitfall of the job: Catering! A buffet is an evil temptress.
5. Change I'd like to see in my industry: More racial, age, body, and gender diversity. It's great to see how far it has progressed, but it could always get better.
6. How I made my first dollar: A paper route...Mother always knew how to spread the latest news!
7. Last thing I binge-watched: Narcos! OBSESSED!
8. Book that left a lasting impression on me: Do Androids Dream of Electric Sheep?, by Philip K. Dick.
9. Song that always makes me cry: Puccini's "Vissi d'arte," as sung by Maria Callas in Tosca.
10. Movie with the greatest ending: Now, Voyager, when Bette Davis says, "Oh, Jerry, don't let's ask for the moon. We have the stars." The classic ending for a forbidden-love story!
11. Song I'd want played at my funeral: "I'm Every Woman," by Chaka Khan.
12. Food I'm not ashamed to admit I love: Kit Kats straight from the fridge. Heaven!
13. If I could live abroad, it would be in: St. Bart's or Berlin.
14. One thing I'm exceptionally good at: Multitasking.
15. One thing I'm epically bad at: Barry's Bootcamp.
16. Superhero power I'd want to have: Teleportation. Imagine all the time I could save in transit!
17. Something better in theory than in practice: Everlasting youth. There's nothing better than a woman who has aged wonderfully.
18. Store I can't leave without buying something: Sephora.
19. How I clear my mind after a crappy day: Scroll like a troll through social media.
20. If I could compete in an Olympic sport, I'd like it to be: Swimming.
21. The three qualities I thought I wanted in a partner: Charm. Kindness. Major sense of humor.
22. The three qualities I know now matter: Loyalty. Integrity. Honesty.
23. Advice to a woman with a broken heart: Channel your heartbreak into work, then use that extra money to treat yourself to a new handbag.
24. Relationship advice to my younger self: Let the people you love know that you truly love them.
25. Best career advice I've gotten: Never take anything personally.
26. Most agonizing career decision I've ever made: Choosing between multiple projects I would love to work on but are happening simultaneously.
27. Easiest career decision I've made: Makeup artistry.
28. Favorite perk of the job: Free makeup.
29. What does your career look like in 5 years: Spreading the gospel of Pat McGrath Labs—encouraging men and women around the world to use makeup without caution.
30. Who I admire most: Every single member of my Makeup Artistry and Pat McGrath Labs' Brand Teams—making this dream a reality would not be possible without them.
31. On my bucket list: A month-long spa holiday.
32. Cocktail of choice: Lychee martini.
33. What should every woman try once in her lifetime: LIVING.
34. How my perfect day would begin: With a hot bath and aromatherapy oils, plus a bit of meditation.
35. How my perfect day would end: See above...
36. Something nice I did for myself recently, because hey, why not: Bought another handbag.
37. The last time I felt beautiful: 1 second ago.
38. The craziest thing I did for love: Too many to mention.
Follow: @patmcgrathreal
Celebrity news, beauty, fashion advice, and fascinating features, delivered straight to your inbox!