The Best Eye Makeup for Hooded Eyes, According to a Makeup Artist
No smudging here.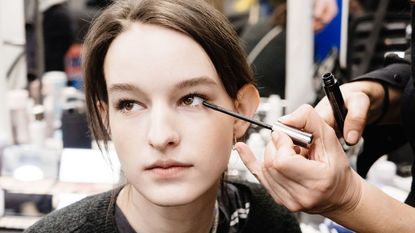 (Image credit: Rosdiana Ciaravolo)
For anyone with hooded eyes, (opens in new tab) achieving long-lasting and dramatic lashes (opens in new tab) can be a major struggle. Mascara, the go-to product for easy lash amplification, can mean smudges and streaks for those without a ton of lid space. The trick isn't to forgo eye makeup—it's finding the right products and techniques that work for your eye shape. Enter makeup artist Vincent Oquendo (opens in new tab)—whose clients include Camila Mendes, Dove Cameron, and Karlie Kloss, to name a few—who shared some pro insights for finding the right mascara, along with a few expert tips for brightening the eyes.
Find a Waterproof Mascara
"The biggest struggle for hooded eyes is finding one that won't smudge all around," Oquendo says. The solution is to seek out a product that simply won't smudge, also known as waterproof mascara.
For anyone who's opposed to waterproof formulas, it's important to steer clear of creamy eyeshadows that can break down lash products. "I would avoid any glossy or creamy eyeshadows that don't set," Oquendo says. "Those can cause your mascara to melt due to the hooded eye shape, and therefore transfer mascara to your crease and under-eye areas fairly easily."
Shop These Mascaras Approved For Hooded Eyes
Invest in Eye-Brightening Products
Invest in Eye-Brightening ProductsIf mascara isn't letting you achieve the dramatic lashes of your dreams, it may be time to accessorize. "I've found that curling your lashes properly can dramatically lift your eye," says Oquendo. For a virtual night out, faux lashes are calling your name. "I would also recommend a pair of false lashes at the outer corners of your eyes."
This subtle boost will really open the eyes and give a doe-eyed appearance. And to brighten up your look overall, "Lumify redness reliever eye drops (opens in new tab) help to reduce redness and play up the natural beauty of your eyes, no matter the shape, size or color."
Shop These Lash Intensifying Products
Tatjana Freund is a Beauty Commerce Writer, covering makeup, skincare, and haircare products and trends. She's a fan of vodka tonics and creepy Wikipedia pages.