Why This Woman's Floating Eyeliner Trick for Hooded Lids is Going Viral​
Absolutely genius.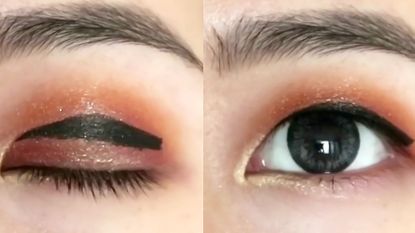 (Image credit: Instagram)
If you have hooded eyelids and monolids, you already know that the mainstream beauty world doesn't exactly cater to you, which is absolutely ridiculous and unfair (I know; I'm one to talk—I have double lids and am a part of the mainstream beauty world, but I see you, and I hear you).
So when a genius trick for lining hooded lids called "floating eyeliner" popped up on Reddit's beauty-obsessed community r/MakeupAddiction yesterday, it's no surprise that the post immediately went viral.
RELATED STORIES
The look was posted by beauty vlogger Francesca Tanmizi (@workingwithmonolids), who takes a surprisingly simple approach to making eyeliner pop on her hooded lids. "Since 'normal' lining methods don't work for my eyes, I kept testing different methods until I stumbled on this one," Tanmizi tells MarieClaire.com. "When I first tried it out, I thought it would just be a fun look I'd never wear regularly, but after a while, I started liking this as my regular lining style."
Rather than lining her upper lash line (which would be hidden when she opened her eyes), Tanmizi instead draws a thick, bold line in the middle of her lid "floating" about a half-inch above her lash line. Yes, the line looks a little out of place when her eyes are shut, but when she opens them, she's left with a wing that rests perfectly above her lashes.
It's no surprise that the video is gaining traction on Reddit right now—I mean, just Google "how to do eyeliner on hooded eyes" to see the 6.6 million hits that prove this eyeliner trick is very much needed and appreciated.
Of course, Tanmizi isn't the first human to ever try this with her lids—a quick YouTube search shows some similar-looking tutorials, but something with Tanmizi's video apparently resonated with users, because it's being inundated with support and gratitude. "This made me smile," wrote one user. "Thanks for appreciating your eye shape and always making makeup tutorials to help me appreciate mine."
When asked how she feels about having a random line drawn in the center of her lid (which would be visible whenever she blinks), Tanmizi instead questions the definition of normal. "What's considered 'normal' doesn't work for me, so why do I have to do something one way just because it's 'normal'?," she asks, adding, "And what makes cut creases or thick black liners 'normal' anyway?" Fair. Very, very fair.
If you've struggled with finding makeup tutorials for your eye shape, I suggest giving Tanmizi's hack a try—and while you're at it, check out our roundup of eyeshadow tutorials made specifically for those with hooded and monolids.

RELATED STORY
Celebrity news, beauty, fashion advice, and fascinating features, delivered straight to your inbox!
Ruby was the beauty editor at Cosmopolitan, where she covered beauty across print and digital. Her work has appeared on The Zoe Report, Fashionista, and StyleCaster. Follow her on Instagram.