The 11 Best Eyeshadows for Hazel Eyes, According to Makeup Artists and Editors
Glittering greens and golds.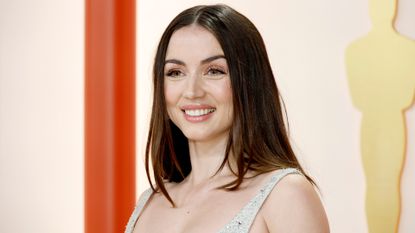 (Image credit: Getty Images)
If you've ever looked into a pair of hazel eyes, we're willing to bet you were entranced. The eye color is typically a combination of greens, golds, and browns and the result is mesmerizing. Just look to hazel-eyed celebrities like Ana de Armas, Lily Collins, and Kristen Stewart for proof of their hypnotic power. If accentuating your eyes is at the top of your beauty wishlist, hazel-eyed beauties can really have fun with their eyeshadow thanks to their multitude of eye colors.
Pro makeup artist Tonya Riner says as much: "Hazel eyes are a combination of warm bronzes and cool greens, which means you have a range of eyeshadow options to play with," she explains to Marie Claire. With a range of flattering eyeshadow shades at their disposal, those with hazel eyes have the unique option to accentuate their different eye colors.
Wondering how? We talked to Riner and fellow pro makeup artist Emily Gray to bring you our guide to the best eyeshadows for hazel eyes. Below, you'll find the exact shades to reach for to highlight the different colors of your eyes as well as some pro- and editor-approved favorites. Whether you prefer drugstore eyeshadows or luxury gems, cream shadows or eyeshadow palettes, we've got you covered.
What to Look For in Eyeshadows for Hazel Eyes
It doesn't matter if you prefer liquid, powder, or cream eyeshadow—choosing the right eyeshadow colors is what's going to make your hazel eyes pop. Because hazel eyes typically have a combo of green, gold, and/or brown, the best eyeshadow color depends on what color you want to highlight, Gray says.
Think back to complementary colors on the color wheel. Gray explains, "Colors opposite of each other on the color wheel are going to make the colors the most vivid." So what are the complementary colors those with hazel eyes should pay attention to? Gray breaks it down:
To bring out the green: use red and rose-toned shadow colors
To bring out the brown: use blue shadow colors
To bring out the gold: use purple shadow colors
Best Eyeshadows for Hazel Eyes
Best Overall Eyeshadow for Hazel Eyes
Charlotte Tilbury Darling Easy Eyeshadow Palette
"If you're looking for the perfect eyeshadow palette, Charlotte Tilbury's Easy Eye Palette in Darling should top the list," says Riner. "The shimmer shades have hints of gold, while the deep magenta adds a subtle depth." For a soft, smokey eye, Riner suggests swipe the palest shade across your lid, then add the darkest shade along your top and bottom lashline. To finish, use your finger to dab a touch of the shimmery pink on the center of your lid.
Pros: Pro-approved; Highly pigmented; Blendable; Long-wearing; Includes a mix of shimmery, metallic, and matte shades; Applies smoothly.
Cons: Expensive.
Best Budget Eyeshadow for Hazel Eyes
Catrice Cosmetics The Dusty Matte Eyeshadow Palette
No, your eyes are not deceiving you. This eight-pan palette is just $6, but the best part is that it comes recommended by Gray. "There are these beautiful blue-grey shadows that would be perfect for enhancing the brown tones in hazel eyes and also this red shadow perfect for enhancing the green," she says. "All of these shadows are matte, long-lasting, and easily blended." A pro-approved eyeshadow palette for less than your Starbucks order is a total win if you ask me.
Pros: Pro-approved; Under $10; Long-wearing; Blendable; Highly pigmented; Vegan.
Cons: Only available online.
Best Sheer Eyeshadow for Hazel Eyes
Glossier Lidstar Long-Wearing Shimmer Cream Eyeshadow in Fawn
"On days when I'm not in the mood to put on a ton of eyeshadow, I reach for this Glossier Lidstar in Fawn. It's great because the color is so sheer but it leaves behind just a hint of the mauve tone. I use it also as a base underneath other glittery eyeshadows, or on its own for a laidback sparkly look." — Julia Marzovilla, E-Commerce Editor
Pros: Editor-approved; Buildable; Long-wearing; Applies smoothly.
Cons: You may need several layers for opaque color.
Best Red Eyeshadow for Hazel Eyes
L'Oreal Paris Infallible 24HR Shadow in Glistening Garnet
As Gray explained, red is the color to reach for if you want to bring out the green in your hazel eyes. The hue might be on the bolder side for some, so we suggest going for a one-dimensional swipe of color to test the waters. At $9, this is a great shadow to see how you feel about the shade. These cream-to-powder shadows feel silky smooth and boast waterproof, crease-proof, and (intense) long-wearing powers.
Pros: Highly pigmented; Long-wearing; Waterproof; Non-creasing; Applies smoothly.
Cons: Only available in shimmery and metallic finishes.
Best Purple Eyeshadow for Hazel Eyes
Laura Mercier Caviar Stick Eye Shadow in Plum
"I used to steal this from my mom's makeup bag when I was a teenager, and I'm happy to say it now lives in my own collection. The payoff is intense but is also equally creamy, and the pencil applicator makes it a dream to keep in my bag to amp up my daytime makeup before drinks. I often treat it as a liner when I want a rougher, blended-out look that's not so precise." — Julia Marzovilla, E-Commerce Editor
Pros: Editor-approved; Long-wearing; Highly pigmented; Applies smoothly; Offered in 25 shades in three finishes.
Cons: Expensive; Reviewers note some colors don't match the website's description.
Best Splurgeworthy Eyeshadow for Hazel Eyes
Lisa Eldrige Myth Eyeshadow Palette
Another palette Gray recommends for hazel eyes is Lisa Eldridge's "Myth" eyeshadow palette. "I love the size of this palette, it's smaller, so it is great for travel and touch ups," she says. "The colors are all purples and the textures are fantastic." While there are colors you can use for daytime looks, Gray finds it especially great for nighttime and we're inclined to agree. Use the metallic grey across the lid, the mauve as a transition shade, and the deep purple along the lashlines for a killer smokey eye.
Pros: Pro-approved; Highly pigmented; Long-wearing; Travel-friendly; Applies smoothly.
Cons: Expensive; Only available online.
Best Eyeshadow Stick for Hazel Eyes
Charlotte Tilbury Colour Chameleon Eye Shadow Pencil in Golden Quartz
When I can't be bothered to layer multiple shades but still want to play with eyeshadow, I turn to eyeshadow sticks—and Charlotte Tilbury's are one of my favorites. They are so easy to use and can be used for multiple looks—just switch up the angle and pressure you apply them. The shade Golden Quartz was specially made for hazel-eyed babes to use for daytime looks. Just swipe this bronzey stick across the lashline to make your hazel eyes sparkle.
Pros: Editor-approved; Highly pigmented; Long-wearing; Waterproof; Blendable.
Cons: Over $25; May smear with oily eyelids.
Best Blue Eyeshadow for Hazel Eyes
Revlon ColorStay Day to Night Eyeshadow Quad in 580 Gorgeous
If your hazel peepers lean more on the side of brown than green, blue eyeshadow is going to look killer on you. This mini palette from Revlon has all of the colors you need to make the brown in your eyes pop like crazy. Coming in at just $8 with over 10,000 five-star reviews, this is a great pick for those on a budget. Reviewers say these shades are smooth and saturated, plus they last well over eight hours. What's not to love?
Pros: Under $10; Highly pigmented; Long-wearing; Applies smoothly; Travel-friendly.
Cons: Some shades have fallout.
Best Pink Eyeshadow for Hazel Eyes
Iconic London Glaze Dual Ended Eyeshadow Crayon in Nectar
Words can not do justice to the love I have for these eyeshadows. On one side, you have an ultra-creamy shadow stick that feels like butter against the lid. I tend to have oily eyelids and these sticks last all day and night without creasing—a major win in my book. But the real fun with these sticks comes on the other side, a liquid topper that adds extra sparkle to your look. It's the perfect formula for getting that "wet" look, without ending up as a sticky mess. This pretty pink shade will look so good with shades of green eyes.
Pros: Editor-approved; 2-in-1 formula; Applies smoothly; Highly pigmented; Long-wearing.
Cons: Only available in shimmery finish.
Best Eyeshadow Palette for Hazel Eyes
Too Faced Born This Way Sunset Stripped Eyeshadow Palette
"This is the palette I bring with me whenever I travel. The tones are all quite warm and rosy, so they make my green-hazel eyes pop without looking too pink. The matte purple-brown shade called 'Chai Times' is a specific favorite for blending out my liner, and the darkest shade, a warm brown-black called 'Black Sand' is a touch softer than the other black shoes in my collection. 'Surfboard; is also great as topper across the center of my lid or in the inner corner." — Julia Marzovilla, E-Commerce Editor
Pros: Includes a mix of shimmery, metallic, and matte shades; Highly pigmented; Long-wearing; Blendable; Infused with skincare ingredients.
Cons: Expensive.
Best Clean Eyeshadow for Hazel Eyes
Jones Road Beauty The Best Eyeshadow in So Pretty
"I love this eyeshadow because it is, as the name might suggest, SO pretty on my eyes. Taupe-y shades like this are a softer way to to get that purple-y tone on my eye without going full plum, and the formula is so creamy and pigmented I thought it was a cream-powder hybrid when I first tried it on. I wear it whenever I want something that's fun and easy but looks like I spent a lot of time blending." — Julia Marzovilla, E-Commerce Editor
Pros: Editor-approved; Highly pigmented; Applies smoothly; Blendable; Clean.
Cons: Expensive.
Meet the Experts
Tonya Riner is a beauty expert and makeup artist with thirty years of experience in the industry.
Tonya's work has been featured prominently in the media, including Harper's Bazaar, Vogue and Paper City among other publications and destinations and Allure Magazine has named her one of the best makeup artists in the United States. Her backstage work has included being a member of the renowned styling teams of Frederic Fekkai and Ted Gibson. Her bona fides in the entertainment industry include work on Beyonce's chart-topping video for "Blow". And her long list of celebrity and bold print clients includes Kate Upton, Simone Biles, Heidi Klum, Elle Macpherson and Annie Leibovitz among others.
Emily prides herself on a balanced skill set of bold glamour, flawless editorial, and clean natural looks. However, her true gift is making her clients realize their most beautiful selves while simultaneously putting them at ease with the entire process. Emily's background studying classic art combined with her relentless quest for staying current with the freshest styles and latest techniques makes her the celebrated artist she has become. Emily splits most of her time bouncing back and forth between Nashville, Detroit, and Los Angeles. Some of her clientele include Kristin Cavallari, Maren Morris, Lily Aldridge, and Leann Rimes,
Brooke Knappenberger is the Editorial Fellow at Marie Claire, where she writes across the board from fashion and beauty to books and celebrities. As a pop culture junkie, Brooke obsessively consumes and writes about the latest movie releases, streaming TV shows, and celebrity scandals. She has over three years of experience writing on fashion, beauty, and entertainment and her work has appeared on Looper, NickiSwift, The Sun US, and Vox Magazine of Columbia, Missouri. Brooke obtained her Bachelor's Degree in Journalism from the University of Missouri's School of Journalism with an emphasis on Magazine Editing and has a minor in Textile and Apparel Management.